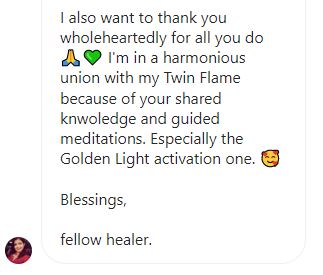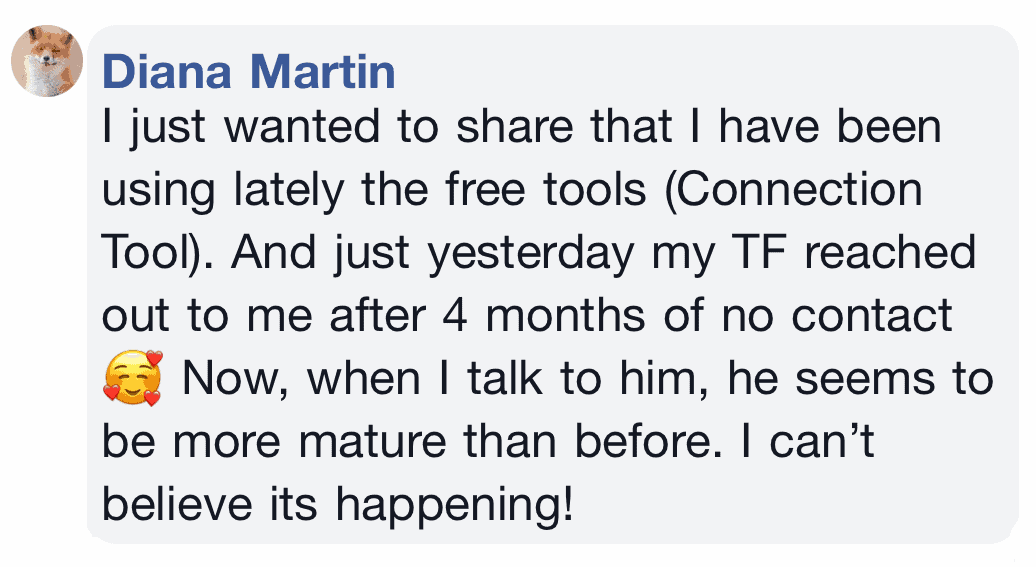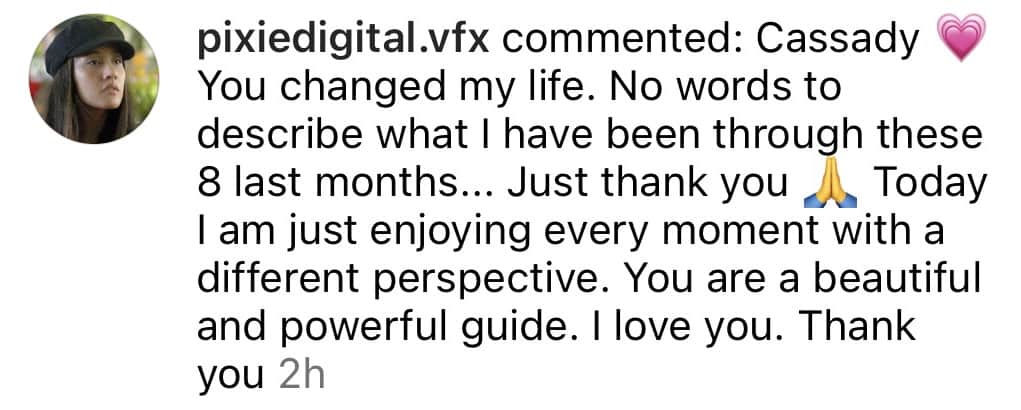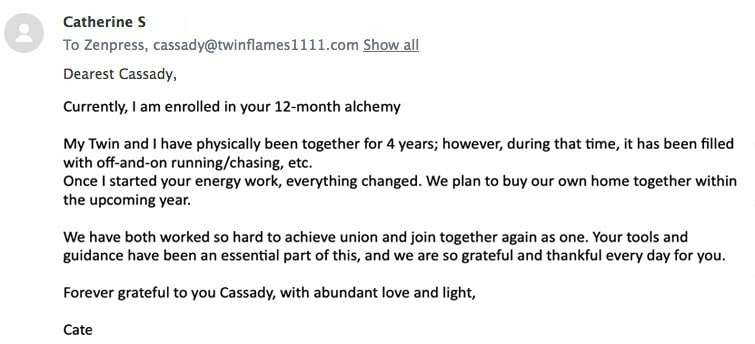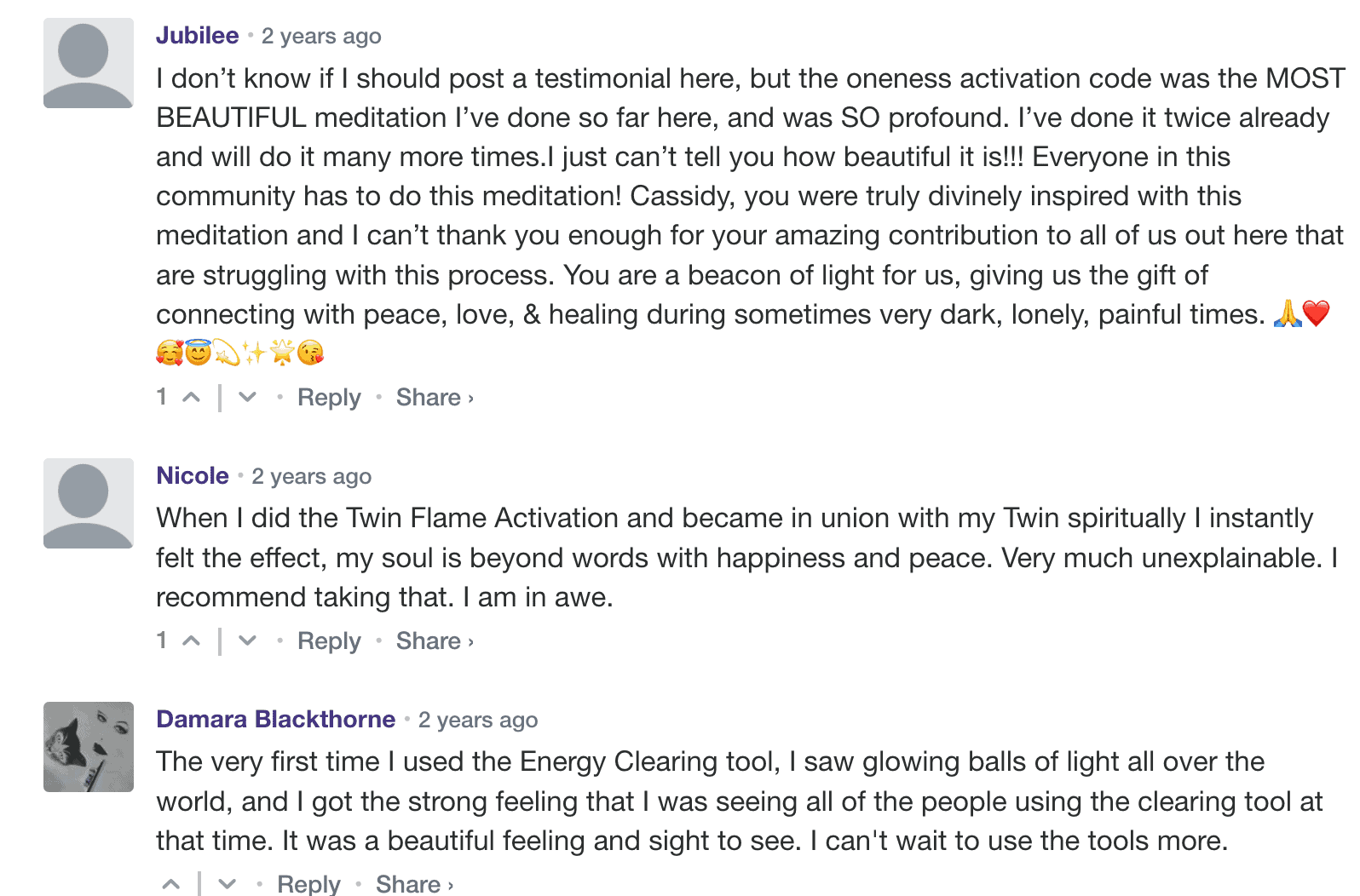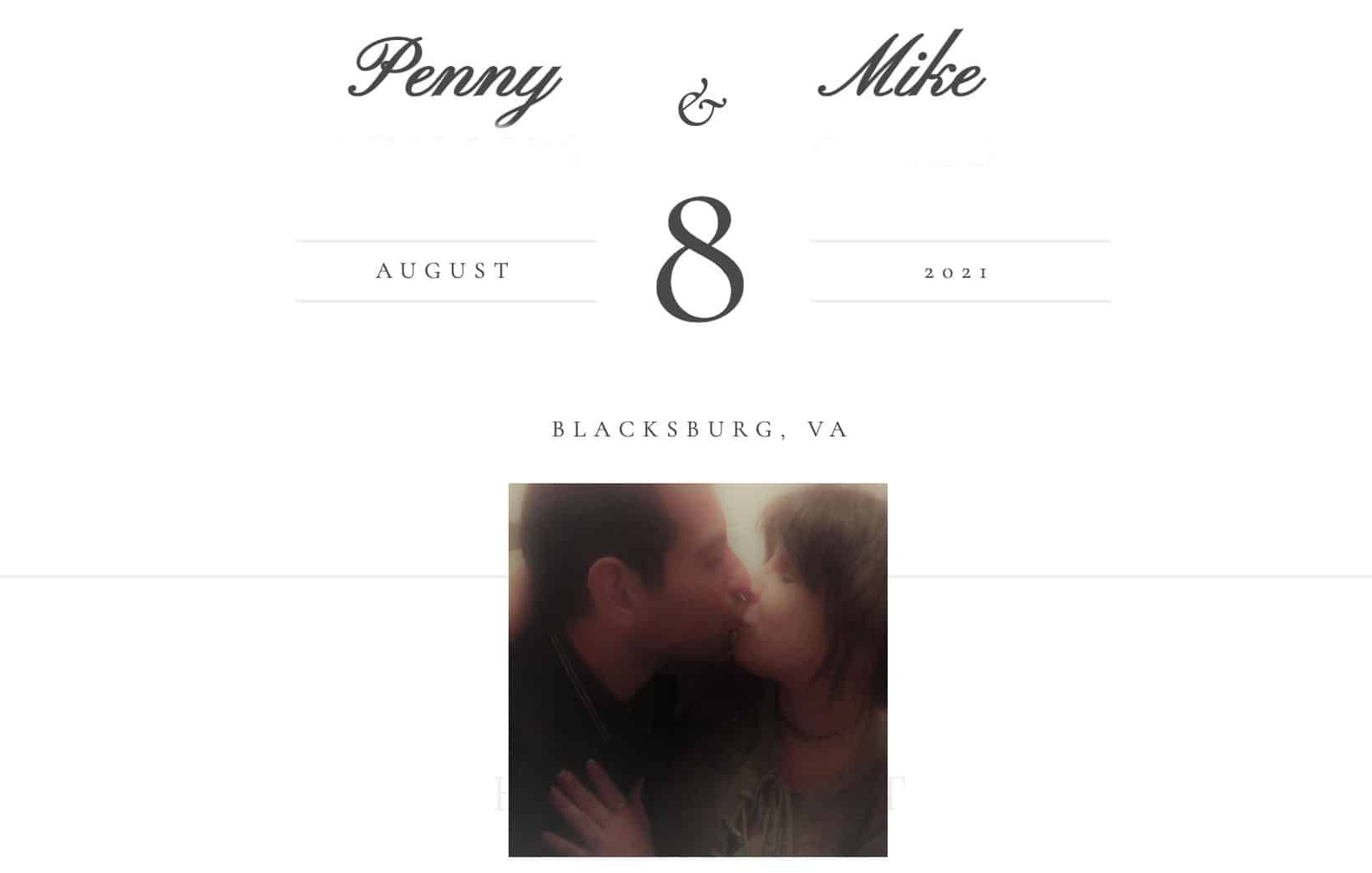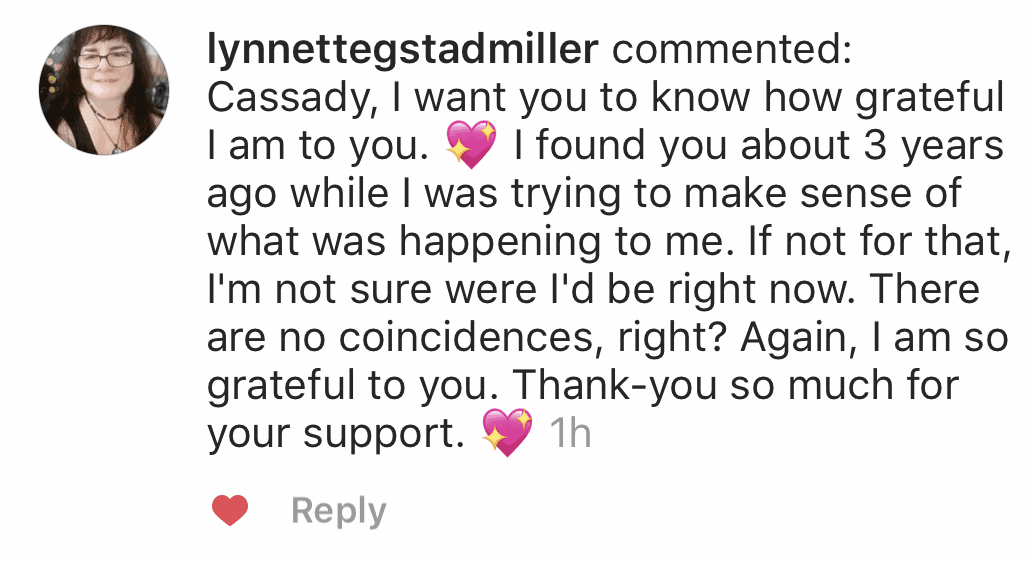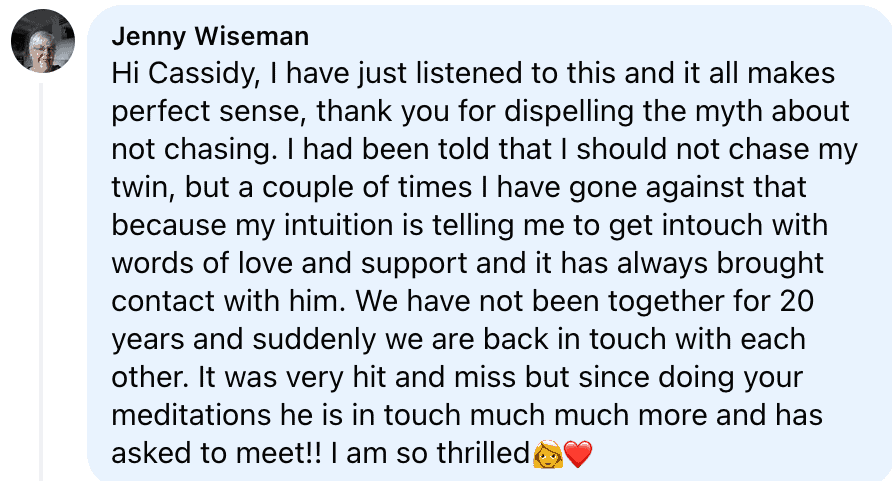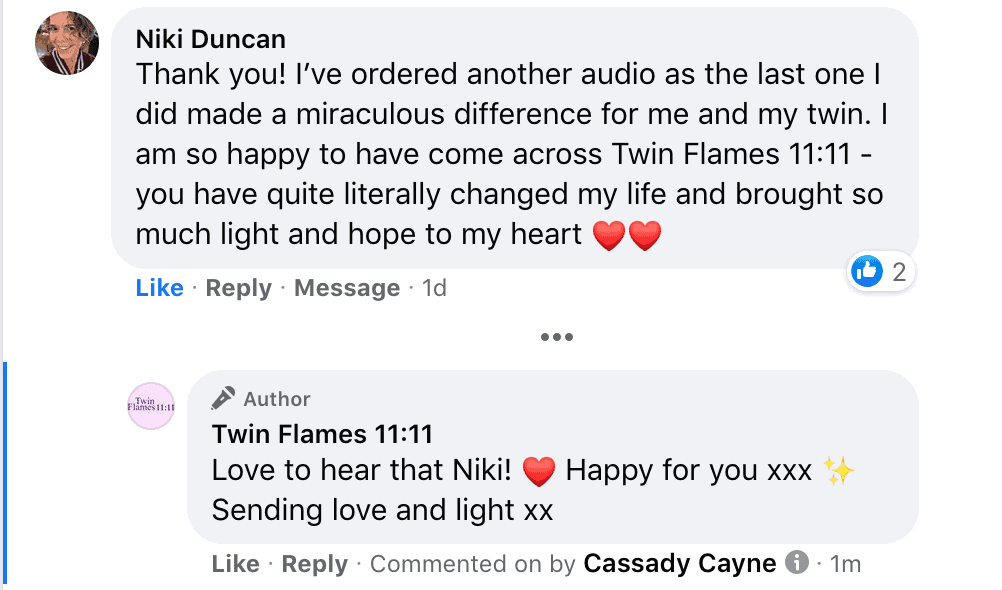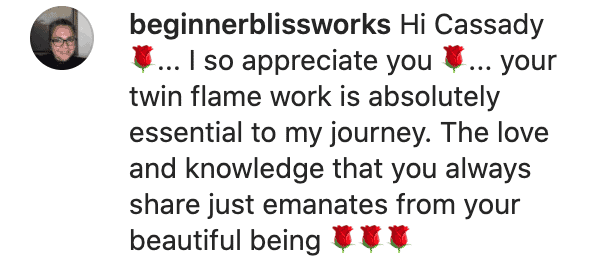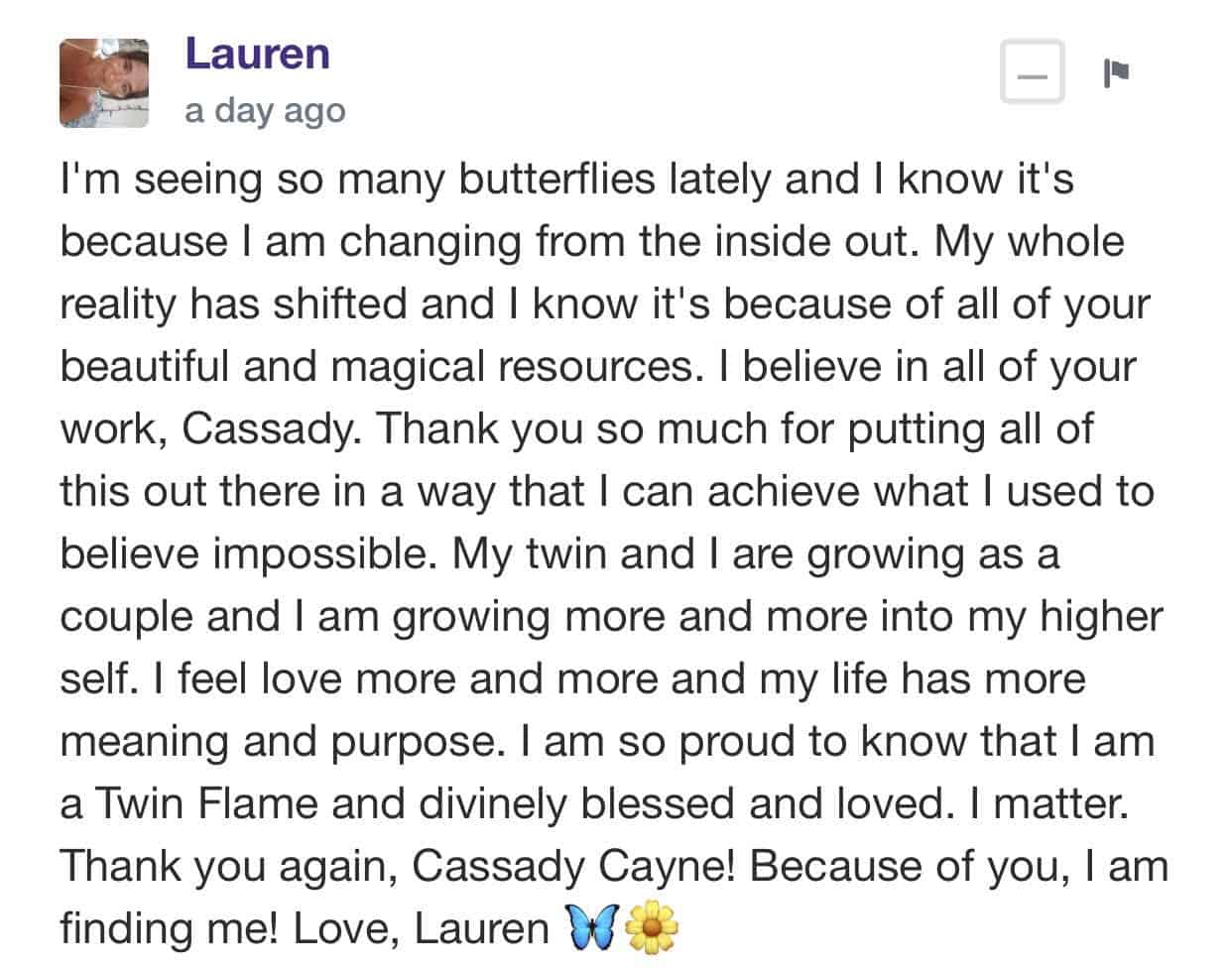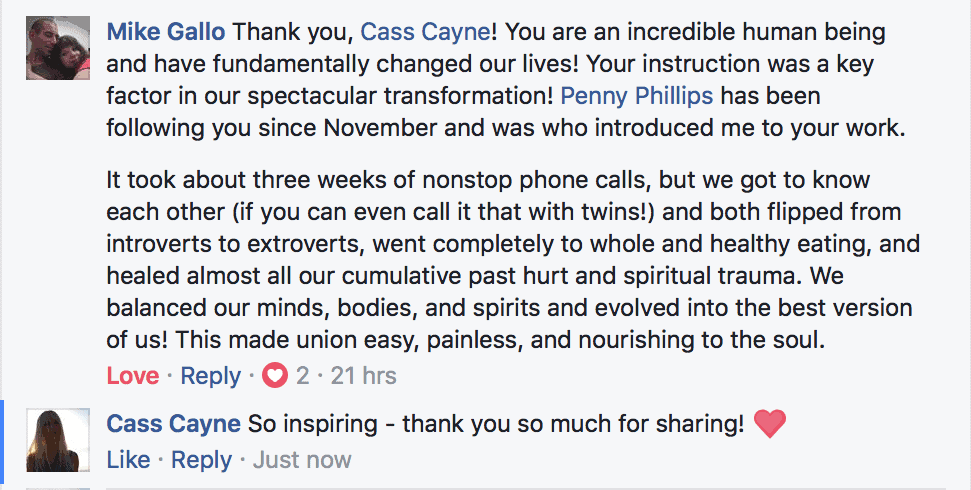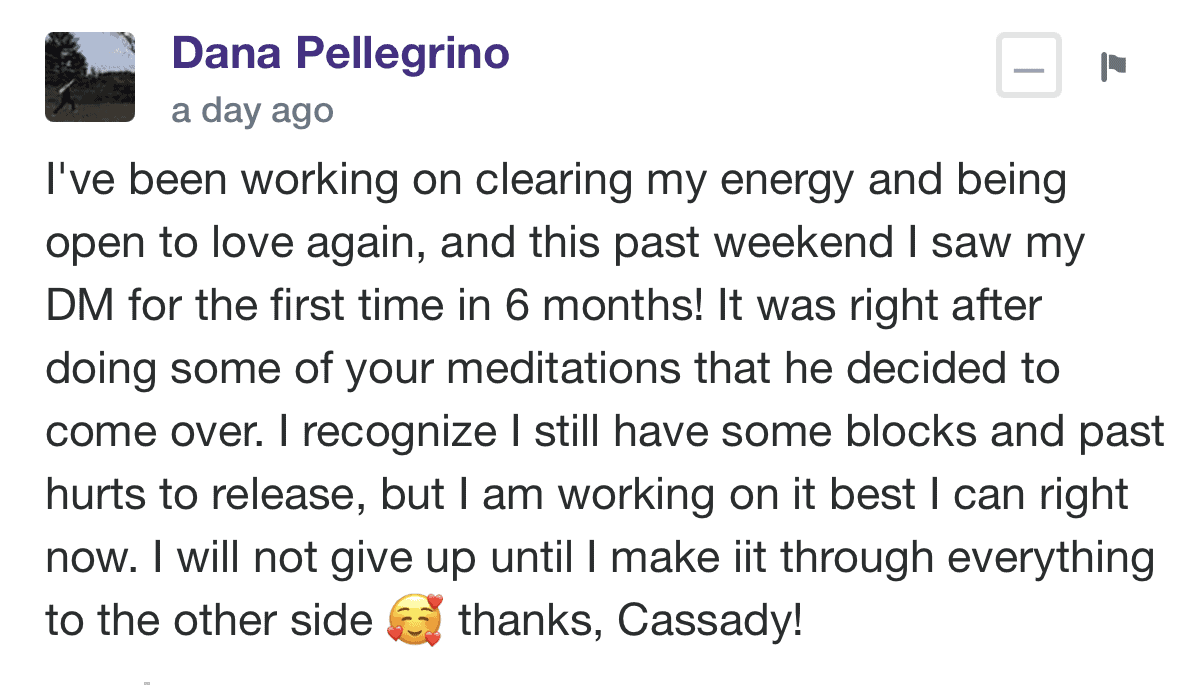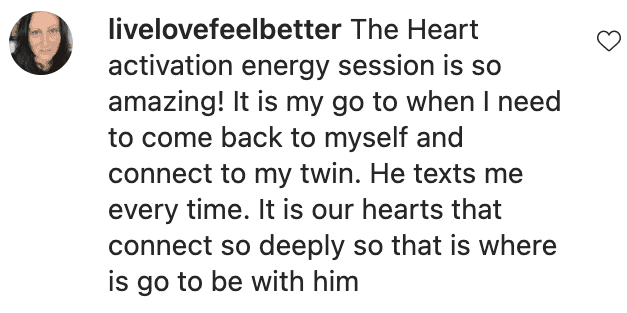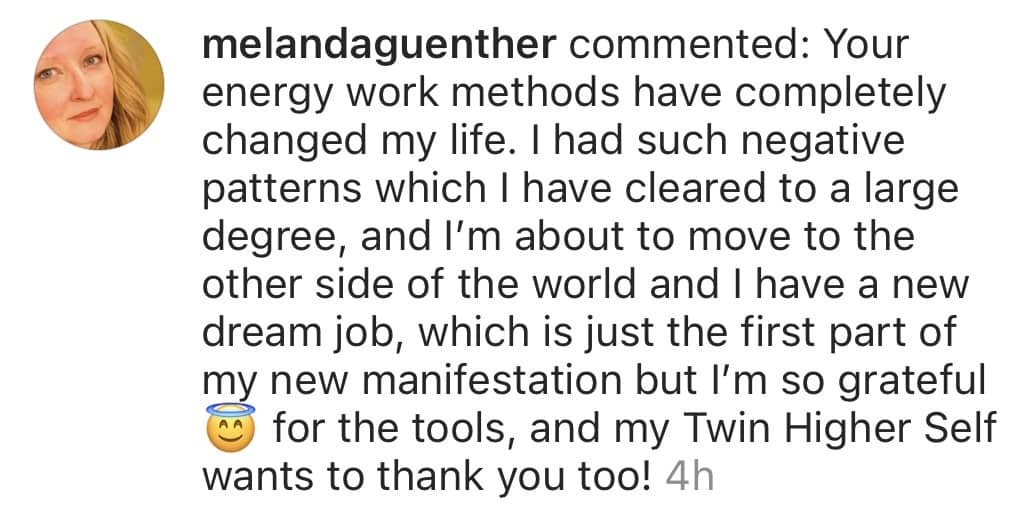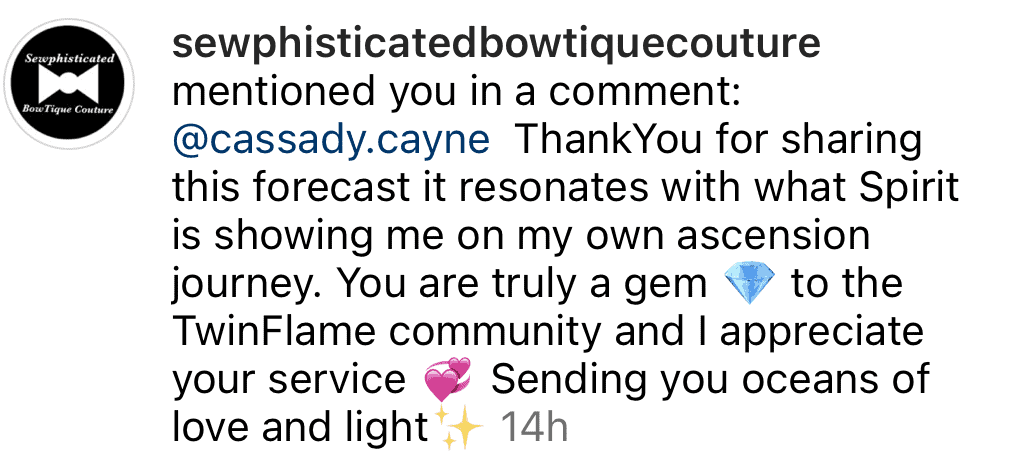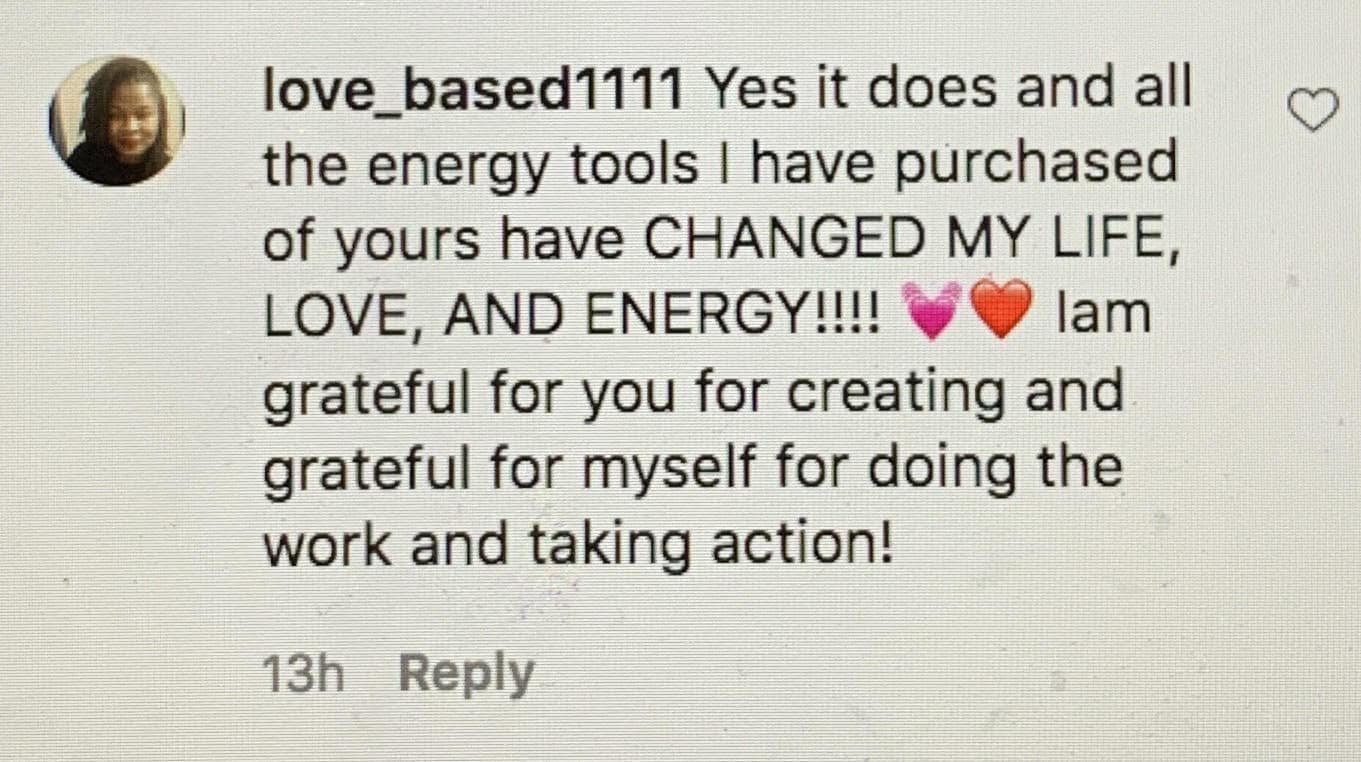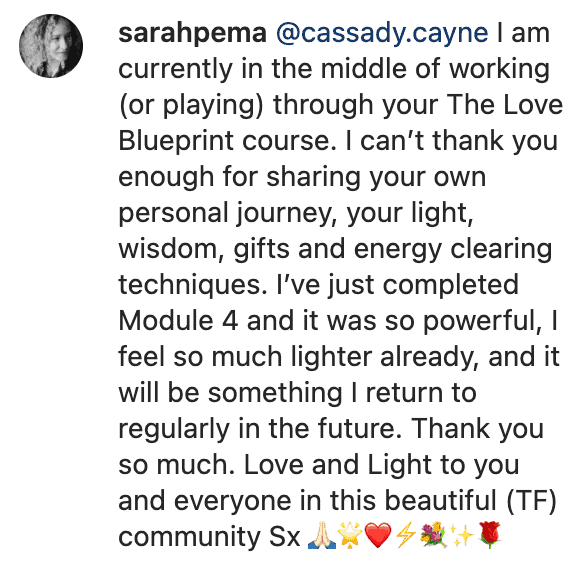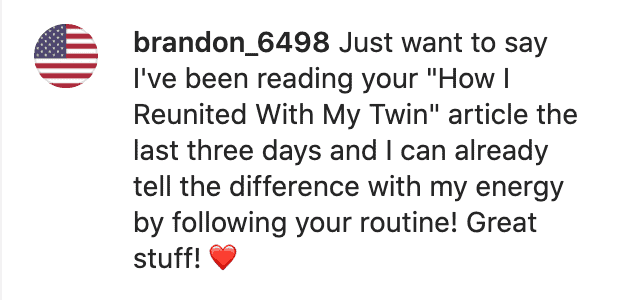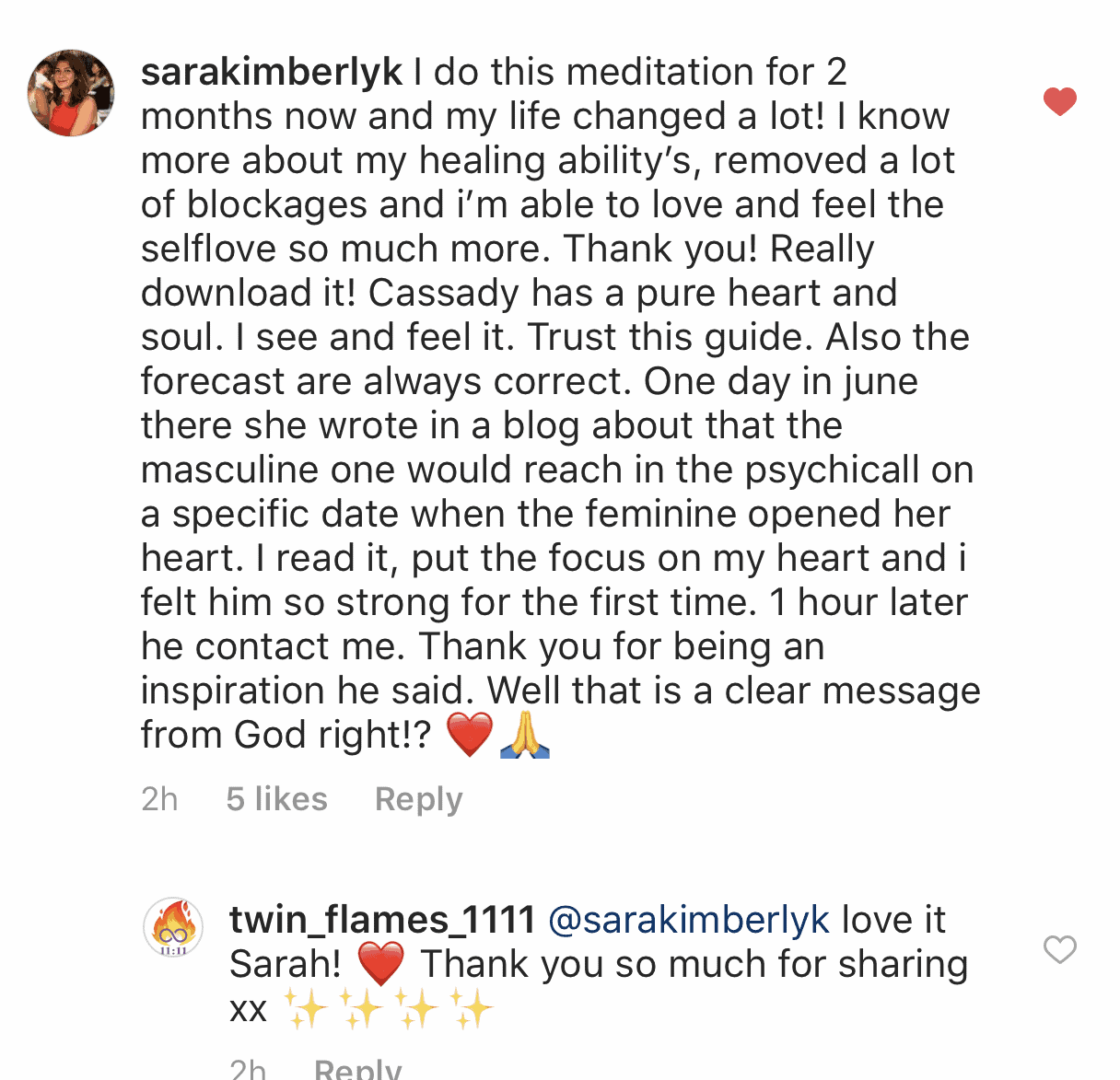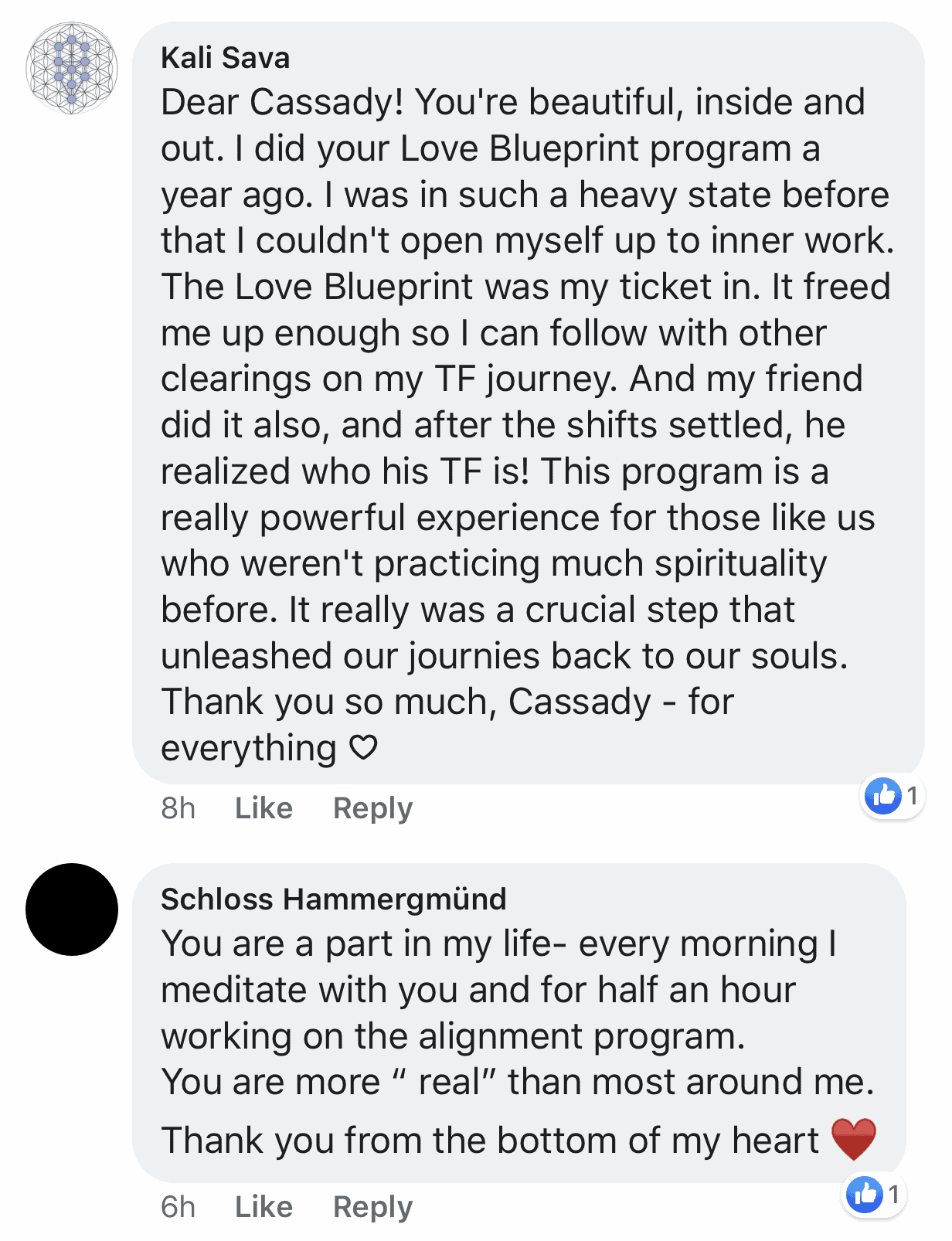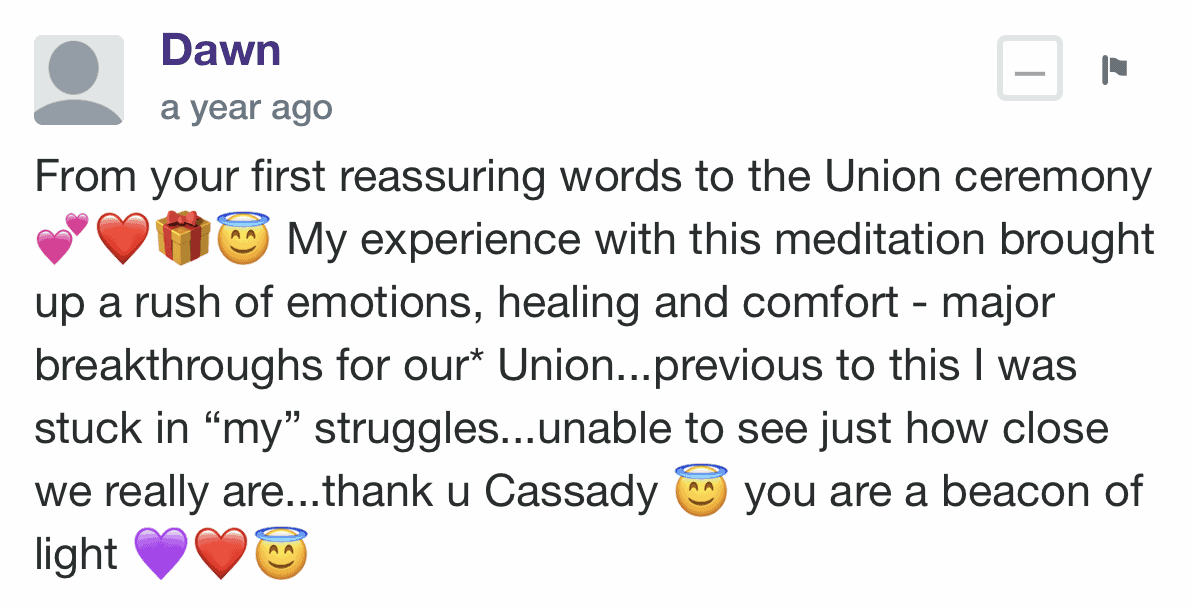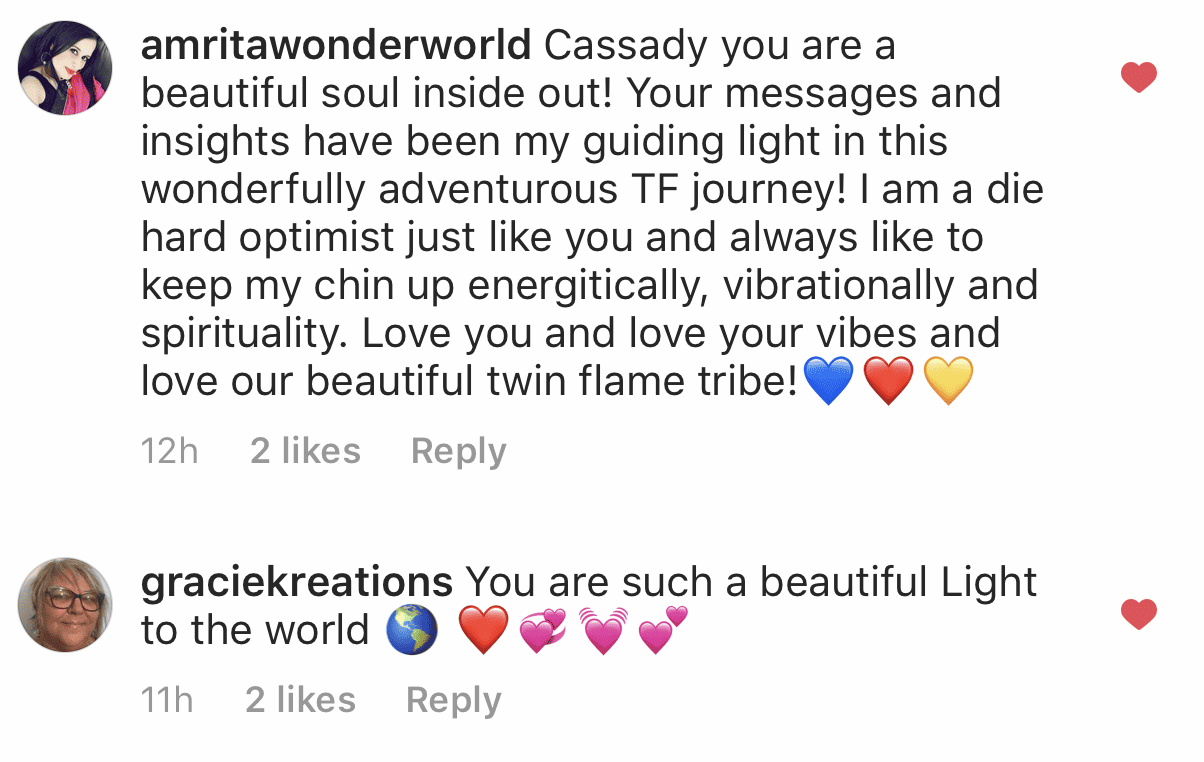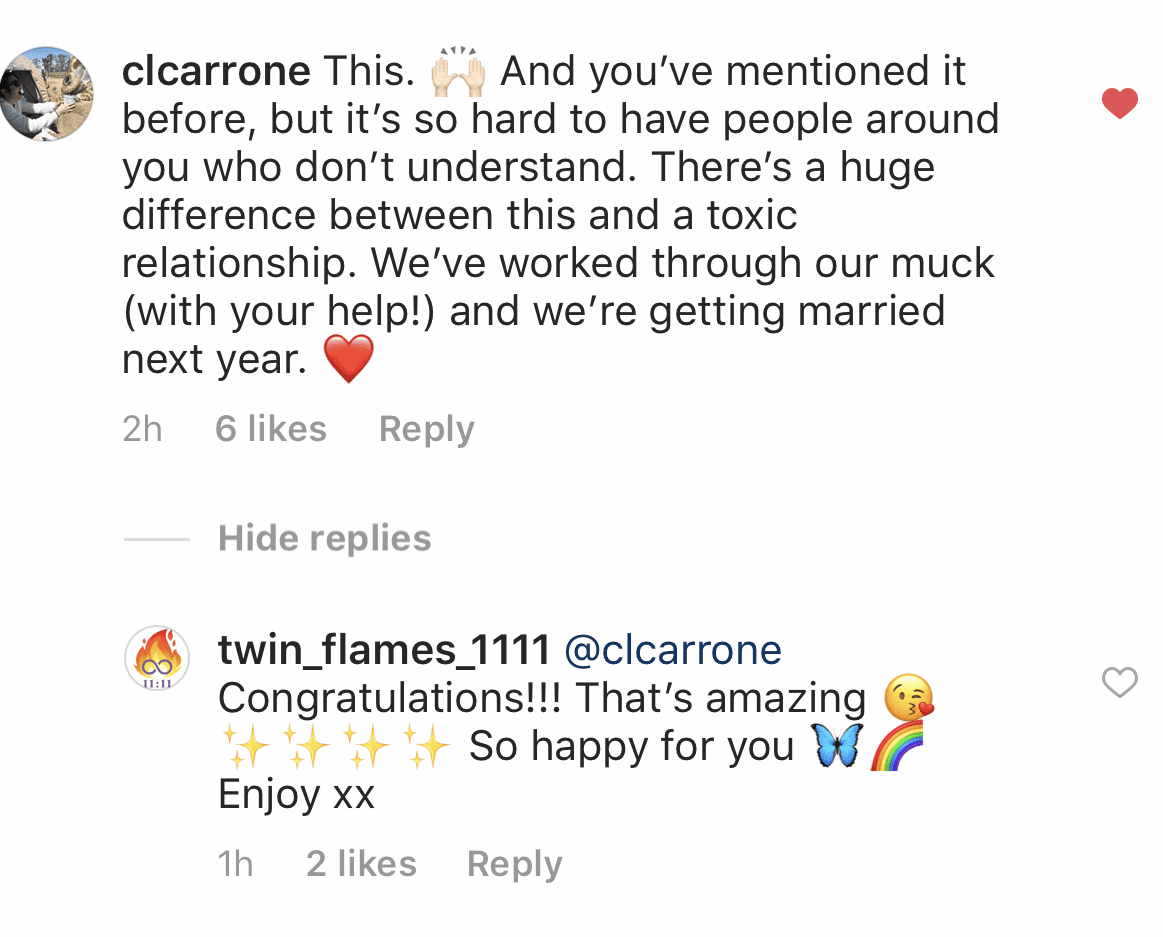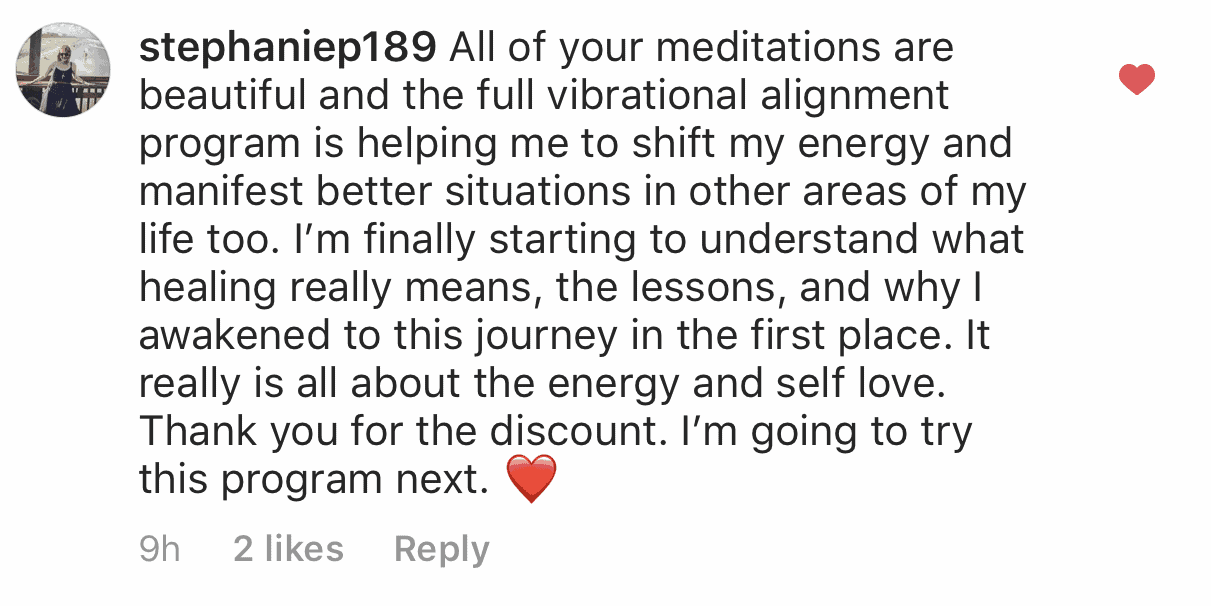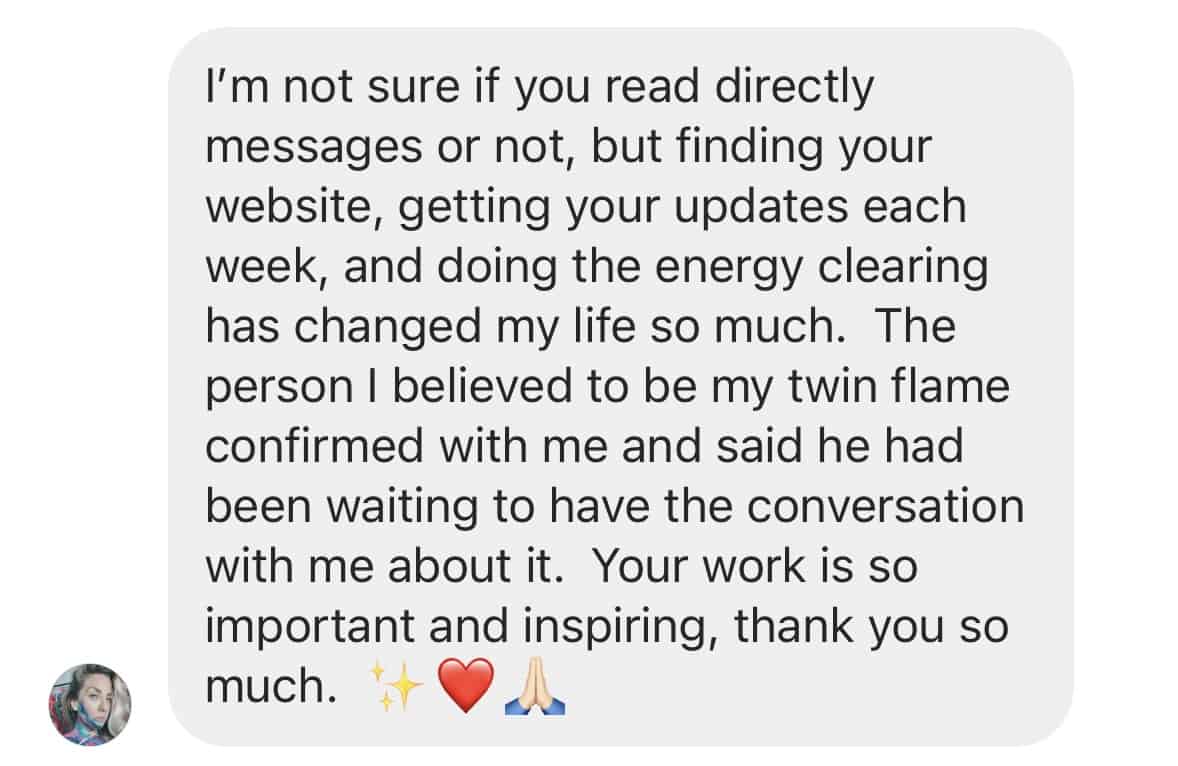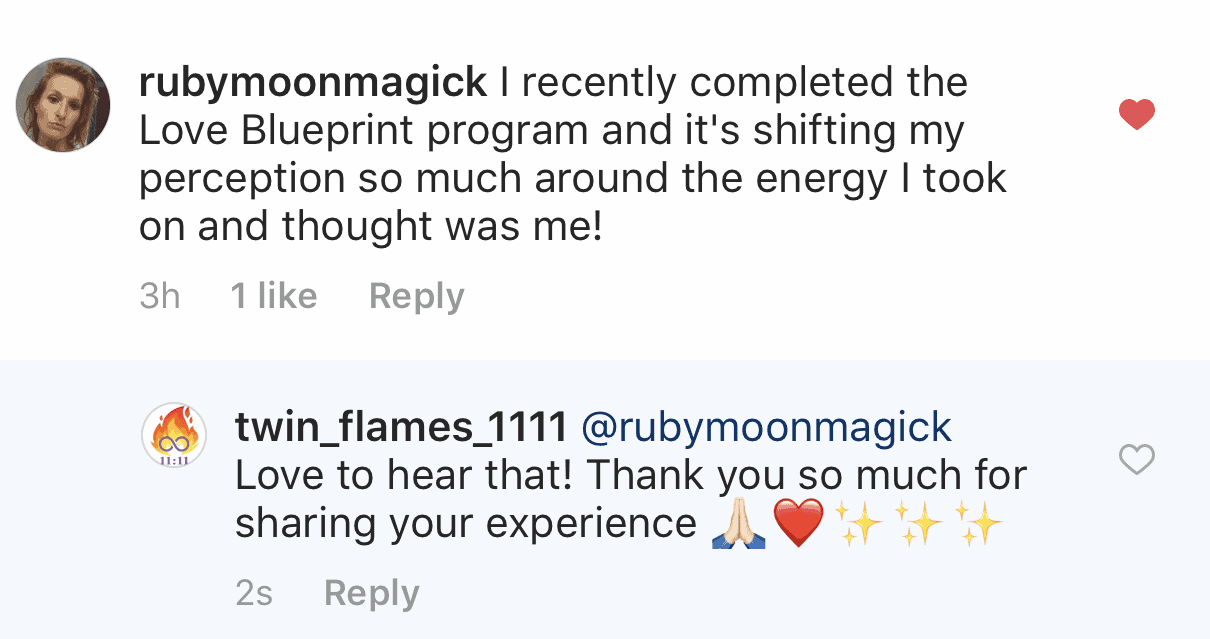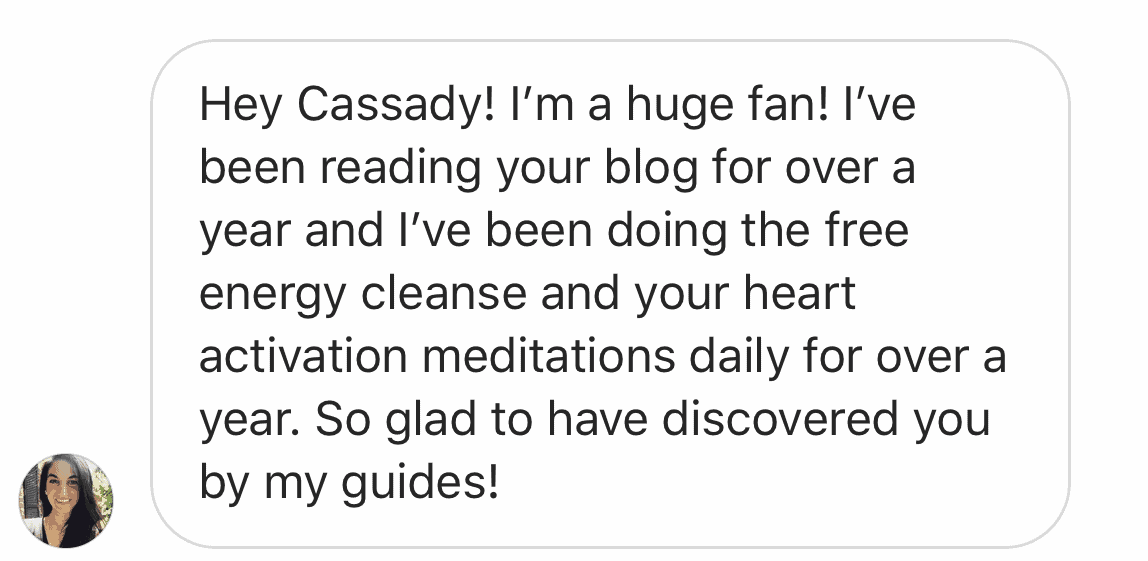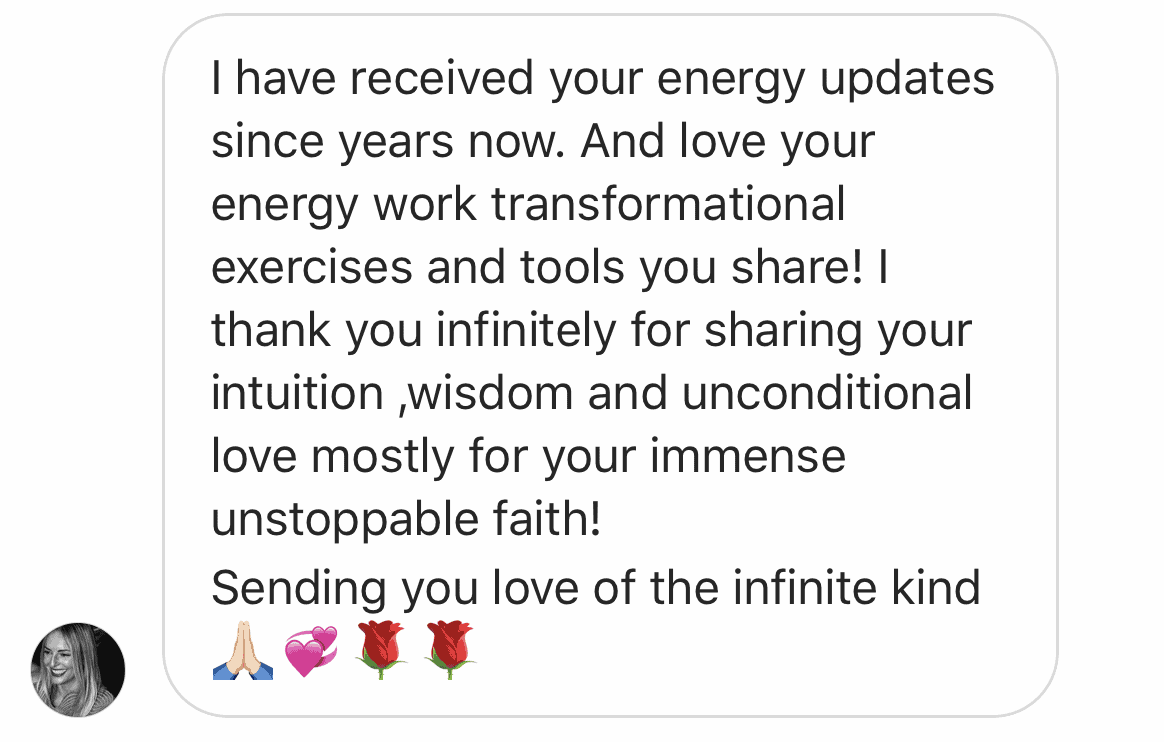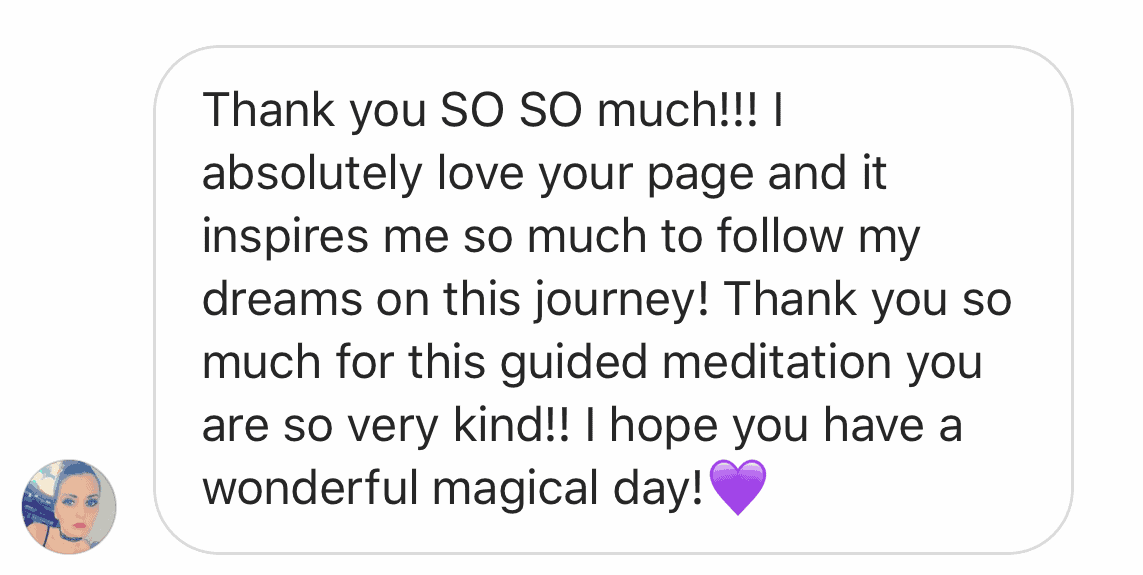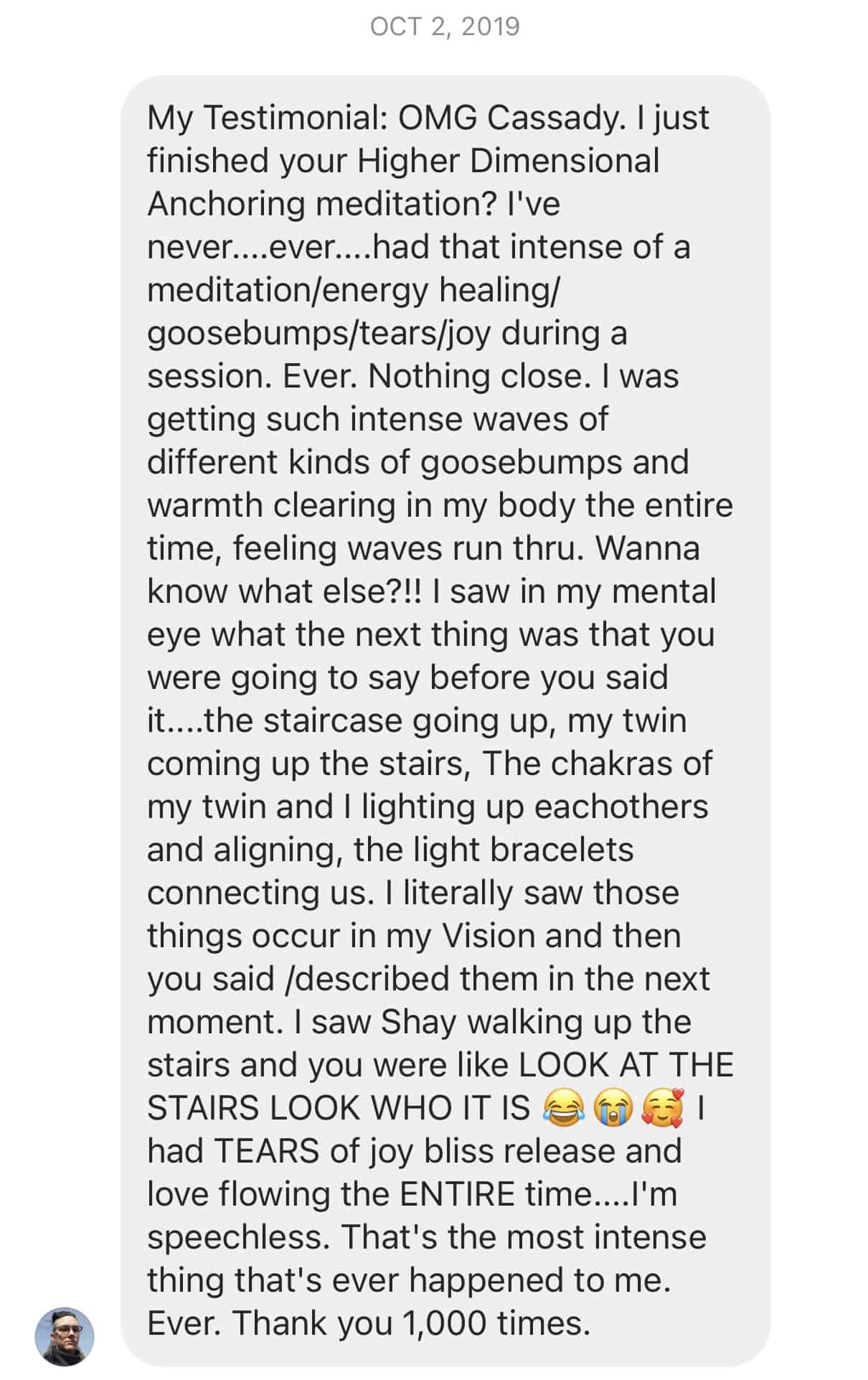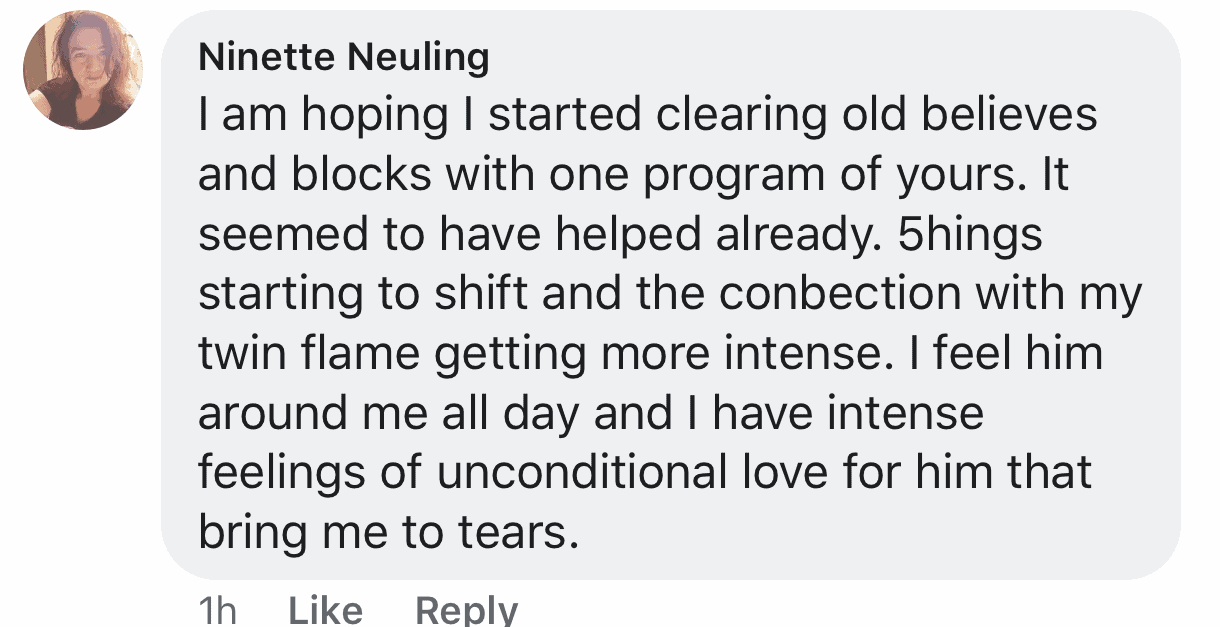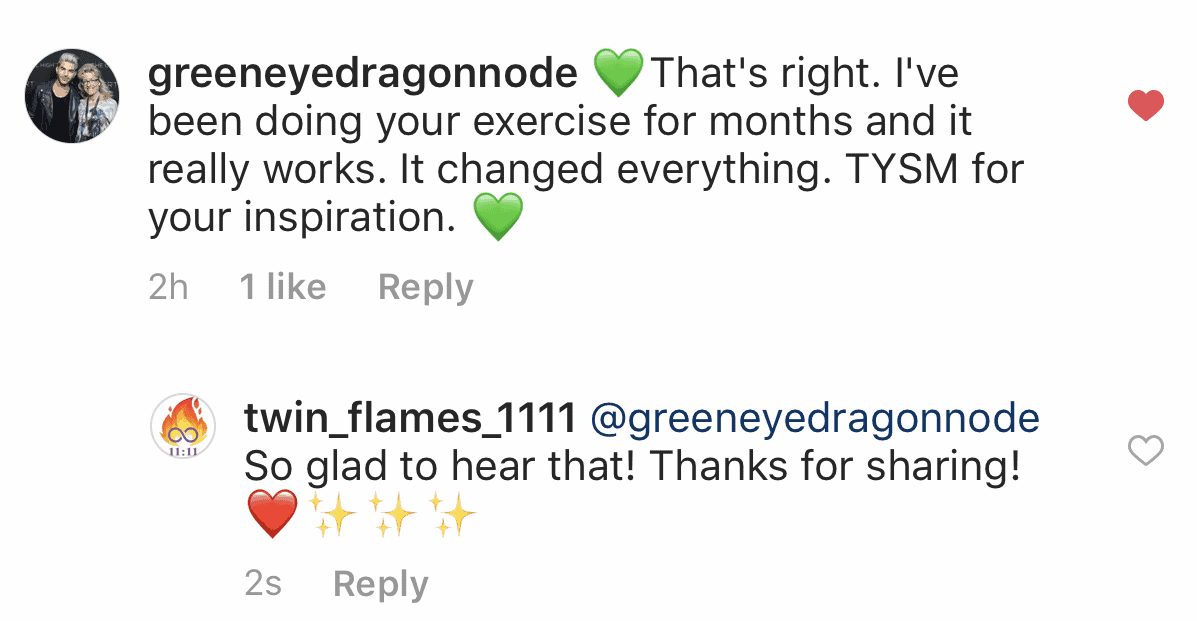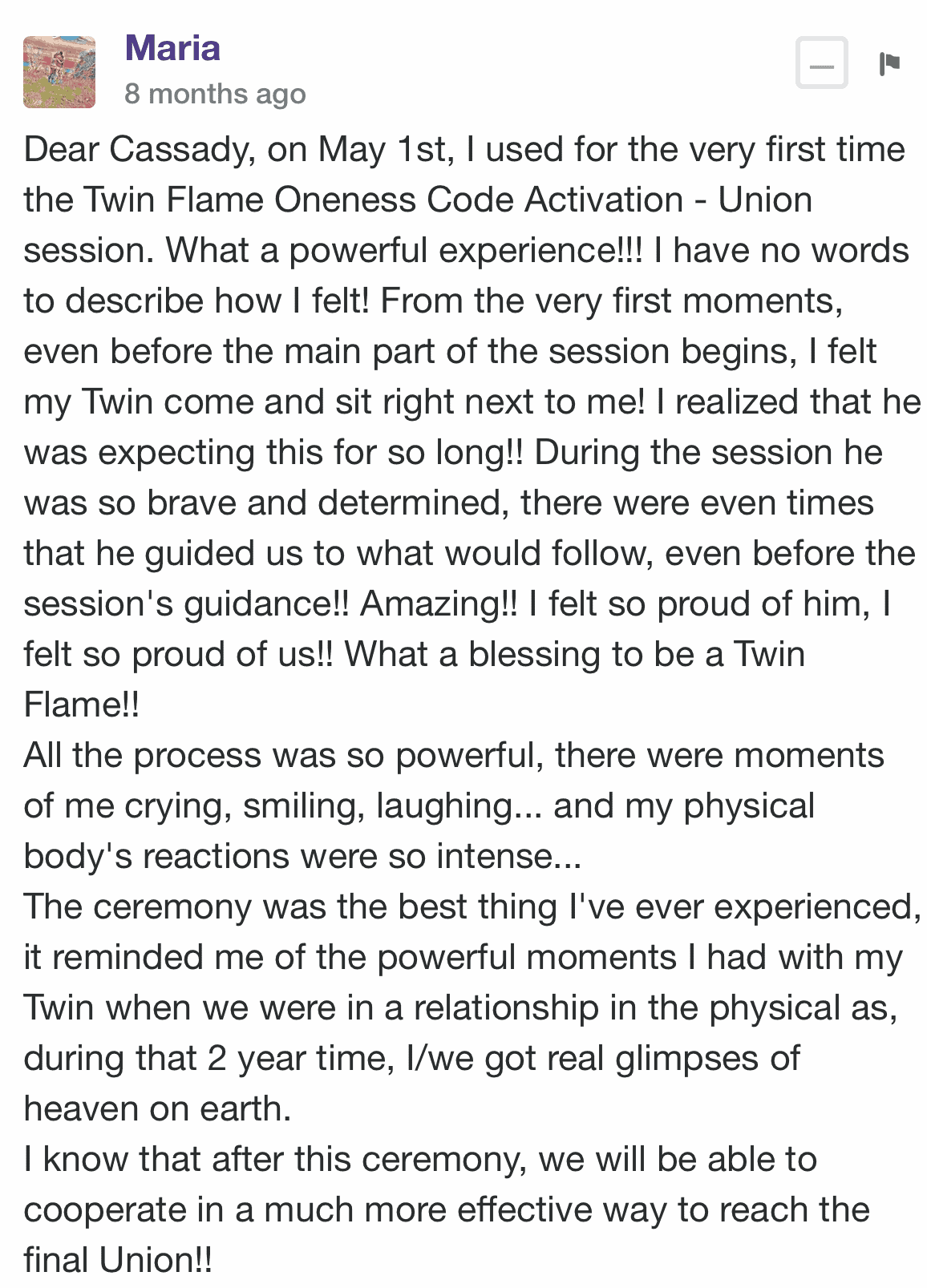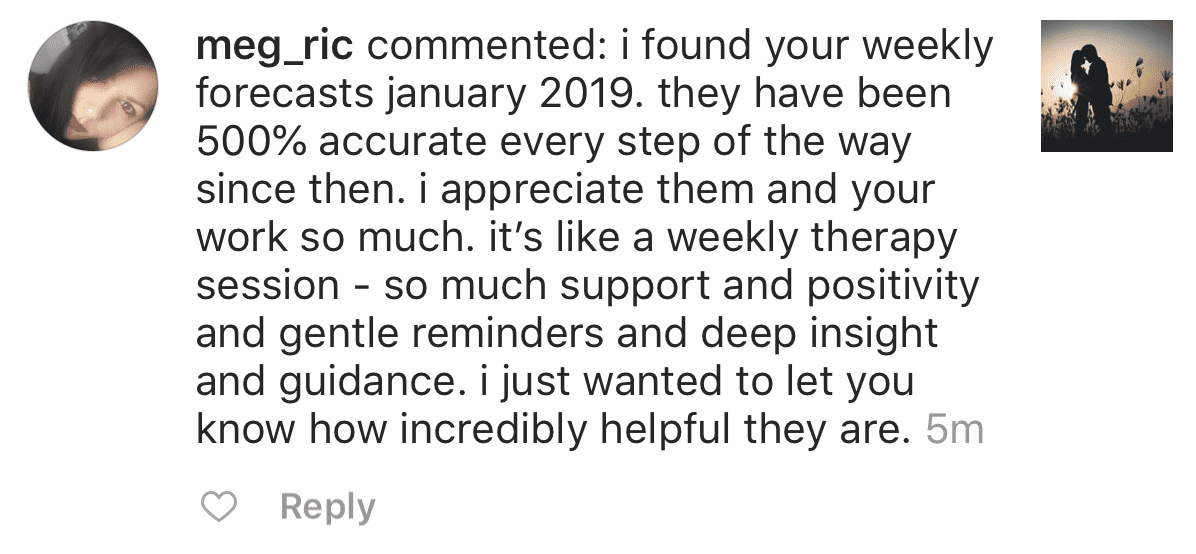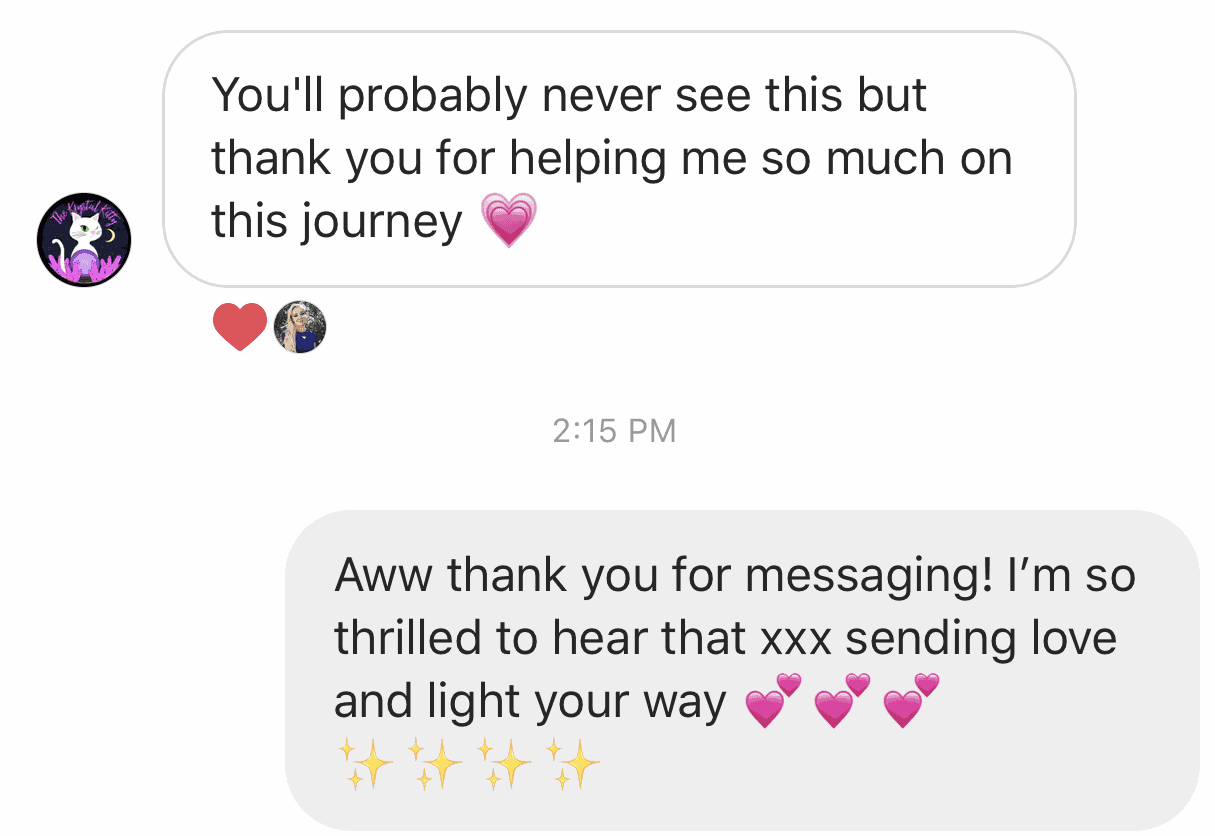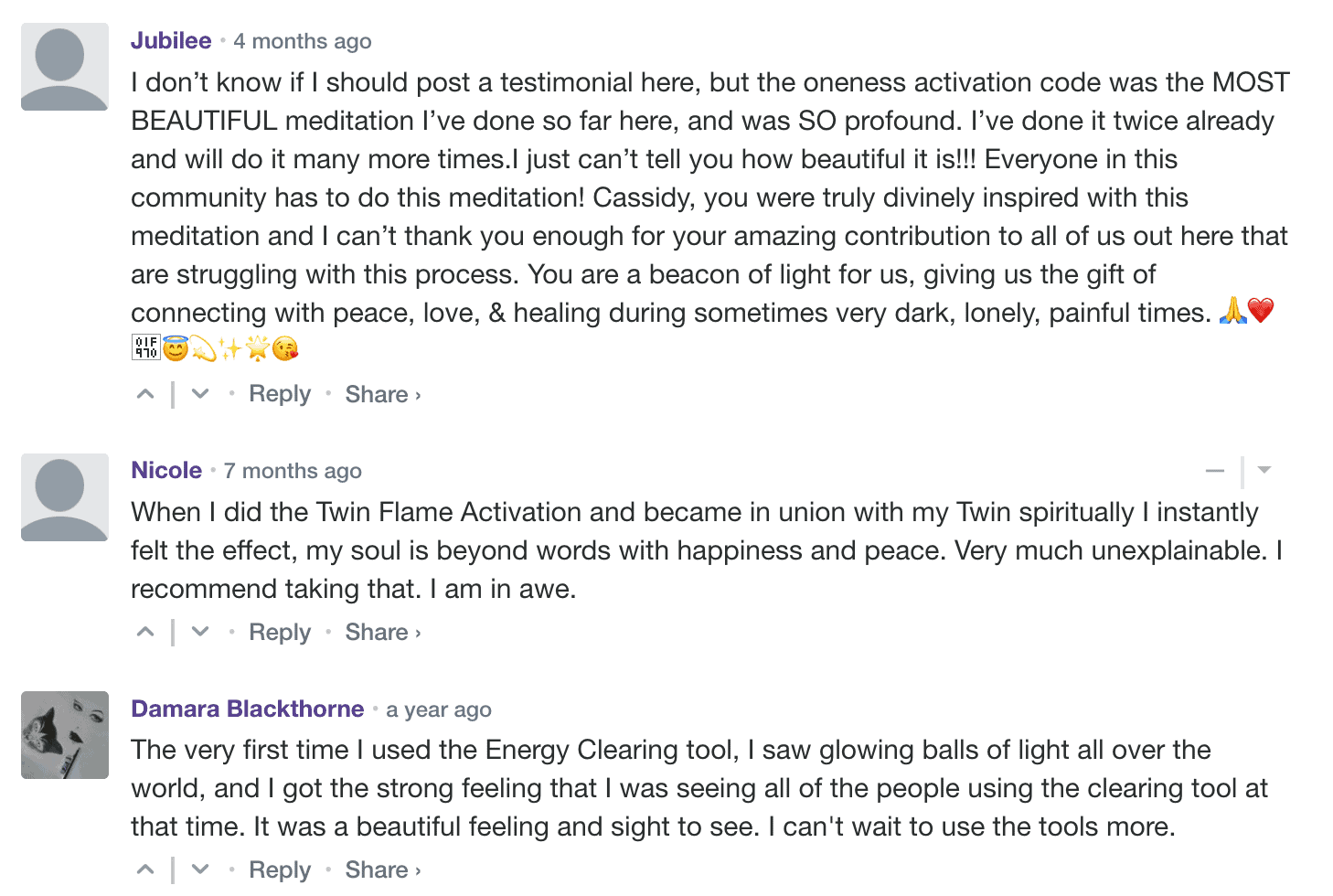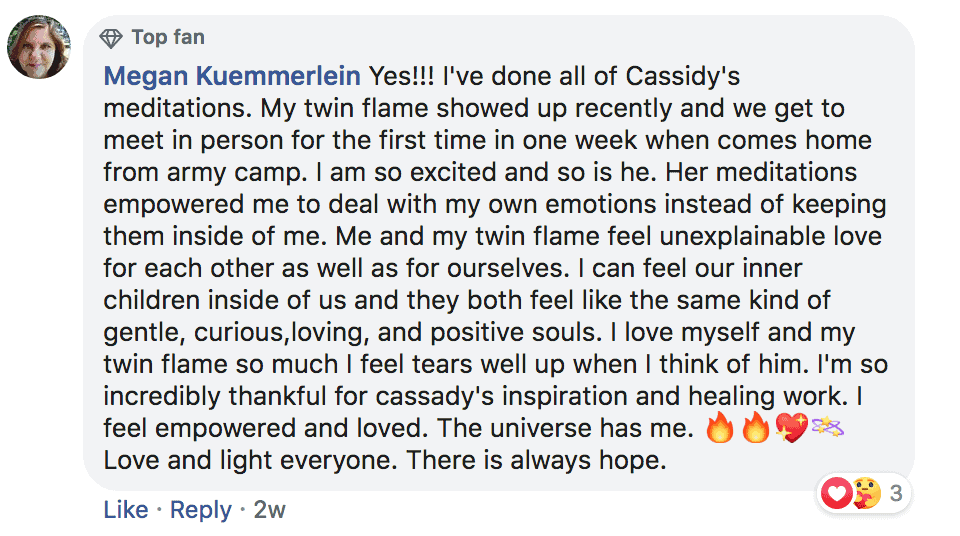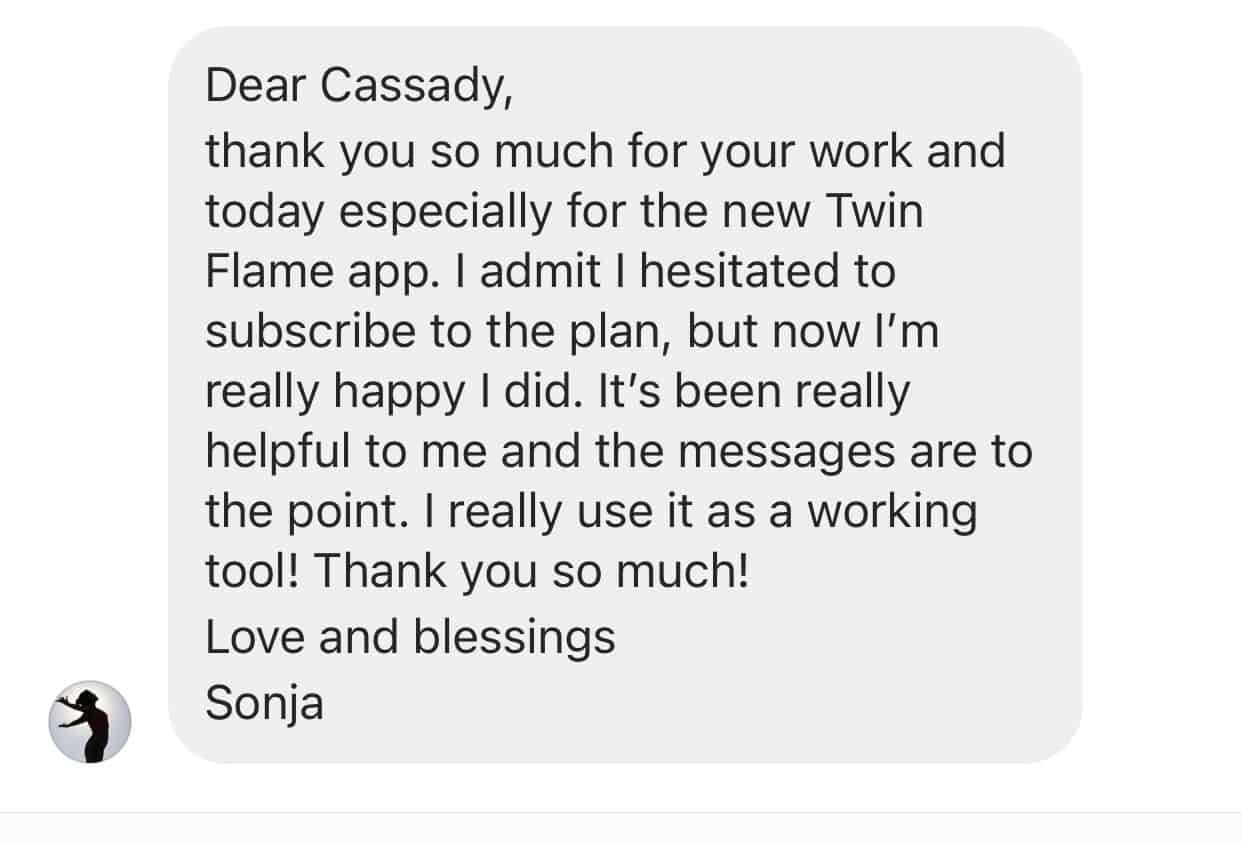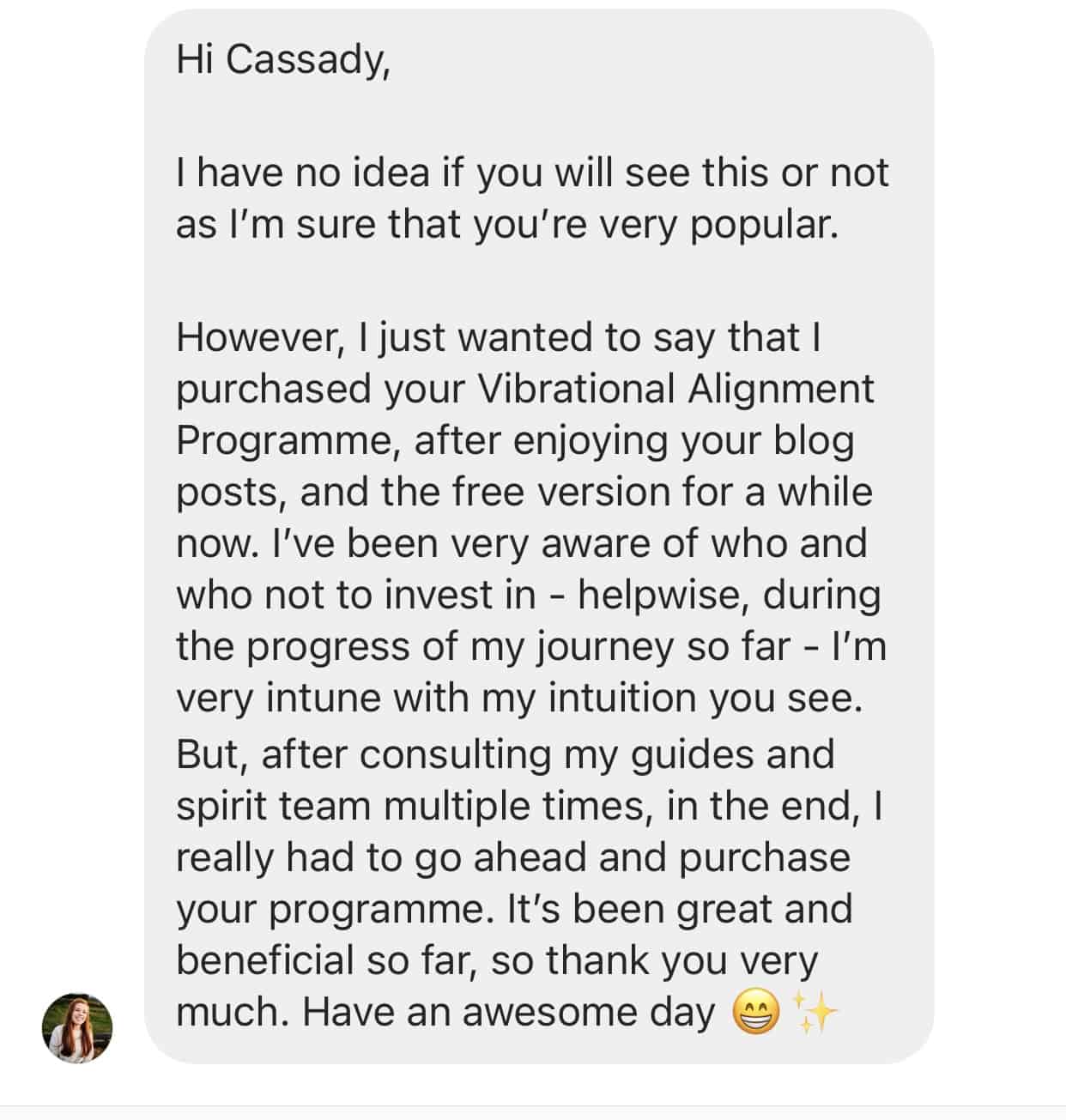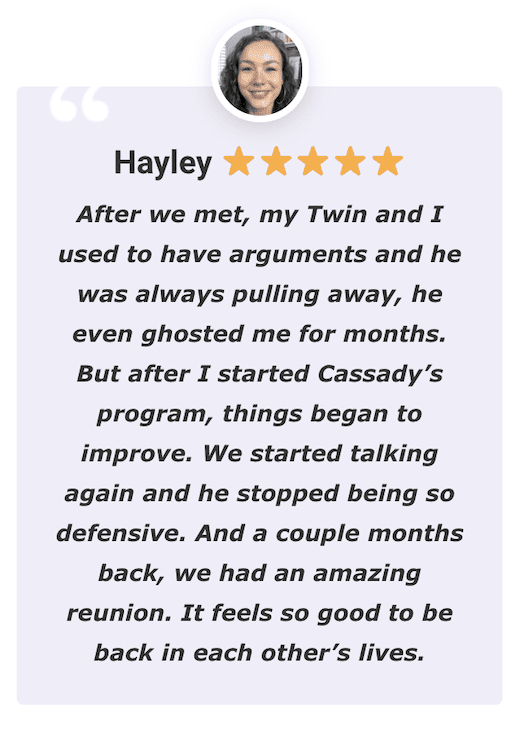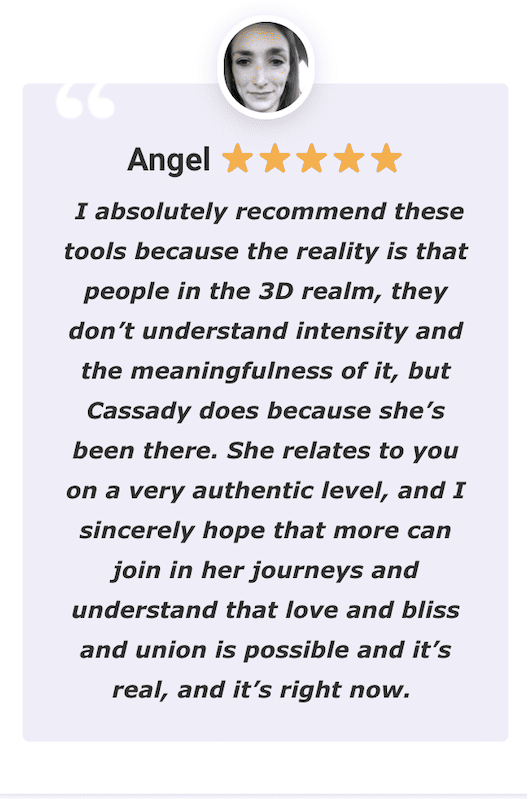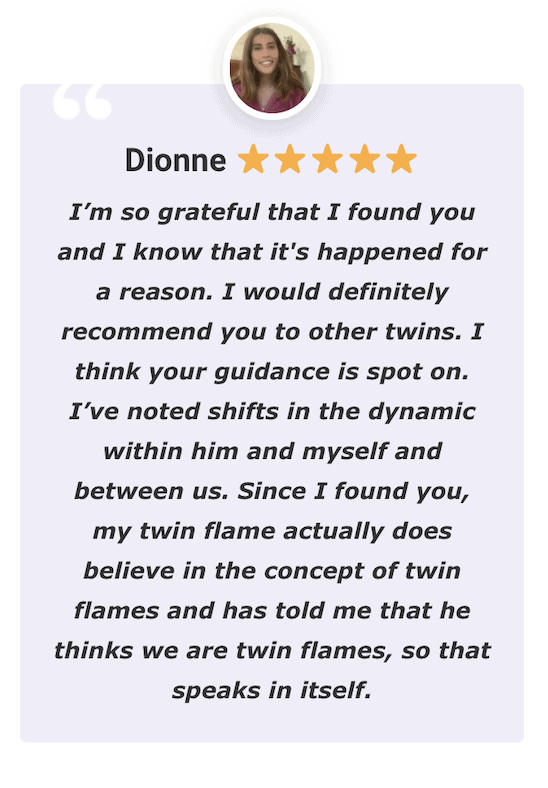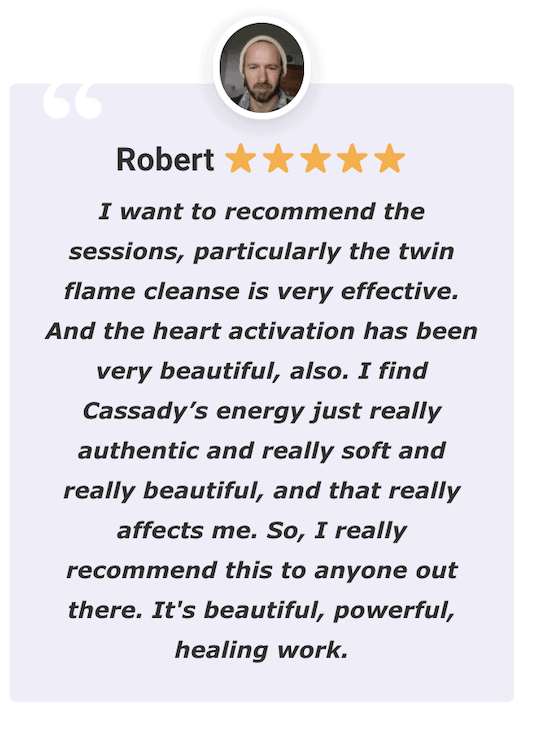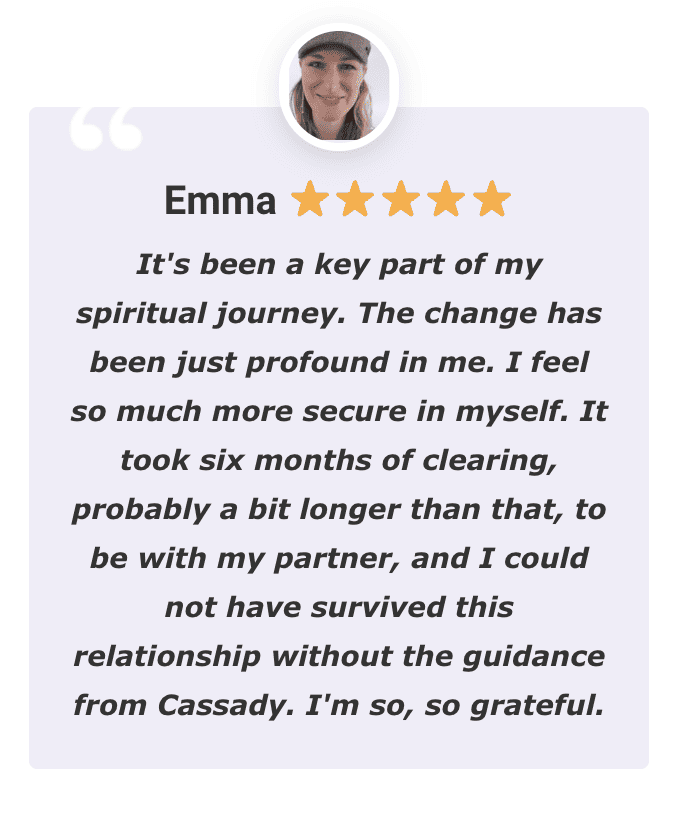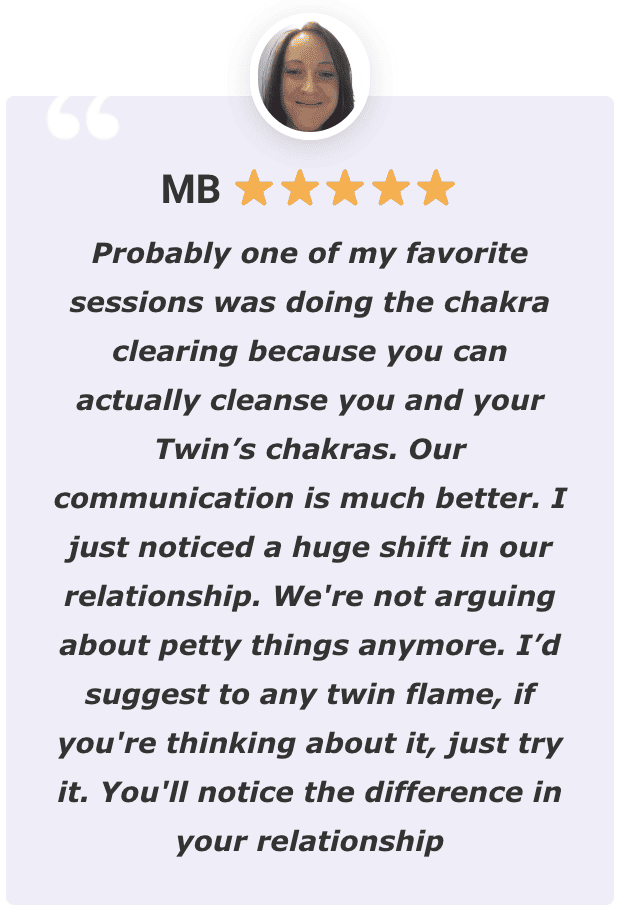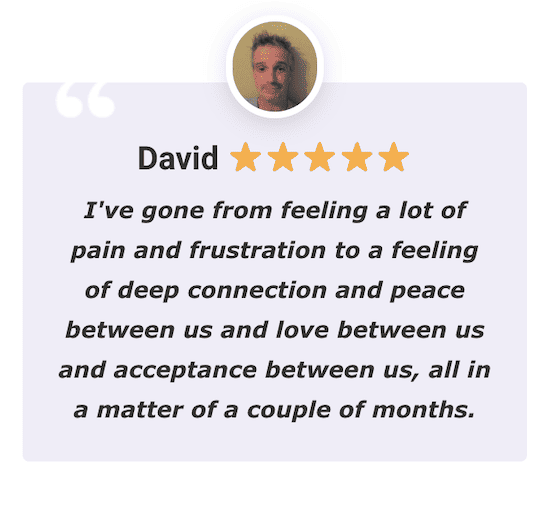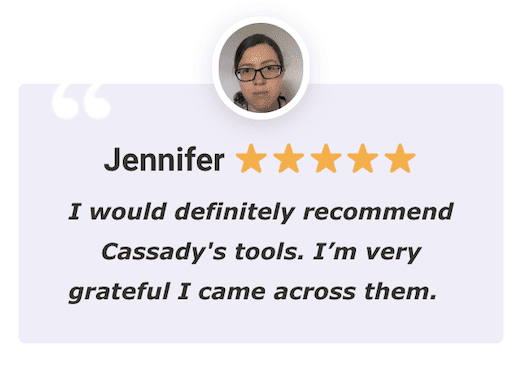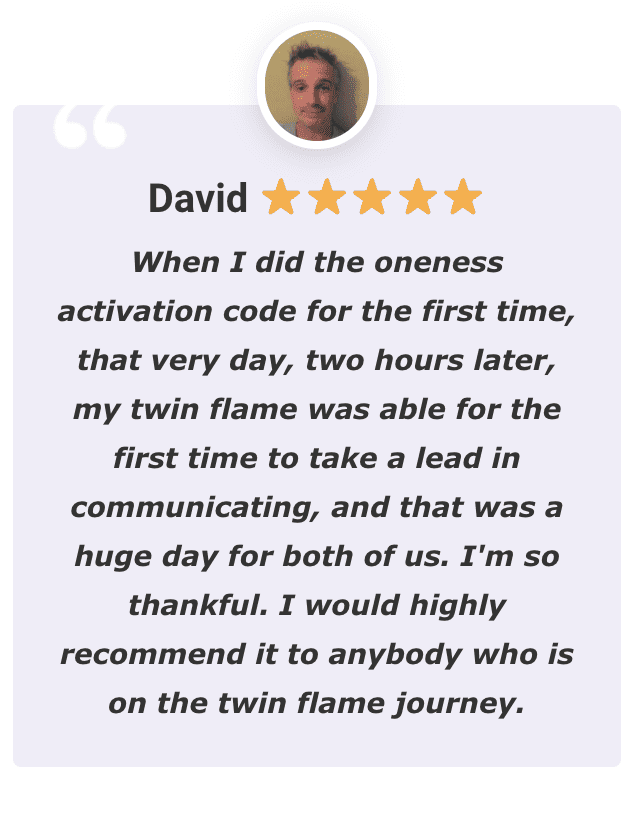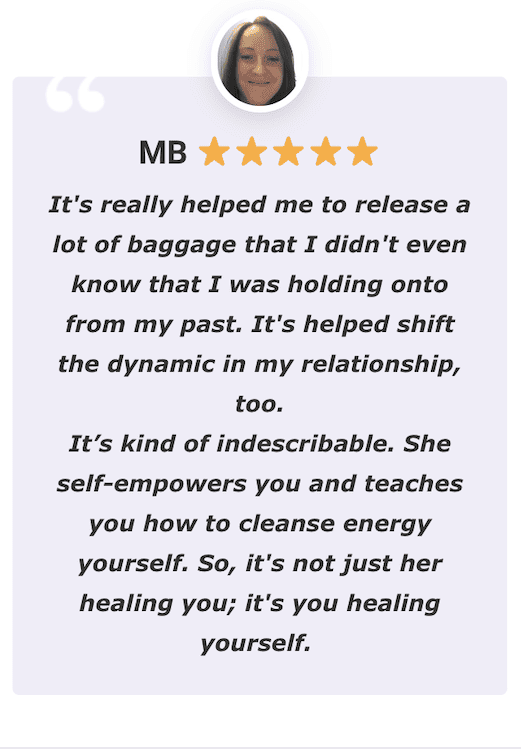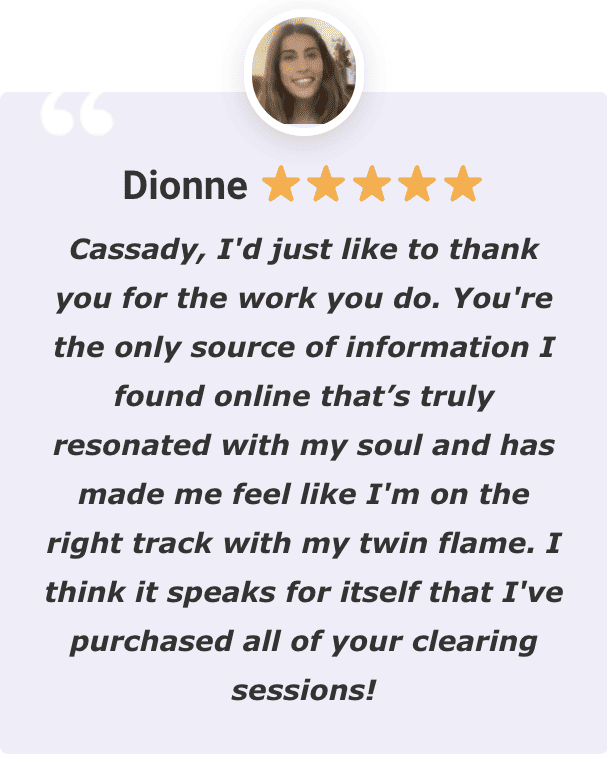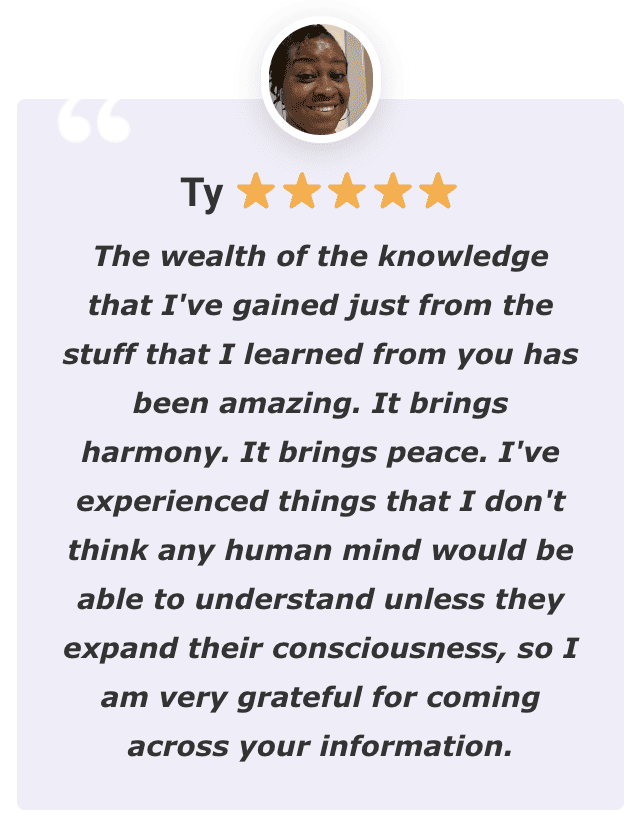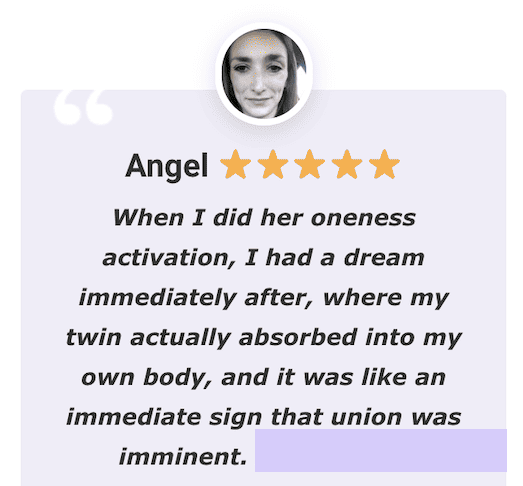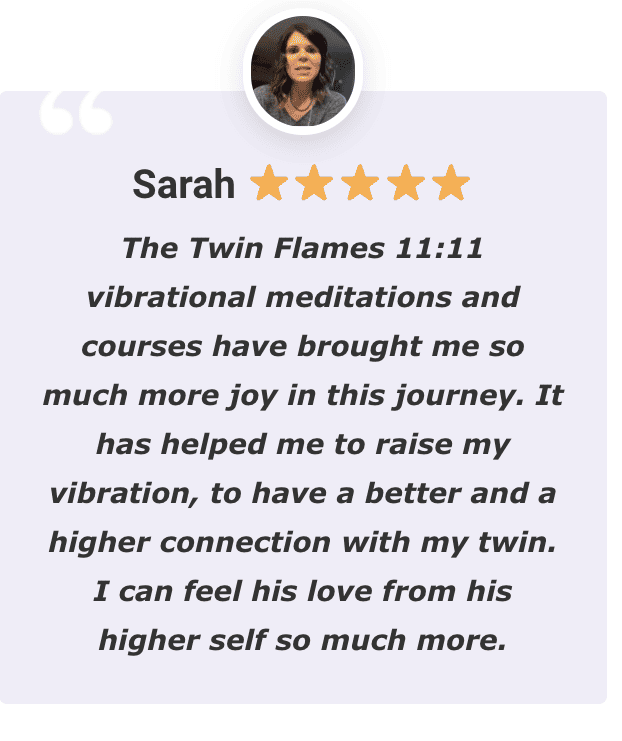 "Dear Cassady Thank you for your beautiful vibrational alignment course and all of your healings. Since i got them,  been doing it daily – sometimes twice. It uplifts me like no words can explain. Your guided meditations are amazing. Your voice makes it all so much more easy and enjoyable. Thank you for your work beautiful angel. Lots of love and light to you." Rosa, switzerland
"Your Vibrational Alignment program and  Harmony Healing program have been so valuable to me and I use them daily. I also use the Higher Heart program weekly.  Thank you!!!  My Twin Flame and I reconnected again in a way that was better than I ever could have imagined. " Joy, California, USA
"Hi Cassidy, Thank you so much for all you are putting into the world. Reading your writing and using your tools has helped me in countless ways on my journey. I look forward to every Monday and Friday to read your beautiful insights and guidance. Sending lots of love " Jackie, California, USA
"I experienced the power of these tools rather quick. The Vibrational Alignment Program is great and very empowering. It is allowing me to experience an inner peace I never thought I'd feel again. I also purchased the higher heart meditation which is incredible and I slept so well afterwards. I am going to try the inner child healing tonight. I wish I had found this a long time ago.Thank you!" Danielle, New York, USA
"Hi Cassady I have been following this meditation for around 1.5 months and the results are truly amazing. Each time I do this meditation, something special happens in my physical reality. Your tools are amazing. :)" " Victoria, UK
"Hi Cassidy, Thank you so much for all you are putting into the world. Reading your writing and using your tools has helped me in countless ways on my journey. I look forward to every Monday and Friday to read your beautiful insights and guidance. Sending lots of love, " Jackie, Denver, USA
"For anyone who is feeling fearful to open up and take a chance with another's guidance, I fully believe in Cassady, and her teachings. My guides have kept me shielded from many others out there, and it is from my growth on the TF journey that I am a firm believer that Cassady is one the purest Twin Flame teachers of our time. Thank you, Cassady!" KC, Panama
"Cassady I just bought your Higher Heart meditation, which is so wonderful! xxx" Jane, Midlands, UK
"Thank you for doing all that you do. You emails have profoundly helped and improve my journey. I hope you have a beautiful evening! With love and kind regards," Carly, UK
"Cassady, every single post of yours matches what I am I experiencing or just experienced. I'm always left speechless. This particular one has me convinced that my Twin's higher self is speaking directly to me through you because it answers the very specific questions and confirms the ones I've received from my spiritual team. I am so grateful for you and your programs, I have most of them?! Thank you! ??" Laura, Kansas, USA
"Hi Cassady. I purchased your full vibrational alignment program a couple weeks ago and had my doubts at first, but listening to the audios last night gave me a different perspective. I went through a few of the audios and saw many different things in my third eye vision. I look forward to what other things this program will teach me. Thank You for deciding 'Your Mission' when you came to this Earth :)" Justin, Delaware, USA
"Always your posts are spot on and reflective of current experiences! This has been a major question for me… is this him? Immediately after reading this 1111 was on the clock…and hearing his name in my head…and seeing his name as I look at other postings! I over think big tI'm and have been aware of it…. thank you for the encouragement to listen to heart…makes huge difference! Thank you beautiful lady for all the assistance!" Jennifer, Wisconsin, USA
"i am using your energy tools for a month and today was the first day with the vibrational alignment program. Im deeply thankful to u and ur energy tools and all the love and light that went into making these tools and pdfs. bless u. much love <3" Eiman, Pakistan
"I'm following this blog religiously, lol. It's like having a map through this crazy journey. ?The other day my twin asked me if it was ok to have feelings for him. Just months ago I would've frozen up in fear and changed the subject, but this time I remembered the "Divine Masculine" message about asking the feminine to let go of fear, to stop holding on so tight and let love in… so I told him it was ok. ?A huge block lifted and now we've started communicating constantly whereas before he was holding back.?The passion has been out of control too and coincidentally I wrote in my journal that I can feel a change in his energy, like he's "healed", then I read similar words right here! " Jenny, Oslo, Norway
"Cassady, thanking you first and foremost. Your work has had such a positive impact. I'm truly grateful for the knowledge and insight you share. Thanking you again for the love and wisdom you share with all of us. " Summerlee, Kansas
"Thank you so much! Your guides and clearings have made it easier for us to get to.union." Wendy, Iowa, USA
"The Higher Heart Transformation Journey is a wonderful tool. Many thanks for it. It helped and helps me a lot, to stay more and more in the light <3" Eiman, Islamabad, Pakistan
"Thank u cassady for all ur tools. They have helped me immensely and I'm sure I'm over this phase of trauma and baggage. Thank u. Much love" Roberta, Munich, Germany
"Oh what you say at the end of Truth 6, well this is why I like your work you're sharing -your vibrational tools and writings- so much. Indeed they are 'clean', I will even say perfectly edible. A food that is uplifting (only) and that is wonderful 🙂 . I am really happy I gave myself the gift of knowing and using your work 🙂 Thanks Cassady, deeply and with all my heart <3 :-)" " Isabelle, Toulouse, France
"Cassady, you are awesome. Thank you for doing what you do and believing in yourself and others. It makes me believe too. ?Much love and light to all yall! " Dennise, Kansas, USA
"Thank you Cassidy. Thank you. The 11:11 kit saved me. Not because my twin and I have now reunited but because it focuses on self love and it grounded me in a way that nothing else has. Thank you. Blessings, " Michelle, Missouri, USA
"i find great insight with each visit to this website. i am thankful that it exists & that you're keeping it going because it's been helping me a lot along my journey. it's given me clarity & assurance with areas in my life that were stuck with me. i have released plenty & have been guided to an inner peace that's refreshing to my soul. thank you again." Ebony, North Carolina, USA
"So great to have an incarnated guide here to pierce the veil and shine the light to show us the way!" Camila, Wisconsin, USA
"I have been listening to the Heart Transformation Energy Clearing and it is by far the most powerful of all of your recordings. Thank you so much." Pamela, Toronto, Canada
"I have done the meditations in the meditation garden. And clearing energy. Your programs are so helpful. I am able to observe the current situation w Hope and peace even though in the 3-D realm it looks pretty confusing! I would tell anyone to follow your program and do the inner work and the result is hope freedom and most of all peace. Thank you Cassady and your wonderful guides!!!! Xx" Karen, Mississipi, USA
"Thank you Cassady! Your weekly updates really resonnates with me and help me to not sink into despair. Your offer of free and well priced tools and resource that truly help." Nuria, Nebraska, USA
"Sometimes or quite a lot actually, it's as though your answering me directly in your blog! This struck such a cord with me and at a time when I'm asking the exact same question. Once again I feel uplifted & positive. Thank you Cassidy xx" Tracey, London, UK
"Cassidy, I just wanted to extend my greatest gratitude towards you and what you are doing for twin flames across the globe! What a wonderful service you are doing! These articles and your blog; are a life saver. I just downloaded your free kit and cannot wait go begin! Thanks again for all you do!" Tylee, Nevada, USA
"Thank you Very much for this blog, it does resonates with me as well. Blessings !" Leva, London, UK
"NEVER give up on Love – it is all that matters. Cassady, you are more important to the world than you even realize. Peace and Love – Always" Penelope, Maine, USA
"Hi Cassady!  By reading your blog and purchasing some of your energy healing tools my journey has shifted tremendously in a positive way. I am moving away from fear base energy and  entering in the energy of unconditional love. Today your email and article came in as a synchronicity and answer from spirits.  Many blessings from a grateful heart!  " Mayra, Kansas, USA
"Hey Cassady. I'd honestly say, that I haven't trusted a stranger in a long time. Yet your kindness and objective honesty has earned you lots of my respect and trust. Though I'm not yet able to afford your programs as of now, what you provide has been a God send. Many so called awakened twins, at times say very dubious things and I've encountered a few very frustrated twins who feel cheated esp because most timeline predictions don't come true. But your blog had shifted the focus to personal responsibility. That's the most empowering thing anyone will ever gift to another. What a God-Send! All Love, light and blessings to you. " Qamar, Kenya, Africa
"I am so grateful to get these messages at the exact moments I need them. Thank you so very much." Shavondalyn, Kansa, USA
"Wow Cassady thank you so much for this. Really. I have been struggling so much lately so stuck in my human mind, focused on my twin, on the future, on things that don't really matter. This message is so helpful and powerful. Thanks for sharing it and reminding us all that the love we know as humans is not the love we feel in our hearts. I am grateful to you. Love and light to you xx" Annalisa, London, UK
"Dear Cassady, I would like to thank you very much for your energy cleanse tools. They are absolutely Amazing and have helped me remove some blockages I had within myself and my twinflame. Cheers." Alexandra, Milan, Italy
"I have been meditating on the violet flames before finding your blog Twin Flames 11:11. I followed your work and it speaks to me. I tried working on your Free Twin Flame Transformation kit for 10 days. My scale of energetic vibrations elevated from acceptance level to love. It's amazing! I purchased the Twin Flames 11:11 Vibrational Alignment  Program. I started on the program right away. Your classes have help me on a personal level. Sending you much love and light." Anicia, Toronto, Canada
"Hi there,  My name is Corinne Crofford and I live in Atlanta, GA. I recently started following your writing and I wanted to share how grateful I am to have stumbled across your website and channellings. Long story short, I am a fan, and I wanted to express my gratitude. 🙂 Keep up the amazing work! It is needed, at least I need it, at present time. So thank you, and I hope you have a lovely week. " Corinne, New Mexico, USA
"Cassady this was spot on. It's a fine balance for sure. I'm continuing to use your energy clearing tools and it all looks very different. Not negative I am much more aware and fear is mostly gone. Loving each day and enjoying my life… no longer holding my breath for someday …. I know all is well and divine timing is everything. Love and light to you Cassady!" Rachel , Alabama, USA
"Hi Cassady, I have been following this meditation for around last 2 months and the results are truly amazing. Each time I do this meditation, something special happens in my physical reality." Sally, New South Wales, Australia
"I met my twin flame when I was only 14 years old. We were forbidden to be together because he was several years older. It wasn't until our paths collided 8 years later that I discovered who he is to me. I was guided to send him love and not knowing how, I googled it. After sending him my love one time, my heart chakra activated. My guides led me to this blog and ever since it has been a magical experience." Hannah, New York, USA
"I've been following you for years and Ive never made a comment. More than once this blog saved me. It's been a very unexpected journey to find a female twin, but your words have helped immeasurably. Thank you :)" Erin, Indiana, USA
"I met my tf 28 years ago. He is 9 years older. We met @ the bakery I worked @ while I was in college. There were several Year breaks we would talk rarely. This time we have reconnected in 2011. Speak once or Twice a month the last break was 20 years. All I know is there is a deep knowing that he's my twin and have had such peace and spiritual guidance since using Cassady's tools." Karen, Arkansas, USA
"Complete harmony healing rescued me.Yesterday night and tomorrow morning I had strange urge to have sex, but at the same time, a part of me did not wanted to do it. Very confusing! And then i remembered that you mentioned this " – so you don't have to feel your Twin's desperation, anger or residual energies of old sexual interactions with others that likely surfaced during this intense period.".Instantly I started complete harmony healing and with in few minutes I was cool, calm and stable. Phew, what a relief. Thanks Cassady for this 'Complete harmony healing' meditation, it made me whole again 🙂 " Param, New Delhi, India
"Hello Caasady, Thank you for everything that you've done here in creating this website and your programs." Kelii, Colorado, USA
"Dear Cassady, I just wanted to thank you for sharing your work with the world. The energy tools have truly helped me in every aspect of my journey. I write daily to process my experiences. My Twin Flame and I are not currently speaking because we both have much work to do individually at this time. I wrote this and hope it may help others who are in the same place on their journey…Love & Light " Jennifer, Kansas, USA
"I just want to encourage everybody going through Ascension and Twin reunion. I am living proof that though this journey is hard, even heart-wrenching at times, IT DOES GET EASIER as time goes by! I discovered that as I truly expressed the intention of becoming more conscious, and worked on myself, doing energy clearing daily and asking my Higher Self and guides for insights and guidance, the "difficulties" lessened and over the months my journey became lighter, happier, brighter, surprising! I then started to feel my Twin's energy inside my heart chakra every single day. And I was gifted with the certainty that our love bond is unbreakable and truly eternal and infinite. This knowing has given me so much peace and joy, and I can feel this growing every day. I don't "miss" him anymore, I don't suffer because of this, despite the "perceived" obstacles between us. I am just SO grateful for the relationship we have, for having been able to reconnect in this lifetime. And I am certain we will be physically together too. So please take heart! Even in your darkest moments, if your intention is aligned with wanting to become the best version of yourself, for your sake and your twin connection, KNOW that you WILL achieve this and more…?… and you WILL fully enjoy the infinite Love between you and your beloved twin! Be encouraged, because it is 100% possible! And it DOES GET EASIER too! <3″ Elise, Guatemala
"Thank you Cassady! There is so much truth to what you said. I've been in that place where I wanted someone to fix it for me, but I've learned.. slowly and sometimes painfully how to do this myself. (Through the programs you have created.) Patience is the word that was sent to me over and over in some of the difficult transitions. However the energy clearing, the work on myself has paid off. The connection between my twin and myself continues to grow. " Becky, Wisconsin, USA
"Cassady so appreciate your words! As I continue on this journey it has become more and more evident that we as individuals w our guides and spiritual support are the only ones that can heal ourselves. Your tools have continued to be a direct link to my healing but I am clear that this is my journey and I am capable regardless of the current circumstances! Thank you for the love and continued information. Your tools have helped me more than anything I've done to heal my karma and pain. Love to you ?" Karen, Arkansas, USA
"Dear Cassady, I can't put into words how grateful I am to you. Each week your writing clarifies, uplifts and inspires me to continue, and the meditations and vibrational alignment tools have made all the difference. I can feel the changes in me and see the changes between my twin and I. I am learning about unconditional love and becoming more in touch with my soul everyday. Thank you for all your energy and effort in helping me. I would be so lost without it. ?Sending you love and light, " Rachel, Sydney, Australia
"I just want to let you know: thank you, thank you, THANK YOU for everything you have done and are doing for our twin flame community and with that for our world/humanity! While – as you so justly pointed out – you're in your own life and union as well. I am só grateful for your tools – and diligently using them daily for quite a while now – , your program I'm now working through, your clearings I've been applying etc and all of your information! It's helped me so much in addition to understanding better what I am feeling and have been doing (mostly intuitively) is right and good and I'm not weird or crazy. Your tools, program and clearings make so much sense and feel really good and practical." Monique, Netherlands, USA
"Well said!! A loving kick in the behind for us all :-). I fell in love with your words because I had felt a victim to my life in certain areas, and your words have changed that perspective. It feels great! When I lose my way or get stuck, I can always find something beautiful that you have written to get me back on my path again. I am beyond grateful for the time, energy, and love that you put into every posting." Alex, Virginia, USA
"Your dedication to the Twin Flame journey, and community, is outstandingly beautiful. I thank you for creating, sharing, and guiding many of us on our journey, Cassady. Without your work, I do not believe I'd be where I am today; and I know that I have much work to continue with, but after finding you last year (around this time!), I have been able to shift a lot of things I didn't think would ever leave. There are so many out there preying on twins who are in pain, charging large amounts for each "healing session", but never sharing insight as to how we could possibly learn to heal ourselves; you have given us the tools so that we not only remember that we are in charge of our journey, but that we truly possess the ability to BE in charge." K.C Panama
"Dear Cassady…I want to thank you from all my heart for creating such a program & making it reachable for everyone and even for free.. without which I know I would still be wandering and not knowing how to resolve my core issues that I was working very vigorously & with awareness from 2013 but unconsciously whole my life… with some effect but without the desired result of solving this persistent issue with the person that entered my life and through you I found he is my one and only twin soul By now I'm using the vibrational alignment program and the meditations within it almost every day for 5 months now and all the precious meditations for inner child healing, higher heart transformation, deep cleaning with about 20 days distance (I am a good student) and I have to say my understanding of the relationship, everything we are going through, why is so… have completely transformed from being constantly irritated with whatever this one person do but not being able to detach energetically from him for a moment… to one eternal loving soul who finally was able to transform all the negativity into pure unconditional love! This is so precious I don't have words to express! Thanks to you Cassady, though I thank myself too for being able to find exactly you, who with such a precision and sharpness was able to present me undeniable facts and experiences of beyond and convince and pass behind my prety much analytical mind and change my life to what I always have wanted it to be forever! This is such an empowering, lifelong and beyond experience for me and for everyone I believe who have tried your program and listened to their intuition to follow your guidance. I have to say, I don't believe there is any work like yours to be specifically designed for twin flames and be the exact solution of all the problems encountered. Sometimes I think that all your work was designed only for me, everything in it hits me just on target 🙂 Your work is pure, exact, impeccable and most of all highly refined. I would like to follow your example and integrate your guidance in my everyday life. You are my inspiration <3.?Thank you sooo much ?Sending you Love 🙂 " Nilgun, Turkey, USA
"Cassidy, you ARE the universe in ecstatic motion. You have pointed the way for so many of us lost. You are the light out of the darkness, you are the love out of despair. Your higher purpose has shown the universal love, a new way to love. You have helped humanity bridge the distance between souls, between hearts. Thank you for all that you give to this community, to humanity. You have made a huge difference to my journey. Without yours and others help I would still be in the darkness, lost to separation, guilt, anger and heartache. None of that exists now, it was just an illusion. The truth has always been inside, and you helped me get there. You are the most wonderful signpost along this universal journey into love. Thank you, bless you and I thank the almighty that you never threw in the towel." Sarah, UK
"Oh my God Woman, I love you!!! (said in a New York accent). I can't thank you enough for all that you do with your love and wisdom. You are RIGHT ON, like always, and always ON TIME! I don't think I'd be moving along as well on this journey if not for your concerted effort. Thank you. You are a Blessing, and a Blessing to all of us reading. I learn so much from you, and it's because you speak with the love and truth that others seem to be lacking. Thank you for staying true. Love, Light and Blessings Dear Soul!" Julia, Kansas, USA
"It's a simple message, but not one that's always easy to accept. Everything is from within, from the inside out. Ultimately, it's up to ourselves to believe that, but a little reminder never hurt. It's important to keep our eyes open, even when we cannot see.?Sometimes I find myself wondering how it's possible to separate our human selves; that is our emotions, expectations, and the crucible that is our mind; from our spirit; our soul that forever bonds us with our twin. I often wonder what it is I'm supposed to do in regards to my twin, who I am not with in the physical. What's okay? What's not? What does more harm than good? It's a constant back and forth that, on the occasion, leaves me feeling drained and hopeless. But for the most part, I am doing very well, and am amazed when I think back to where I've been and how far I've come. I continue to open and shift my perspective, and I've had to make a lot of changes in my life; some of which occurred so naturally as if I hadn't even noticed what I was doing. And your insights have always been so helpful and are so greatly valued. Our experiences and stories are all unique, but you remind us that we are not alone in both our ups and our downs on this beautifully intense journey. ?Thank you, Cassady, for your time, energy, and love. I always look forward to your insights and often find myself reading older articles that may be relevant to wherever I am along my journey. You, and all that you do, are appreciated. xoxo " Emily New York, USA
"It's funny how your articles just seem to come at the right time. I pray you continue your work and keep helping others elevate themselves and their twins. Work like this is never easy but it can be very rewarding and you are definitely helping people change their lives for the better. Not only with their twin but in all areas. I ran across your site about a month ago. And I believe what you say about putting the energy out there for people searchIng for this information to find it. I truly feel that's how I came across it. I used the free download for 3 weeks and just purchased the vibrational alignment program 5 days ago. It has been live changing for me. I feel so much better… happier, calmer, full of life. I know the power is in my hands now. I've even had so many people comment on the huge change they see in me and it happened after only 3 days of using the free downloads. I've had so many amazing experiences already. And within 2-3 days of using the vibrational alignment kit I was able to communicate with my twins higher self. We are still not on speaking terms yet but within the last week I have noticed us just being in the same places at the same times. I feel that is the work I have been doing over the last month. Thank you. " Vanessa, New York, USA
"Dear Cassidy, thank you for your practical approach – it truly resonates with me. I do the work under your loving guidance and I am learning so very much on my twin flame journey; it is absolutely amazing and joyous. Love and thanks to you for continuing your work xxxxxxxxxx" Angela, Queensland, Australia
"Thank you for this post Cassady! It's such an abundant gift to share with us. I'm excited to try your energy clearing tools and tips. I'm already doing some of them and I can feel the difference. I love the free meditations you've shared, and I always feel so refreshed after. My twin even came to my dream last night after using them. Meditating is a must for me! Thank you for mentioning forgiveness as well. I ask my twin to forgive me, but I often forget to mention that I forgive him, and I truly do forgive him, and offer only love. Again, thank you for the beam of light you shed weekly! ?????" Alicia, California, USA
"I had to revisit this again, felt guided to this article actually, such a wealth of information. I was guided several months ago to disengage from the twinflame groups only, to stop watching the video and start really working on energy clearing. I ordered some additional tools here but they are deep! Taking baby steps here. I work in a healing profesión and some if the things you shares especially about past life vows of poverty left me speechless. Such great information and guidance." Nuria, New York, USA
"Thank you for your beautiful vibrational alignment course and all of your healings (I love the twin flame harmony healing and do it daily!!!). I only just recently started doing your tools for the past month and have found the guided meditations are AMAZING! I've been doing violet flame mantras and clearing work with the archangels for years now, but your guided meditations really help me go deeper faster than trying to meditate/quiet my mind on my own and have brought up more to clear faster I think!" Erin, Indiana, USA
I am really enjoying the Vibrational Alignment Program and the Harmony clearing. I am finding it much easier to stay in higher vibrational energy not only regarding my Twin but in all my thoughts. As an Akashic Record Reader, I know how much can be at play in our relationships, beyond what we think is taking place here and now. It is very empowering when we start to clear the clutter, blocks and restrictions away and how much easier it is to get a clear connection to Spirit. Thanks Cassady, this is helping both myself and my clients. " Diane, Kentucky, USA
"I have been so incredibly lucky to have found your amazing work at the beginning of this year, it really resonates with me on a very deep level. you cannot imagine how much you have helped me to regain balance and sanity these past couple of months. You are a true blessing to this planet, I am sending you much love and light!" Isabel, California, USA
"I decided to listen to one of your energy clearings while on one of my flights this week, and something amazing happened– I actually felt and saw my twin's higher self kiss me! I had my eyes closed, and as we were going through the clearing part of karma, I saw a face emerge from a black and blue background, covered in white-beaming stars… This has not ever happened to me before! I immediately knew and felt that it was my beloved, and the positivity that flooded my entire being was amazing. Thank you so much, dear Cassady!!! " Karina, San Francisco, USA
"I have your information on twin flames and have found it very valuable.  You are able to impart the process in a very clear way, while making a good point that each twin flame journey is a unique one.  There is no cookie cutter model for twin flames, which a lot of sites make it seem like.  Very powerful and effective meditations, which help with moving forward.  Thank you so much." Meagan, Kansas, USA
"I benefited tremendously from your audios and words, I can feel your channeling the energy (I have the free starter kit and have purchased the Intensive Energy Clearning Session:" Weimin, New York, USA
"This is just magical and I'm moved to tears…This huge block between us just dissolved in a snap and we are now closer than ever before ! It's like a miracle just happened before my very eyes.All this came from your work, your vibrational alignement program, and the techniques you share. She and I are doing the Work, of course, but it would be so much more difficult and long without you. The only way is UP…So thank you, thank you, thank you..with positivity and abundance in all ways." Laurent C. Paris, France
"Your energy updates and integration techniques have helped tremendously and continue to do so on such an intimate level. Words cannot express my gratitude and appreciation for your time, care and continued effort. The love you share daily is such a beautiful divine gift to receive. Thank you for picking me up when I have fallen down and gently guiding our collective back to The Supreme Oneness with all. You are loved by all of creation dear sweet benevolent soul. And because of compassionate, amazing people like you, I can now receive my own words with the same sincerity. This has opened my heart enough to bravely reclaim my own energetic gifts so that I too may share them with the world. Ha, while writing this last statement my heart clenched up, but I know this fear is not real. Your courage and openness to give and receive has inspired my own. Thank you deeply. ((( <3 ))) " Tosha. Minnesota, USA
"Thanks Cassidy, you get me through the day, sheds new perspective, im thankful my angels guided me to you!!!! I'm grateful, you help turn the darkness into light!!!" Pat. Toronto, Canada
"This is just magical and I'm moved to tears…This huge block between us just dissolved in a snap and we are now closer than ever before ! It's like a miracle just happened before my very eyes.All this came from your work, your vibrational alignement program, and the techniques you share. She and I are doing the Work, of course, but it would be so much more difficult and long without you. The only way is UP…So thank you, thank you, thank you..with positivity and abundance in all ways." Laurent C. Paris, France
"Where can I start Cassady! Since having started your harmonising meditation tool things have changed so rapidly. I have changed. I cannot even describe it with words. My heart has opened so much and I am standing in a place of acceptance, love, compassion for my twin. I keep seeing 1111 and 111 and I keep repeating myself as a mantra -we are one. I feel this love inside that can only radiate towards the outside. Kindness and understanding for my twin are making him do slow progress but I am happy. Cos I feel the changes inside. This energy. You have valid points in this article. Thank you is not enough. Thank you. Xxxx Annalisa. London, UK
"This is quite possibly the best thing I have ever read with regard to my journey. Thank you so much! This helps enormously. Thank you!" Misel, Massachusetts, USA
"Cassidy, this is such good information…intelligent and thorough..you do have a wealth of it on this site and I can't express enough of my gratitude. It has helped me profoundly. Tammy Colorado, USA
"Firstly, thank you and your spiritual guidance for developing these tools to help free pain in so many people including myself and re unite so many twins. The World needs the twin flames' connection, so much right now, I feel Your free tools have helped already and I am looking forward to working with the other tools to banish karma for good and access my akashic records. Amy , London, UK
"A couple weeks ago I started using your free meditation tools. While I'm still working through the "kinks" in my meditation, I know that your tools are helping me." Sherry, USA
"Dearest Cassady, First and foremost I want to thank you for everything that you do. Words cannot express how grateful I am for such guidance with the tools you have provided" Ashley, Arizona, USA
"I have tried this new harmony clearing for twin flames and I think it works. All the impatience regarding the timing of the reunion has been lifted. I feel like i have "remembered" who we are and I suddenly feel happy and calm, I feel the love between us, the love that was there since we were created. I now know that we will make it, together. So hopefully I can always remember this and feel this love and happines when I think of him and be calm regardless of the outer circumstances 🙂 " Anna, Germany
"One of the most challenging parts of the twin flame journey for me was back when I was in such a terrible place of so much confusion, hopelessness, and uncertainty. It was so dark, scary, and lonely. There was nobody I knew who I could talk to about what I was going through, let alone who could share any advice about what to do and how to get through it!  After I worked through the Cassady's Vibrational Alignment Program, I felt such huge shift within myself from all of the wonderful information, tools, and meditations. I received so much reassurance and validation about what I had been feeling (and that what I was experiencing was real, and that I wasn't totally crazy!) and felt so much peace after having so many of my questions about twin flames answered. It was so wonderful to learn what the twin flame journey is all about from someone who has actually been through it and knows just how hard it can be at times!  I love having so many concrete tools to work with when I feel myself slipping back into hopelessness again, and they always seems to help. With the help of the program, I'm at a place now of so much faith and trust that the Universe will align me with my union in perfect divine timing. Thank you Cassady! I am so grateful for all of your work!!" Tiffany B, Vermont, USA
"I am so grateful for being opened to your blog and tools.  Thank you.  " Paula, Indiana, USA
"I am at this moment learning to love myself been using ur free kit and honestly can say it is helping. I only started a few days ago." Sarah, London, Uk
"I have been following Cassady for almost a year now. I have had the pleasure of working with her 1:1 and also utilising many of the tools that she recommends in her Vibrational Alignment Programme. She really worked wonders with me and my relationship and was able to provide great insight into the dynamics of our relationship and little things that I can do to shift it in more of a positive direction. It has helped me immensely. More recently, I have been following her energy forecast closely. I have found Cassady and her work to be really inspiring and uplifting. She really encourages us to take back our own power in this journey, which is so important. It´s so easy to completely lose yourself in this process so it is definitely very helpful to have such an understanding and compassionate voice to remind us of our own power and wholeness. Thank you Cassady for all of your incredible work, your hard work and efforts are very much appreciated! " Melinda, Rio, Brasil
"It is with great love and gratitude that I write to you and express my appreciation for your blog and Vibrational Alignment Program. You have helped me in so many ways, you are straight forward in your advice and encouraging. You provide many tools in your course that have helped me come closer to my Twin Flame. Your course is so comprehensive and has given me many tools to deal with the intense emotions and learnings that are required of the 'spiritual warriors' that are working on their own growth to expand the consciousness of this world. Thank you again" Sandra, New South Wales, Australia
"Thank you for your incredible guidance and tools to support the dynamic twin flame journey. Your work has been integral in creating balance and insight into my twin flame relationship. I am so grateful for your support where traditional relationship advice does not apply.  " Diane L. Arizona, USA
"I wanted to thank you from the bottom of my heart for your Vibrational Alignment Program. I have consciously been in this TF ascension process since the end of 2012, when I physically reunited with my twin. I spent the last few years saddened, frustrated, overwhelmed and confused about the depth of the relationship, the tremendous psychic/energetic/telepathic connection, the inability to "just let it go" and the challenges that began after our separation. Coming together with my twin blasted my kundalini into a sudden awakening and I've never felt more overwhelmed than I did at that time of my life. The years following have been a rapid unfolding of spiritual abilities, which are amazing and at times made no logical sense to me. I love that your program focuses on self-empowerment rather than expending our life-force energy projecting onto our twin or focusing on labels or the 3d template of "relationship". There is so much distortion about the twin flame/twin soul purpose and process online, I felt I had nowhere to turn. I found you in perfect, divine timing.  The meditations have been great! Using them daily, I felt a profound shift of my own energy in only a matter of days. They are great to keep me in alignment with joyful, uplifting energy. With your tools, along with your blog posts and the info you so openly share (thank you for your vulnerability), I've come to a much deeper understanding of this twin flame purpose, of what a sacred, devotional partnership means and how to embrace my own inner beloved and divine essence first and foremost. Self-love and self-mastery is the journey back to union/oneness and I appreciate what you've extended to those of us on this path. Thank you so much for all you do. This has made an experience that felt like a nightmare become much more peaceful and harmonious. " Alison L., Miami, FL
"My whole outlook on my life has changed since starting the vibrational alignment program. The information was very helpful and cleared up a lot of questions for me. The energy clearing techniques have been a blessing. I have cleared out so much and opened up immensely. Who would have thought these simple techniques could have such an impact on your life. The weekly energy forecasts are also very helpful. They are always right on with what I'm experiencing. I am filled with excitement everyday for this journey. Thank you so much Cassady!! " Corinne, Ohio, USA
"Hi Cassidy: I'm very appreciative of your work and guidance it's helpful to understand what's going on and to know how to keep my vibrational energy high despite the ups and downs of life.  Thanks " Gerri W Kentucky, USA
"The Vibrational Alignment Program provided insight to the Twin Flame path that I have not seen elsewhere.  In my experience, the program is a wonderful resource for understanding what is happening if you have met your Twin.  (Know you are not going crazy!)  I've enjoyed reviewing the classes, tools and exercises to discover something I missed or is applicable to my current situation.  The VA program and blog have explained events, behaviors, tendencies I've observed, only to see they are connected with being a Twin.   Both the VA course and blog are invaluable for lifting you up if your adventure with your Twin has you disheartened.  Much gratitude to you Cassady!  Thank You!  " Tammy, Wisconsin, USA
"Oh my gosh, Cassady, you are SO AMAZING and a TRUE BLESSING in our lives.  I can't thank you (and my guides that led me to you) enough for your ongoing love and support in our Incredible Journey back to one another. Before I found Twin Flames 11:11, I had spent years deciphering the meaning of the crazy-intense, all-encompassing connection I share with my Twin, not knowing fully whether or not Twin Flames even existed…AND then suddenly it was like a veil had been lifted and I had tangible proof that what I've been guided through and towards after all this time IS REAL and not a figment of my imagination!!!  HE REALLY IS MY TWIN FLAME and we share a beautiful mission here on Earth!!!  My heart has always known. The Vibrational Alignment Course is deserving of a beautiful new journal to write in!!!  It's been SO instrumental in our healing work, as have been your blog posts, your weekly energy forecasts and your AWESOME live energy clearing sessions.   I could go on and on.  I love you Cassady Cayne for the person you are and for the Light Work that you do.  I am SO Excited about your 2016 Energy Forecast.  I just know it's going to be Stellar, synchronistic, and in perfect alignment with All-That-Is. So Much Love,  " Lisa, Ontario Canada
"I've been using the Vibrational alignment course for almost a week now. I've noticed a huge shift in my energy. Before I was on the emotional roller coaster we feel with our twins. And I was a mess. I could feel his energy and all of the highs/lows he was experiencing as a runner. Once I started this course, I noticed on day 1 a huge difference. I was no longer crying on the phone to my friend. I was laughing and couldn't contain my happiness. I've also had dreams about my twin each night, and have felt him going back and forth in his spirit on if he should call me. This program is great!! Thank you Cassady. ? " Caitlin, California, USA
"I want to commend Cassady on her magical Twin Flame course. I purchased her program in September and I have done the work diligently. The meditations are beautiful and my twin and I have become closer. Her course hit home for me and reminded me that we are always connected by energy and when I become down her work lifts my vibration.  I am so happy I was guided by spirit to her work so beneficial and enlightening. Cassady is an amazing soul. I highly recommend you try her course. Bright blessings. " Katie, Florida
"I am so grateful that I found your program. Working through the program has helped me immensely. I started the program with a stuck, defeated attitude. I have grown to a place of self love and respect and have overcome old belief patterns that I didn't even realize I had. I now feel hopeful and empowered for what the future brings. The program has given me the tools I need to continue on a path of growth and fulfillment.  " Alexia., Texas, USA
"Dear Cassady, It's amazing how your weekly forecasts always hit right on the spot and address the exact issues I had been facing that particular week. Your posts on the blog are so timely too; whenever certain thoughts or insecurities regarding my twin flame journey creeps up in my mind I can always count on turning to your blog for answers. It's like you read my mind and wrote on the very topic that I'm facing difficulties in! The vibrational alignment program I purchased has been such a great help in keeping my mind in good shape; especially the creative visualisation exercise; it kept me feeling hopeful when there seemed to be none, and even at times when there was nothing but silence (in terms of communication in the physical sense) between me and my twin flame I could always feel connected to him during this exercise, and the joy I felt was so overwhelming that I cried. Thank you for all the good work you have been doing to reach out to all of us; instilling hope and joy in us even during the bleakest moment. I'm so grateful that spirit has guided me to you! " Evonne, Singapore
""I've been following Cassady's Twin Flame 11:11 blog in addition to using her vibrational alignment course for almost a year now and I have to say the information she provides is simply life altering! She gives both the knowledge and tools to not only bring higher awareness, but also help shift your vibration on the twin flame journey. I have been blessed to be guided to this information during some very challenging transitions on my twin flame journey. Her insight has really helped me move through deep soul work that my partner and I have been moving through towards assention with a little more clarity, understanding and purpose. I am so grateful I found both the blog and vibrational alignment program! Thank you Cassady!" " Jeanine., California, USA
"After doing vibration alignment program for a week, i met my twin unexpectedly. It felt like the program pulled us together. the next major achievement was releasing a big negativity that was blocking my heart for many months. I was holding my love and the akashic record meditation showed me about it and thus helped me release it. With my change in vibration, my female twin is also making progress. She also released a big subconscious fear of women dependency on men as a biological pattern. " Param S, Punjab, India
"I have found the vibrational healing tool amazing for clearing away heavy energy and bringing us together in a more harmonious way.    The program has really helped me to stay focused on the positive and not buy into the negativity and runner dynamics.  Highly recommend. " Karen, Adelaide, South Australia
"I am incredibly happy to be a part of this wonderful community.I eagerly look forward to reading your Monday blogs and very mystically it completely resonates with the situation I am stuck at. Thanks for your continuous support and profound insights into this challenging yet expansive journey called the twin flame reunion. I have recently purchased your Vibrational alignment program and it is helping me in clearing my inner blocks. I have realized that everything boils down to your own work on fighting your inner demons and emerging out of the victim mentality. I feel more empowered, more joyful and above all more determined to overcome all the obstacles along the way. Can't thank you enough Cassady! You are a champion of compassion and a true victor.  Love always, " Amrita., Mumbai, India
"Dear Cassady, when I wrote to you last September, asking for advice about my Twin Flame journey, you were so nice giving me confirmation that I was in the Ascension process. Your words were so lovely and comprehensive. So, you suggested me to get your Course about Twin Flames. I was already reading your blog since August 2015: thanks to a "coincidence" I discovered you on Facebook and reading your posts I was able to understand what was happening to me because all what you have written since then is so resonating with me, and your articles are so inspirational! But I felt ready to make a step more, because I wanted to know more about my Twin, to interpret the overwhelming feelings I felt for him, and to explore how to handle my connection with him. At that point we were in separation and too much things were generating confusion and stress to me about that situation. So I purchased your Course and I began to go deeper and deeper in the subject.  Well, it has been an amazing journey since then! Few weeks after going through the first lessons of the Course, all my TF experience started to become clearer and more enjoyable for me! My Twin began to share his feelings to me and to make projects about us. I felt I could touch the sky! Things evolved at the point that I'm considering seriously to change my life in order to stay with him. Right now we are still in separation, living in different countries and having not many possibilities to spend some time with each other, because of some issues I have to resolve about my current relationship and about my economical indipendence, but both of us have a clear vision of our future together: we're communicating in a beautiful way, we use telepathy to stay in touch, we are sharing our dreams and meeting us in the dream state (!) and I live my life with a complete feeling that all is safe and well, because I feel our Love as sacred. I listen to your guided meditations almost every day, and your voice is so reassuring. Your work is like a lighthouse in the dark for me, as I'm navigate in this ocean of emotions! I would get lost without your help and your precious work is giving meaning to all what I'm experiencing! I thank you with all my heart and I look forward to give you the next updates.   " Violet C., Udine, Italy
"I am so grateful for TWIN FLAMES 11:11 , I deeply resonate with Cassady's work, and using the vibrational alignment program has helped me to create a freer, fuller loving life. Experiencing my energy and my Twins in such a pure and blissful way is the greatest gift!! Our path since then has been at ease and full of joy!!! Many BLESSINGS to you Cassady and your Twin for all the love and light and to any Being living the sacred TWIN FLAME EXPERIENCE!! " Raquel , Nuevo Leon, Mexico
"I came into this program wanting love from someone else… but instead.. through the all of the wonderful tools like guided meditations, meeting my guides, and the other uplifting exercises, I also found love for myself. I know that sounds odd but it was a much needed lesson that I feel blessed to have learned. My flame and I are not in union yet but I have faith that one day we shall be. Till then, I am happy to receive all of the other wonderful life lessons and tools to help me along in my spiritual journey.  Thanks for all you do! " Alicia., Illinois, USA
""I started with your free toolkit and immediately felt results so much that I had to get the Vibrational Alignment Kit and wow!  I've been doing the kit consistently and I love the energy clearings and exercises.  I feel lighter and my twin and I are so much closer.  Every day gets better and better.  And since my vibration has become higher and higher, I'm attracting in wonderful opportunities and amazing abundance as well.  I'm so grateful for your work, Cassady.  Thank you!" " – Jessica N.  California, USA
"Hello! I am so very thankful for you and your continued efforts to help.  I am very pleased with my purchase of the Vibrational Alignment Program and have made such a progress in my journey just within the last month mostly by consistently practicing the Vibrational Alignment and Running Energy meditations. All the information and tools are very valuable and I found validation and reassurance as it confirms and expands natural and preexisting knowledge inside of me. There are a lot of challenges between my Twin Flame and I due to past lives and current circumstances and conditioning but I feel like our telepathic connection has gotten stronger and clearer. My dreams are vivid and deep again as they were before and during our initial meeting four years ago, and even though we are apart I feel complete, content, and happy within myself as well as stronger than ever.  There is a long journey ahead but I feel light and unafraid. Thank you so much, Cassidy! "
Detelina., Georgia, USA
"I bought the V.A. course last year, shortly after my twin disappeared.  I began doing meditations and energy clearings daily.  A variety of deep seated issues rose to the surface over the course of several months and I purged and released negative emotions by doing the energy clearings.  And as far as the meditations, whereupon I meet my twin at our special place—OMG!  Our communication in the etheric realm has become amazing!  I am beginning to "hear" him tell me things.  One time, he held my face, looked deeply in my eyes and told me the reasons for this latest separation!  My twin returned last week!  Would he have returned if I had never bought the V.A. course and begun energy clearings and meditations?  Maybe, maybe not.  But I believe that they have been beneficial.  And I can guarantee that our telepathic communications are much more satisfying than our earthly ones.  So, I am very grateful for the V.A. course which initiated this soul-to-soul communication with my twin.  It makes all the difference in the world.  Thank you, Cassady.   "
Jan., Kansas, U.S.A.
"I am so thankful for everything I have come to understand about the Twin Flame journey through the Vibrational Alignment Program. Everything is so honestly and compassionately communicated, sometimes even just reading helps me to remember what I am doing if I am feeling lost. All the tools come in handy at different times and so it's wonderful there are so many to choose from. I have grown stronger and more connected to my intuition and inner knowing through the tools the Vibrational Alignment Program empowers me with. I use it daily!  Her Live Clearings are also very valuable. I have returned to them again and again, and often I will hear something new, or something different will fall in to place to help me understand more deeply my journey of transformation and ascension as a Twin Flame.Thank you Cassady! "
– Katherine., Saskatoon, Canada
"I came across Cassady's site, blog and vibrational alignment tools one year ago knowing nothing about twinflames. I am amazed at how much negative energy and emotions I have cleared within a matter of months.  So much has come to the surface and the course has helped me to try to bring myself up to a high vibration.  I would not have understood how to clear and release the negativity keeping myself and my twin apart without this program.  My twin and I are on better terms and I truly believe that this program has helped.  Many thanks Cassady for all your help and these wonderful tools you have created for us.   "
Jody V, Paris, France
"I downloaded and used the free program for 14 days and noticed a huge change in my mood and communication from my twin flame.So I purchased the Vibrational Alignment Program and read it within a week! I use it daily for the meditations and to re read and use as reference points. I have noticed huge changes in my approach, mood and understanding over the past 6 weeks! I talk daily with my guides (particularly my Akashic Record Keeper), do clearing, creative visualisations and gratitude diary. I am in a totally different place than I was 6 weeks ago and can never go back. Too many coincidences have happened to mention! But without the Vibrational Alignment program I know I wouldn't be halfway to where I am now. "
Clarity., Victoria, Australia
"I met my twin flame in August (not knowing he would play that role, but feeling incredibly drawn to him), found out about the existence of twin flames in early October, and purchased the vibrational alignment course in mid November after reading Cassady's blog posts for a couple weeks and feeling like her information really resonates with me. I would often come across an article of hers at the perfect time, usually when I was wondering about a certain aspect of the twin flame journey I had been experiencing. Once I started using the guided meditations from the Vibrational Alignment Kit, I noticed an increase in attention and communication from my twin flame, as well as an increase in telepathy and a quickened kundalini rising / releasing of old patterns and blue prints in order to download new ways of thinking. It's been about 3 months since the purchase. With the help of the meditations and information in the PDFs, our telepathy became so strong that it was like we were in constant contact with each other anyway (and it has only grown stronger as time has gone on). We helped each other through rough times as our healing was happening. I've been told I have made huge progress in these few months by someone who is able to read my energy. We are now able to see each other in the physical again, and we have only been getting closer and closer over the last few weeks. This experience has been amazing with the help of Cassady's product. I'll admit I was a little nervous to spend the money on it, but now I feel it was worth every penny. I'd definitely recommend it to anyone who is interested in gaining the benefits that I did. "
Kelly D – New York, USA
"Dearest Cassady, Finding your website has been an immense blessing. Your vibrational alignment program has made a significant difference in my life. The tools have opened me up so much to understanding myself better and helping me to understand the dynamics between my twin and I. I use these tools daily and resonate so deeply with your words and techniques. I recommend this hands down for anyone looking to free themselves from the unique struggle and hardship that can occur within the twin flame relationship.  Warmest regards, "
Sarah., Michigan, USA
"I want to commend Cassady on her magical Twin Flame program. I purchased it in September and I have done the work diligently. The meditations are beautiful and my twin and I have become closer. Her course hit home for me and reminded me that we are always connected by energy and when I become down her work lifts my vibration.  I am so happy I was guided by spirit to her work so beneficial and enlightening. Cassady is an amazing soul. I highly recommend you to try her course. Bright blessings. "
Katie, Florida USA
"Your vibrational alignment tools and program has really helped me look at things from a different angle. I really resonated with the information you provided and it sure explained the intense things I had already experienced in my relationship. I am very grateful to have your asisstance in this journey.  I use the vibrational alingment tool on a daily basis since first dowloading it. I love it! I look forward to all your emails and value the perspective they give me. Thank you so much for sharing Casdidy. Much love <3 "
Brenna L. Montana, USA
"I think Cassady is doing amazing work. I have been reading her blog for almost a year now, and almost everything she writes has resonated with me…sometimes it;s crazy how what she publishes each week is "exactly" what I am going through. Being an illumined Blue Ray Twin Flame I resonated and recognized her insights immediately…there is nothing more comfortable than hearing one's own truth spoken by someone else. Thank you "
Chris New Jersey, USA
"Hi Cassady This course has helped me to better manage my energy and vibrations, defusing the negative energies and taking in positive energies. I am already seeing amazing improvement in the way I conduct myself and manage my emotions. Anxiety is almost zero now. Thank you. "
Regards Naveen. Karnataka, India
"I've only been doing the exercises for three days, but already I have understood at a deeper level how my negativity is impacting him and produces damage between us. "
Mirela, Edinburgh, UK
"I can not thank you enough for all the tools and information you have made available to us,  I'm in this TF journey since over a year now, and I recently started using your tools, it has helped me a lot in many ways, I have noticed that when I clear my energy my twin tends to text me or communicate with me, I'm getting more comfortable with telephatic tools and it was funny the other day I did the phone one calling him and I was relax in my bed talking to him in my heart and I asked him about something very unrelated that we talked before, it was about some new tires he need it for his car, anyway as soon as I asked him Telephaticly He texted me with the answer, I was shocked because we don't talk in a regular basis and it seems he just got that question 😉 "
Andrea.  Florida, USA
"Cassady's teachings and techniques have lifted me from utter soul sickness to greater peace and increasing forgiveness, self love and love for my twin. Now I can greet my fear and anguish with peace and love. I am finally feeling more calm, clear and confident."
Thank you Cassady! Kate, California, USA
"I am so grateful for your work, your guidance, your inspiration. By following your VA course, your clearings, your blog, and feeling every time the positive and inspirational power from your words, you have guided me towards finding my own path, my own power and my own truth. You have shown me how to find my way, with my empowering beliefs, using your tools, I am living with my twin on soul level in bliss. I belief that your way of guidance is crucial for many people, not only twins. You give people their own power rather than making people rely on you. That is true guidance, that is truth."
Femke B. Amsterdam, Holland
"I am so incredibly grateful for your site and your program!"
April M. California, USA
Thank you so much Cassady, for your guidance, support and amazing tools. Your work is a miracle and I am so grateful for your support.
Joslyn R. California, USA
I have been doing your mediations and clearings and I have seen a big improvement in my Twins behavior, he is more expressive and communicating and more happy.
Cici S, Florida, USA
Cassady..finding you has helped me more than you know!
Melissa F. California, USA
i want to really thank you for this great work are doing.. i've dealing with congestion issues lately..so this is really helpful.. i m also an empath like you and highly sensitive.. n i really do feel like a starseed too even since when i didnt knew such things exist.. i was the same person as you when i didnt meet my twinflame.. but now i believe i am getting to remember myself after meeting my twinflame.. m really really grateful for him and for your help and everything in my life.. thank you for your support.. much love 🙂
Garima S. Mumbai, India
"I am truly excited about your work and know it to be of tremendous value!!! Sending you love and light for your continued journey! "
Mari S. California, USA
"We did a private coaching session which was wonderful, thanks again so many things happened in my life after learning how to shift negative energy with Cassady's tools"
Patrica M. New South Wales, Australia
"You and your site are incredible."
Elizabeth H. South Africa
"Cassady's tools are simple, effective and rapid. I strongly recommend!"
Denise G. Adelaide, Australia
"your blog and the Vibrational Alignment tools are like a source of pure light in my day and guidance on this journey for me With gratitude, hope, and most of all with love. Thank you, thank you, thank you so much."
Joslyn L. California, USA
"Wow you're amazing! You picked up on things I've rarely told anyone else regarding dreams and such I've had of me and my twin. You picked up on exactly what I feel has been going on and shall continue. Thank you so much!"
Kimberley J. British Columbia, Canada
"The truth of your powerful words resonate deeply. I get chills all over how accurately you describe exactly what I am facing now. I now understand the reason why I am facing specific blocks this week. Thanks to your VA course and clearings, I know how to deal with them. "
Elis H. Ile-De-France, France
"Your writing and manner pierce through the veils of doubt and fear and speak so calmly to the deepest part of the soul in such a resonant and empowering way. Reading your posts and working through your programs finally allowed me to reach out to my TF after a catastrophic break-up, barred communication, years of silence, years of doubts, years of questioning, years of really weird psychic experiences."
Katy G, Georgia, USA
"My Twin Flame is a Runner and something amazing happened today… I've done the clearing two days in a row so far, and guess who called me this morning after doing the meditation and vibrational alignment? Yup, you guessed it… he called on his own without prompting from me! I am so darn happy, it's a miracle!"
– Kristine D, Mass, USA
"This has been truly amazing, every time I use the vibrational alignment tool my Twin Flame texts or calls me immediately afterwards. It's really crazy! And then we always get to some kind of different level of communication or we express ourselves in different ways. We are continuing to heal. It's amazing that I can do this type of thing and my Twin be so affected by it as well!"
Teresa B., USA
"Since beginning to use some of Cassady's tools, the connection with my Twin went from complete silence to hearing from him regularly (and I know that there will be a reunion sooner rather than later). I honestly believe this is all because of the tools that strengthened our soul connection when we were physically separated. The absolute best thing about the course is that Cassady empowers us and gives us guidance and useful tools to improve the journey. I would absolutely recommend this!"
– Melinda P., Rio de Janeiro, Brazil
"This course fills me with great positivity and joy. I wish I had all that information much much earlier. The program is very comprehensive and explains thoroughly how one's energy shapes one's life and relationships, and is a great aid in how to attract, unite and enjoy the state of harmony with your TF. The exercises are easy and the audio meditations are soothing and relaxing – instantly lifting your spirit and raising your frequency."
– Natalia F, Athens, Greece
"First I want to thank you for your amazing website!  I purchased your kit, twin flame harmony healing, inner child healing, etc.. Your guided meditations help me uplift better than anything I've tried in the past 6 years of clearing/trying to heal! I've tried violet flame mantras, psychic energy clearings, etc.."
– Erin B, Indiana, USA
"I am doing your healing program and people around me began to tell me that I am full of light and I feel really better with it!"
– Nicoletta C, Rome, Italy
"Been doing the simple 7 minute clearing meditation for about 4 days now. Guess who called me at 3am her time from london today?? She wouldn't give anything up, she did slip once and said she "wanted to hear my voice.""
– Ryan M, Los Angeles, USA
"More than anything else I have encountered on the Ascension Path! Thank you so much for the work that you are doing."
– Nancy A, Georgia, USA
"TCassady, I downloaded the inner child meditation yesterday and was so moved. Last week, I realized that I needed to be more radically self loving (hugging my inner child, validating his emotions, telling him bad stuff from the past wasn't his fault, encouraging him cry on my shoulder etc) so that I could let go of some really crucial blocks in my heart chakra. I felt so blessed to find such a powerful tool for that. Connecting to my inner child really helps me deconstruct my ego mask. ?My Twin Flame has a lot of trauma from childhood, and I never thought I'd be able to reach out to that child and heal her like that. I will cherish that recording forever. All my other products from you are incredible too. All the best to you."
– Michael A, Kansas, USA
"I just wanted to say thank you again for all of the tools you give us–the forecasts & blog posts each week are always spot on & I love reading them for insight. The Vibrational Alignment program and the Energy Clearings (especially the Harmony Clearing!) might be my favorite, though… I keep clearing more and more blocks, negativity, and karma. I still get "down" occasionally, but with your tools I am able to clear that negativity (& whatever it stems from or is triggered by) from my space immediately, and it's gone within an hour or two. A few months ago I couldn't fathom what 5D might feel like, and now I anchor into that lovely reality almost daily! I am filled with hope and love and joy, and my Twin can feel it in me, too. We talk and connect every day, both in the physical and on the soul plane, and although I can still feel his fear I can also feel his love, and by continuing to send him and show him unconditional love, he is eradicating those fear blocks more and more daily. I feel effervescent and light, and it's becoming harder and harder for negative outside situations to affect my energy–even negativity from my Twin (which is so scarce these days!) You've helped me completely change my mindset about this life experience & this Twin Flame journey, and I am so incredibly grateful. My Twin's soul and my own guides are grateful, too–they're so happy your tools have helped me open up to them and receive their love, support, and guidance 🙂 Peace, love, and light to you always. xoxo"
– Sally S, California, USA
"Cassady, Just purchased the Twin Flame Harmony Healing and all I can say is WOW. I've been doing it every night on my break at work and I definitely feel the shifts in my energy, and I hope my TF feels it too. Thank you!!"
– Veronica S, Florida, USA
"Hi Cassady, thank you for this insight. I have to say that the energy clearing and the inner child hearing tools have been really helpful for my self but also to get insight of what my twin is going through. I am going to see my twin next month after almost 17 years since we saw last. He hasn't told me yet if he feels ready or not to meet me. But rather than attacking him as I would have done in the past i am only sending him love and give love to myself too. Accepting me, and him for what we truly are. I feel him so much I can't even explain the joy of this union gives me. And yes i am only focusing on us being together next month… no negativity. But whatever happens, i know it's for our highest good. My guides have been telling me all the time to have confidence and to let go of fears. And thats what I am doing. I feel changes coming up. Things being stirred. I am ready for whatever will happen. Thank you always for the light and love you share with us. "
– Annalisa D, UK
"Hi Cassady, I've recently become a devoted follower of your work. I appreciate all the articles, forecasts and energy tools. They're superior and makes so much sense! I think your work is absolutely amazing and can't believe how far I've come. I use your entire program and love it! "
– Jodie L, Kansas, USA
"Thank you so much for your support, Cassady. I am so grateful that I found your program. Love from Lisa <3"
– Lisa C, Denmark
"Hi Cassady,  I've been working with your free twin flame starterkit for a few weeks now, and I can really feel my energy change. I'm feeling way more conected with my twin, more than ever!  "
– Iris S, Netherlands
"Thank you Cassady, I'm so reliefed there is finally light at the end of the tunel. I just wished I had started to use your tools earlier than just few weeks ago. But I guess I had to hit rock bottom before I got my act together. I remember the first time I cleared my energy, it felt like my heart chakra grew and got wider and it was full of this chrystal clear energy, like an limitless universe, full of sparkling stars. That feeling stayed with me for two days. "
– Evida S, Colombia
"Thank you so much Cassady! You have no idea what your blog means to me. I sometimes feel lost. And I also feel like the planets and the Univers are pulling at me in all different directions. It's hard to stay grounded. But I also feel greatful and blessed. It's nice to read that i'm not alone in this. When I discoverd your blog it felt like a present. You are truly a gift. Thank you for your Free Energy Cleanse Tool. I hope you have a great week. Blessings for you and all the Twin Flames out there! Love."
– Ruby S, Netherlands
"I meet my twin in dreams and also in the garden via your meditation tool. It's a wonderful way for us to provide love and support to each other while still respecting our current 3D lives. Thank you for your program. Love and light to all!!"
– Stephanie M, Toronto, Canada
"Dear Cassady, before around 2 Weeks i purchased your Vibrational Alignment Program, the Complete Twin Flame Harmony Healing and the Inner Child Healing For Twin Flames. the Harmony Healing, The Visulisation and the Meditation "Meet your Twin in the Garden" i do every day now and i can only say i am so surprides, miracles can happen! Normaly my twin and i used to contact each other all 2 to 3 months and there were so much emotional distance. but now after the first meditation he contacted me again, was emotional so open and it is only fantastic between us, so near and no emotional blocks are showing up. after 10 days he wrote again and we even had a call and wrote all the day!! that never happend since almost 3 years!! WOOOW!!"
– Marion B, Germany
"I purchased your Alignment Vibrations Program last night and I can already feel world of difference"
– Chandra M, Kansas, USA
"I started a few months ago with the free upload. after a few weeks I bought the complete twin flame harmony healing and have been fairly regular about it.  I just bought what I could afford.      I feel a bit silly saying this really, but there HAS been a change. I have no other reason for it as the situation itself remains same,  so I think it is fair to admit it 😉   I am feeling less desperate, panicky and unwanted, and my twin has (therefore?) become more open.  lots of what you write helps too when I get down. Espeically when you wrote that his soul loves me , and the mirror parts.   My main problem is letting go of the old.  I know I have found my twin flame and we love each other, but your downloads really help me cope with being apart and still feeling loved. "
– Daniela S, Austria
"Thanks so MUCH Cassidy for this wonderful program, I have been doing the meditations everyday first thing when I wake up and I have felt some great shifts. This morning while I was doing them I was lying on my back with cyrystals situated along the main chakra centers, while I laid there something interesting happened. I felt my heart jump out of my chest and it's was as if something had been pulled out and de-rooted.. This happened like three times during one meditation. I can't remember which meditation it was specifically because I just lay down and do them back to back. Could this have been an energetic cord that was being removed? I appreciate your time and wisdom.  Thank You, "
-Jessica M, Florida, USA
"Thank you, Cassidy! I look forward to your messages each week. Thank you for helping me understand this twin flame process. You are the best website about twin fames on the internet. Thank you for all you do! Blessings sister! "
– Kristan M, Kansas, Greece
"Hi Cassady, I just did your new hour long meditation and it was the most rewarding meditation I have EVER done. You and spirit have done so wonderfully well to bring this to us.  I thank you so much!  Lots of love to you "
– Krysia P, South Australia
"I've downloaded the Higher Heart Transformation Journey before I even ended to read this article because I felt deeply called to do it and I've just listened to it with so much joy and emotion: it's really POWERFUL and it has opened my heart chakra in so many ways. I have really enjoyed it and I'm beginning envisioning big shifts for my future because the change it provoked is already in me, in my body, in my energetic field, in my heart! Thank you Cassady, you are such a bright human being! God bless you! "
– Anita C, Italy
"Hi Cassady, I just wanted to take this opportunity to share a few things. I downloaded your free kit and the "connection tool" blew my mind because the scene that you set in the visualisation was IDENTICAL to a dream I had about my TF around 2 years ago."
– Line, M, Denmark
"Thank u cassady for the higher heart transformation audio . It has improved my life alot. Now I longer feel unworthiness and am able to feel more joy love and meaning in my life and I can also feel new activations in my body. Energy clearing really is a very quick way to solve all our problems <3"
– Eiman K, Athens, Pakistan
"Cassidy you and your tools are AMAZING and despite the challenges I may face, they are met and faced with strength, courage, love, and respect for myself and the transitions are SO MUCH smoother. I just wanted to know what does it mean to feel a tightness or tightening feeling in your chest? I know the feeling of the soul glowing it's wonderful but the chest area, I try not to think anything negative but always positive. I read the email today and it was amazing to know that reunion is coming and it feels so good to keep things between Source, he, and I this time. And to just let things happen and not force them and more so to be ME. freely ?. Any help is always helpful. I look forward to your emails and posts on instagram. It keeps me focused, motivated, inspired, and happy to be on this journey "
– Latricia P, Kansas, USA
"Hi Cassady Thank you for being our ultimate guide. Me and my twin flame relate from your articles every single time. Its like we argue or ask ourselves some question and in the next moment, that question is answered in your articles. It truly is magical. It is only with your help, we are walking on the road to our unity so peacefully. Thanks 🙂 "
– Shinal L, Fiji
"This course fills me with great positivity and joy. I wish I had all that information much much earlier. The program is very comprehensive and explains thoroughly how one's energy shapes one's life and relationships, and is a great aid in how to attract, unite and enjoy the state of harmony with your TF. The exercises are easy and the audio meditations are soothing and relaxing – instantly lifting your spirit and raising your frequency."
– Natalia Foley, Athens, Greece