Are You Receiving This From Your Twin Flame? Neptune Amplifies Supernatural Love – But If You're Busy In The 3D World, You May Miss Your Love's Messages And Info On The Future…
Welcome into a brand new week in the cosmic energies!
Highlights this week include: 

Heightened time for unconditional love and Twin Flame "supernatural" connections, as Neptune/Sun/Mercury activate a powerful gateway.
Plus, Venus returns "home" to Taurus and connects with Saturn to bring messages of encouragement for the long run…
Discover more below! 
–
---
(New plan of up to 60 months now available, bringing monthly tuition down as low as $49 per month for high level quantum healing and Twin Flame coaching – apply to find out more)
–
---
An Unusual Atmosphere…
So now onto the week's energies:
Have you been feeling a bit strange lately?
Having symbolic or intense dreams, or receiving telepathic messages from your Twin Flame and dreaming of them?
Have you been seeing (even) more angel numbers than usual – such as 444, 777, 11:11 and more?
Or noticed the sensation of a strangely foggy atmosphere around? Almost as if you are dreaming or intoxicated?
–
---
Neptune Gateway – Powerful Time For TF Love
Have you maybe noticed yourself moving between despair and heaviness, and into moments of elation and immense love and empathy?
It's all due to this week's Neptune gateway, which is one of the year's most intense and spiritually potent times – especially for Twin Flames.
The Sun and Mercury are both joining Neptune, now at the cusp between Pisces and Aries – opening to an immense spiritual potential and Twin Flame "supernatural" love.
–
---
Unity Consciousness
Neptune deals with awakening to our highest self and activating soul templates of UNITY consciousness…
Bridging in a higher love current into the physical – connecting "heaven and earth".
Therefore this gateway tends to open to glimpses of the true unconditional love of the soul realms, into our physical lives.
And it's highly likely you're receiving intense messages of love and guidance from your Twin's higher self now – through dreams and telepathy in particular.
–
---
Twin Flame Telepathy
If you are not, it simply means your channel is congested. You can learn to open your Twin Flame telepathy and messages – I take you through it step by step here.
Consider it like a phone line from Twin to Twin.
If your "line" (your mind) is busy with your own inner discussions and buzzing questions and concerns, your Twin's messages can't get through.
---
Your Counterpart's Emotions
Due to Neptune activating the bond on an intense level, you may also be feeling your Twin's 3D self's agony as they long for you deep down.
If you're feeling inexplicably upset, it's highly likely you're actually feeling THEIR emotions.
The highest potential now is in receiving divine guidance from their Higher Self, who always knows how to guide you together in the 3D physical and beyond.
–
---
Awakening Into A Higher State
This Neptune Gateway of Unconditional love is a KEY time for Twin Flames.
It's a powerful time set to push for an acceleration of Ascension and Awakening into unity… And allowing higher codes to enter the earth plane.
So I'd highly recommend taking time to go within and activate the higher unity templates in your connection this week – as it will anchor in new higher timelines and codes for the forward path.
Making unity available as a "recipe" in your PHYSICAL fields as well.
Calling union into the physical.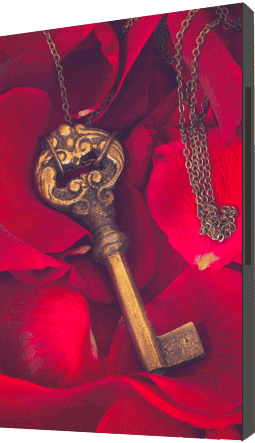 "I began to use the oneness activation code every day. I had felt so heavy for many weeks before. Immediately I felt better. Then

I ran into my TF by "accident". He called and texted and came over later that day. I continued to use this session daily and still he is reaching out at a much higher level

which is ironic considering it had been months the last time we spoke!" – Julie (via Disqus)

"When I did the oneness activation code meditation for the first time, that very day, two hours later, my twin flame was able for the first time to take a lead in communicating, and that was a huge day for both of us!" – David V
"I have been doing (the Oneness Activation) every week since you made it and now the karmic relationship my twin was in is over and I know it is because of this …I can't thank you enough Cassady!" – Diane (via Disqus)
(Learn more and experience the power of this healing session here)
–
---
Depths Of Emotion
Neptune is one of the most powerful influences in the zodiac, but his impact can push us down into the depths of heaviness if we aren't aware of our emotions.
Despair due to picking up on collective energies or feeling upset about the state of the world, is common.
Staying aware of yourself, shielding, staying energetically clear and grounded are key – in order to benefit from this time.
–
---
The "Heaven On Earth" Bridge
Because Neptune ALSO rules transcendence, illumination and the "heaven on earth" bridge to immense light and higher potential in the Twin Flame connection.
Inspiration runs high now. This period is set to bring valuable insights and inspiration, so make sure you are open and available. 
 But make sure you don't fall into the typical human trap of being so preoccupied with thinking and busy-ness that you're unable to perceive it. 
If you find meditation tricky, try my free guided alpha level session for Twin Flames where I take you through it step by step.
–
---
The Original Twin Flame Promise
Did you know? If you look at two Twin Flames energetically as an intuitive, you can always see this cord between their hearts.
This is the bond of Unconditional Love. 
Coming to Earth, we all knew we would be physically separated, but this cord was meant to ensure we never lost each other completely.
That we kept going, toward divine union.
It is why we are always connected, always in touch, and can always reach each other on the soul planes.
–
---
3D Masculine Challenge
The challenge this week, is that your counterpart may NOT be reflecting this immense unconditional love in the physical.
With Mars square the Neptune gateway, we see that the masculine Twin in particular is "out of reach" in the physical – and likely acting from ego/negative patterns.
You are likely being confronted with the potential tension between your highest wishes and dreams, versus the physical "reality".
–

–
---
  Realism Vs Higher Truth 
Be careful to not automatically buy into "realistic" thinking and try to figure out your Twin Flame journey with your mind only.
The Twin Flames' connection transcends the earth plane and what we're able to conceptualize based in human science (for now).
Keep this in mind if thoughts pop up that make you doubt ever coming together, or thoughts that you might be making it up, or exaggerating…
Just because "regular" people don't think it's possible doesn't mean the TF connection is not real…!

(Look up how much humans don't tangibly perceive, such as electricity, ultraviolet light, colours, rays of energy etc – what we see/hear/feel and tend to perceive as "real" in the 3D culture is not all that EXISTS in the world.)
–
---
Soul Blueprint To Union
The truth is, you came here in order to come together in Love – it's not impossible, and you both carry within a soul blueprint towards joining together in Union once again.
Your soul is always waiting for you to tune in and listen – it always knows the way to your union!
To reconnect with your soul's inner knowing and experience immense quantum shifts into harmony and unity, join me in the advanced 12 month Twin Flame Soul Alchemy Coaching and healing here.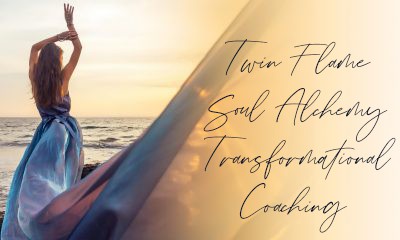 (I have now been able to arrange even lower tuition plans, inquire for more info).
–
---
"Don't Give Up"
Also this week, Venus moves into her home sign Taurus, signalling a new beginning.
Forming a sextile to Saturn, the message is that even if things feel slow, don't give up.
It's all about the long-term. It's about determination and the actions you take. Keep going, spirit says. Don't give up.
Later this week, Mercury moves into Aries, running ahead of the Sun. This shows us that things are busy in your life on the human level.
–
---
Remembering The Beginning
Don't get disheartened about the physical situation in your Twin Flame connection, is spirit's message. You're purging for a reason, to open to love in the long run, they're saying.

Many Twins will experience Dream encounters and Astral adventures together this week, in a cosmic "initiative" to remind the TF pairs of the reason we are here to begin with.
There is a sense of remembering the Oneness and bliss we shared in the beginning.
A return to the bliss of unity before the "fall" into polarity and shadows of perception.
–
---
Venus' New Cycle In Love
This is set to be a week that can feel strangely floaty and confusing, but if you open up, it can bring immense love and connectedness.
In fact, with Venus returning "home" and opening to a new yearly cycle in love, the actions you take right now carry long lasting effects.
If you are ready to make this a year where you truly put your happiness and harmony first, join the next sacred group of Twin Flames in coaching and healing here (starts on March 21st).
–
---
TFs Since 2014
After working with Twin Flames from all over the world since 2014…
I've been blessed to see time and time again that it's NEVER TOO LATE for the Twin Flame connection.
And I'm grateful to have been able to guide so many Twins into reunion, healing and harmony (read/see some of them here).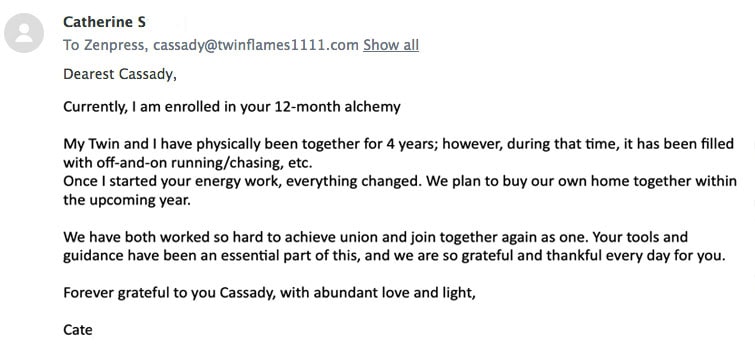 –
Whatever you do this week, do your best to release old skepticism and holdbacks, and open beyond.
Above all, the cosmic flow will remind you of the truth that the Twin Flame bond really is all about love – and that union is already yours.
When you're ready to deepen your experience of love and harmony in the 3D physical and beyond, go here and see all the details on the 12 month Twin Flame coaching.
–
As always, I'm sending you love and light for your continued journey <3
Cassady x
 –
---