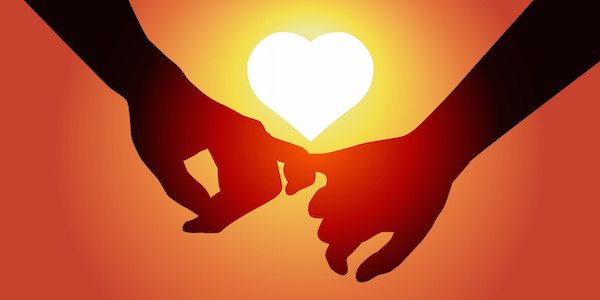 Eclipse Season Begins – an Autumn Full of Changes in Love. The "Third Wave": Awakening Those Who Have Been Asleep. Plus, We're Put to The Test: Are You Truly Willing to Love Unconditionally?
Get ready for a month full of action and change! September is truly the headline month of the year for Twin Flames and Lightworkers. Buckle up and brace yourself for lots of newness, old stuff moving out of the way to make room for the better, and a huge boost for relationships and Twin Flame togetherness – as long as we play along and don't resist.
We're set to meet dramatic changes in a month packed with "action" – with two Eclipses, the Autumn Equinox, high vibration influxes and the planet of love impacting the 7th house of relationships. Purging of old negativity and new Upgrades are in store for the Twin Flame Pair.
As with Mars Retrograde's period in spring we are going deep in this period, but this time it's not just about the Divine Masculine – both sides are being pushed hard to leave old patterns and beliefs of polarity behind to prepare for and enter into Union. To purify our energies to be a match for unconditional love, to align in preparation for union.
I've created a Free Help Kit for Twin Flames with a powerful energy cleanse tool to get you started on raising your vibration and clearing your chakras to open up to Twin Flame Union. You can have a look at the amazing experiences other Twins have had with energy tools here.
Tough Realizations Before Union Push Begins
September starts with a Solar Eclipse and New Moon in Virgo, plus Mercury going Retrograde. Let that give you an indication of the profound cosmic events for the month.
The New Moon and Solar Eclipse in Virgo signal the end of a long human cycle in terms of Ego-based patterns of perceptions. Conjuncting the North Node and oppositioning Neptune, this is all about a restart in mind and heart – for the good of the collective soul development, stirred by the higher realms.
There's a sense of humanity having held on tight to the old methods and patterns that have been leading to stagnation – away from unconditional love – and we're being pushed into a reset here. Away from separation and into unity.
Highly significant for Twin Flames, who are here to bridge unconditional love into the earth planes. This is a powerful time for Twins, and many as yet unawakened Twins are receiving a huge push right now.
An uncomfortable time for "Sleeper Twins" as the old ego facade is shaken to finally fall off – many will receive wakeup calls through dreams, significant symbols and other synchronicities at this point. The dark night of the soul meets the pale rays of morning.
This eclipse indicates "off with the false face" – the mask of Ego. Reveal the soul self beneath.
A new phase is set to begin for those Twins who have had counterparts "asleep" – things are set to change a lot over the coming months. Spirit describes this as a new wave beginning.
The End Of A Cycle
Falling in Virgo this eclipse/new moon restart deals with the energy of perfection, service, the feminine.
The Divine Feminine incarnate is being given a stern wake-up call. Let go of societal beliefs of the "perfect man", the "perfect relationship", the "perfect woman", the "perfect marriage", the "perfect love life"… Ideals of romance and chivalry from media, family and peers have been clouding your vision.
Twin Flame Union is more than what earthly traditions and perspectives can fathom. In order to open up, we must let go of the small yet persistent ideals we've been fed growing up. No more old definitions of Perfect.
We are being forced to leave behind a lot of our habitual perceptions now, both in the world and in the Twin Flame relationship. The purpose is to strip us of anything that's blinded us from seeing what could truly be, anything that blocks us from being open to the True Love between Twin Flames – new templates and codes of a Spiritual, Higher love than what earth has known before.
To help with this process, spirit recently channeled to me complete harmony clearing for the Twin Flame pair, to cleanse out low vibrational ancestral programming in the Twins' systems and importantly to unify your timelines and uplift you into the highest vibration and dimensional alignment possible at this time.
It includes a deep chakra cleanse for both Twins as well as shielding, cord cutting, downloading new light codes as well as unifying and uplifting your energy fields – so that your continued journey may unfold with as much ease and harmony as possible. Have a look here.
It Was You All Along…
Just before the big relationship boost comes next month and more Twins than ever are brought together in Union on the soul planes, we have to be cleansed of what has kept us from realizing this one huge thing…
That we have always been together. That the Twin Flames are never separate. You are one already.
In order to move onto the next step, we are brought face to face with the tough reality of this: You were the one who left Yourself, You were the one who hurt You, You were the one who held a grudge against Yourself this whole time, You were the one running from You. This is the spiritual truth of the Twin Flame connection.
This is the perfect imperfection of the Twin Flame relationship.
And in order to accept and love both ourselves and our Twin Flame no matter what, at which point we can move into the Union Process and become "bearers of light" – we must clear away those old illusions of Ego. All the You vs Me. The hurt, the conflict. Because it was never really true.
This is a big one, so it's not something we're all expected to take in all at once. But this Solar Eclipse is set to shake us all up royally to get us moving in that direction.
The spiritual Ego will tell us "Sure, that makes sense, I agree that Ego is terrible and unity is good. OK – I'm ready now". But it's not that simple. The unconscious mind holds onto what is safe and familiar.
An estimated 95% of the human psyche revolves around unconscious processes, so the majority of Twins are completely unaware of the true, deeper causes of their blocks.
The Deep Programming That Blocks Twins
The lasting release from Ego, conflict and separation comes from energetically eradicating the hold of the old belief patterns, the identity structures, the 3D programming that we've inherited through our genetics and society. This stuff is actually present in the very cellular makeup of our bodies.
That's why recent years have been painful. That's why it's been a struggle – because your soul has pushing up all the old negativity and limitation for you to release it (not just the idea of it but the actually physical and neurological imprinting of conflict and separation).
The aim of all of this is for you to step into the joy and love of who you really are – who you and your Twin really are. One. Each other.
The question is, have you really been clearing the negativity? Or are the old issues and blocks still sticking around?
I know there are so many Twins reading these articles every single week without ever trying the energy tools – if that's you, please take action for yourself and experience the shift of cleansing and updating your energetic system so you can open up to the love within.
To start clearing low energy and entrenched separation/conflict programming out of your field for good, download my free energy cleanse tool for Twin Flames here.
Eclipses: Pressure Building
The pressure of the upcoming Eclipses is building day by day – you might already be feeling the intense "heaviness" around the head due to Mars/Saturn's recent conjunction.
Twin Flames are really being pushed right now in these advanced phases of the second wave of Ascension, and opening up to "wave three" who will be gradually awakening (and according to the messages I've been receiving – walking in as well) over the next weeks and months.
The Twin collective is going through huge changes – you'll have a much smoother ride this tumultuous month if you begin working deliberately with your energy.
If you're tired of the "Twin Flame Rollercoaster" and keen to start shifting your connection into a higher, happier place – both for your relationship's sake but also for yourself and your own peace –  have a look at the Vibrational Alignment Program for Twin Flames.
It helps you understand why this journey can be such a struggle, how to deal with it and how to become the master of your own path and connection so you can lift up into a place of harmony.
I was asked by spirit to create the program to help as many other Twins as possible reunite in love – it's a step by step guide based around everything that got myself and my Twin to Union within 18 months of our first encounter.

Time to Rethink The Whole Thing
As if the Eclipses and the increased push in the Ascension process wasn't enough, Mercury now goes into Retrograde again. Mercury will be moving retrograde most of this month – underlining the signal that this month is time to get going with some deeper inner work (and there's a lot of it, pushed up by the cosmic energies).
We're being told to get busy sorting out things behind the scenes (energy, unconscious beliefs and emotions) before we are "allowed" to move on together later.
Moving backwards through Virgo this time, Mercury is all about tidying up the recent past in terms of creation and communication (Virgo is ruled by Mercury so this is highly emphazised).
Joining up with Jupiter and Venus who are on their way out of Virgo, Mercury is giving us a reminder to be careful with our words and thoughts – in fact, "he" is demanding we deal with the repercussions of negative communication from these recent summer months. Especially in the Twin Flame connection.
We're being given a last chance to tidy up before the focus shifts into the increased push for Unity.
Second Chances In Twin Flame Love
Mercury Retrograde is now giving you the chance to straighten out negative intentions you've sent out that might be blocking your journey.
You know the ones: Sending out the desperate message to the universe that you never want to speak to your Twin again or that you'll never want to be with them or that they're a horrible person or that you wish you never met them…
So have you been sending out negativity to your Twin lately? If so, you're in good company now with the energetic heat that's been on all summer. Many have been feeling the pressure, and lashing out either in thought, feeling, emotion or direct words.
Set the intention that you're cancelling this negativity now. Clear your energy and the energy between you and your Twin to erase the negative impact of these things (try the complete harmony healing for the Twin pair to cleanse the channels that connect you and remove triggers of separation and running).
Have You Created The Blocks Between You?
Past moments of anger can become blocks to union so think twice – we're learning that all intentions have ramifications. I discovered on my path that thinking "I never want to talk to you again" to my Twin in fits of despair, actually became energy blocks between us.
Twins impact each other more intensely than most other people, because we're one and the same. 
A highly significant period for Twin Flames: high energies moving through the last parts of the sign of the Virgin, symbolizing that the life of soul "singledom" is about to come to an end and a new phase of togetherness is about to begin.
Energetically this means we're preparing to move out of our earlier phase of Ascension and into a new maturity where we're moving closer to each other both energetically and physically.
On this journey, Virgo is clearly symbolizing the early life of the "maiden" before she comes together with the male in the adult "union" in the sign of the scales in a few weeks. These are exciting times!
Expect a week full of noticeable energetic shifts – there's a feeling of pressure right now, a sense release around the eclipse, but the tension swiftly builds again for the next eclipse… The headline month of the year – by October, your situation is set to have significantly shifted.
Now we're approaching the time of increased support for Reunions, we're being put to the test to see if we can actually embody the energies of harmony and union through love. Not just wish for it.
Until next time, I'm sending you love and light for your continued journey! <3

Cassady x
Want more? Download the Free Twin Flame Help Kit to get info on the awakening code 11:11 and the Ascension process going on across the planet right now, plus a deep Alpha Level meditation to connect with your Twin Flame on the soul planes right now!
And if you want to take the bull by the horns and begin deeply healing and shifting your energy and Twin connection, have a look here for more info on my tailored program for Twin Flames – the methods that got my Twin and I to union within 18 months of our first encounter.
Do you want more articles about Twin Flames in your inbox?

[grwebform url="http://app.getresponse.com/view_webform.js?wid=10909003&u=PogO" center="on" center_margin="200″/]