Expect The Unexpected: Powerhouse Eclipse Adds To Impact Of Rare Spiritual Gateway. Opening To A New Era Of The Divine Feminine – Spiritual Love "Reborn"… 
–
Welcome into another brand new week in the cosmic energies!
Highlights this week include:
Powerful Taurus New Moon Eclipse pushes for major shifts in "destiny". Plus, Venus joins Jupiter and Neptune for a once in a lifetime gateway.
Conception, creation, crystal children...
And, Mercury adds surprise communication in love. Are you ready for this?
Discover more below!
–
---
Will You Journey With Us?
Before we start, I wanted to remind you, we only have a week until we launch into the next group work in the high level Twin Flame coaching.
There has been so much positive feedback for the Twin Flame Soul Alchemy group coaching over the last 9 months…
So I was guided to take another group through this high level transformation!
Go here to apply, and we'll journey together in creating major positive quantum shifts for your connection. (Sessions start on May 2nd.)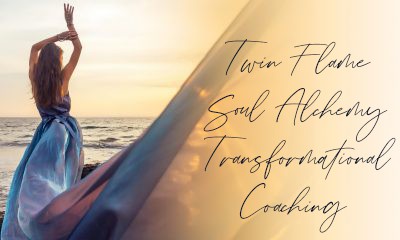 Click here to see feedback from the first group, get all the info about what's involved and secure your space now only 3 days left until enrollment closes.
–
---
Exceptional Gateway For Spiritual Love
This whole week, we have a continued teaming up between Jupiter and Neptune, and Venus now joins them. This is a ONCE IN A LIFETIME transit.
And it's all about spiritual, unconditional love, so this is a KEY time for the Twin Flame connection.
Happening in Neptune's own home sign Pisces, which only happens every 164 years, this is a highly rare and impactful event.
–
---
(Re)Birth Of Unconditional Love
In previous weeks as Jupiter met Neptune here, we have had a focus on spirituality, oneness, including at times diving deep into the dark of unconsciousness and suffering in the world…
To find light and solutions… Empathy, higher understanding, compassion, healing to bring unity.
Now when Venus joins them, it amplifies the message: We are dealing with a powerful (re)birth of unconditional LOVE into the physical.
If you haven't yet noticed the spiritually heightened connection between Twin Flames from recent times,  expect it to ignite even further now.
What does this mean? Dreams about or with your Twin Flame, chakra activations, telepathy and more. (Read more about this here).
–
---
Trigger Points
This time is a strong "trigger point" for many Twin Flames who are on earth in this era. Deeper remembrance of soul purpose and unconditional love is activating.
It can trigger heavy emotions to surface, if you have been repressing your heart and trying to control your connection from a place of fear. 
It's as if at this time, an avalanche or wave of emotion floods the heart, meant to blast you wide open. If you allow this wave to flow, you can experience incandescent moments with your counterpart…
You can create magnificent works of art or have "peak experiences" feeling love and oneness with all of existence… Simply by being open. 
–
---
Flooded With Love
And this will of course flood your whole field and Twin Flame connection with love and powerfully affect the whole dynamic between you (as Twin Flames are always connected and share a field).
The key thing is, Venus "tells" us, is that love is the only truth. 
The soul realms are speaking loudly now. Transcendence is wanting to reach you. But you must be available to it.
That means, go beyond the mind, go beyond ideas of wrongdoing and conflict and dissatisfaction. Be present in the eternal now. That is the gateway.
–
---
Mind-Focused Vs. Soul Focused
The thing is, if you feel like you have no idea how to practically BE in that state or even begin to open to this… It means some work is needed.
Because it signals that your mind is "running the show". This means you have fear programming in your system still.
Your higher heart, third eye and crown chakras may not be open. Which means your system is in many ways out of reach to the benefits of this flow of cosmic power.
To help, use the Free energy cleanse here, which will help you begin to open and activate your higher states profoundly in just 12 minutes.
Or, to go deeper and start opening to the highest potential of your journey, join me here. 
–
---
Born Out Of The Ocean…
In Greek mythology, the goddess Aphrodite (Venus) was "born" as a beautiful fully grown woman, rising up from the foam of the ocean waves.
As she joins Neptune and Jupiter in Pisces, this symbolism of oceanic love born pure and complete is what we're dealing with. Soul love. Eternal love.
With this "portal", there is a powerful energy of birth, or re-birth.
Venus deals with love, creativity and the feminine – and birth, in particular, when these powerful planets join.
In spiritual terms, this transit signals the birth of a new era of the Divine Feminine. Which many souls have been waiting for.
–
---
Spiritual Love Reborn
The "seeds" of a new consciousness state coming through. Receptivity, empathy and kindness are key. For self and for others.
It also means "spiritual love reborn into the physical" – particularly in terms of higher romantic love. Soul love and unity.
(Some Twin Flames are experiencing an activation of latent soul gifts now during this time, and are coming more "online" with their higher self – for help with this process, have a look here at the "Higher Dimensional Anchoring And Awakening" session)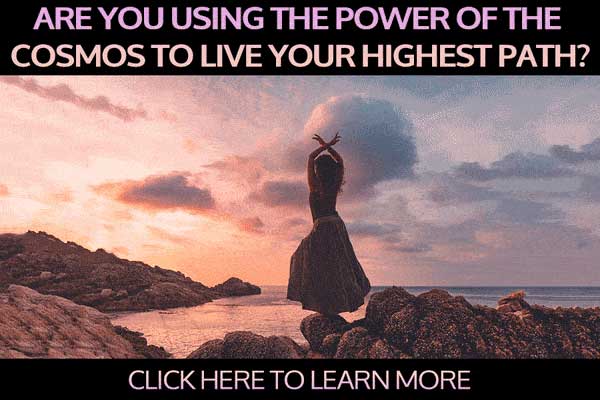 ---
Crystal Children 
Creative and artistic projects of great importance for the future can be received/created now. And spirit also shows us, crystal children being conceived.
Spirit shows us that a major block that can prevent you from being available to this immense higher potential for unity, however, is fear of abandonment.
Spirit highlights that to benefit from this transit, OPENNESS is key.
True deep openness born from feeling SAFE to trust – to trust yourself, your counterpart and ultimately life/the universe.
So if there have been issues for you in the past, make sure you deal with this now so you can benefit from this once in a lifetime flow of unity and love that is wanting to reach through into the 3D physical.
–
---
Added Infusion Of Emotion
Wednesday, the Moon also joins this rare stellium. This means there is even more emotion involved (Neptune is the ruler of unconscious emotions, the Moon the general ruler of emotions).
As the Moon also deals with creativity and birth, it adds to the potentiality described.
But you have to go WITHIN and go with the flow to fully benefit from this in terms of 3D physical NOW. 
Trying to figure it out with your mind or bypassing past hurts will unfortunately not get results.
–
---
Seeds Of The Future
One thing we can all be sure of, is that future impact is incoming. In some way, seeds of the future are sown now. And they have the potential to be MAGNIFICENT.
This is a true once in a lifetime gateway, and it can, if you can go within into the purity of your heart and believe with all of your soul… Change everything. 
It may sound like a dream, but that's what these planets all deal with. This is the energy of dreams and magic – which will then flow into being.
–
---
The Importance Of Openness
The advice we get is, if you don't allow yourself to dream… That dream can't show up. So open now.
This is a time for sweet and even sentimental emotions, and if you get stuck in doubt, skepticism, worry due to past disappointments…
You'll lose the potential magic that's trying to reach you.
Intend it now, that you welcome in magic. And make sure you are open on a deeper level by releasing old heavy baggage of letdowns and hurt.
–
---
Destiny In Focus
With Mercury conjunct the North Node in Taurus, it's clear that communication is an important part of this. You may be called on to reach out in love.
To share compassion, to show appreciation, to express your DEEPEST truth. To speak with love. (Including to yourself)
How you communicate is highly powerful in terms of soul path and life path. What does this mean? Ask yourself: How are you speaking about yourself, your future, your Twin Flame connection?
Focus on what you desire, do not reinforce any negativity, as it will only entrench it. (More on that in this article)
–
---
Surprise Communication
April 29th Mercury enters Gemini, "his" home sign. This always signals a powerful new beginning, and it's focused on communication and perspective.
Allow yourself to start over now and release any recent communication issues.
It will open to a more positive period ahead.
When Mercury returns to Gemini, you can expect communication to liven up again.
If you haven't heard from someone important to you in the past few weeks, they may have been ruminating and pondering things over…
–
---
New Beginnings
In general, there is a massive energy of "new beginnings" around, with the powerful stellium in Pisces as well.
However, a big thing to watch out for is the trap of feeling/unconsciously thinking that unconditional love CANNOT happen in the physical…
Any past disappointments must be released, so you can truly receive it.
Don't fall for the temptation to feed into expecting letdowns, because as North Node/Mercury show, if you do, that is what you will reap.
Focus higher. Go into your heart. It knows the way.
–
---
Diving Deep Into The Dark
We also have Pluto going retrograde this same day for the next 6 months, which signals that we will be going DEEP.
This is all about the unconscious, secrets, karma, death/rebirth, sexuality and power.
Pluto retrograde indicates that old struggles come back to be resolved if we have not healed the underlying causes, and anything secret or that's just been swept under the carpet will be calling for final resolution.
Especially in terms of sex, power, secrets…
–
---
Mistreatment?
Coupled with the Neptune/Jupiter/Venus gateway, it can indicate that power issues from the past are ameliorated or come to the surface to be shed light on once and for all.
It deals with equalizing disharmony, opening to going BEYOND polarity and separation consciousness. To find the "light" in the "darkness". 
Using Pluto retrograde wisely these next 6 months, you can make huge strides forward – be open to sudden flashes of insight regarding the basis of recurring conflicts.
Examples are: You may be alerted to a childhood situation which you now realize has been impacting your Twin Flame connection.
–
---
Deeper Causes Of Twin Flame Trouble
Often we re-experience childhood dramas with our Twin Flame.
Someone who has felt unloved and ignored by their father or mother, may subconsciously choose an adult relationship with someone who treats them in a cold and unloving way…
This is how we as souls give ourselves new chances to work through our issues to be free of them once and for all.
So shift your perspective these coming months and ask:
What is this issue trying to mirror to me – so I can HEAL it and be more whole and happy, and be open to unity with my Twin? 
In this last coaching session, I took the group through this – dealing with the "Mirror of Reality", and how everything is there to help you once you know how to approach it.
–
---
Taurus New Moon Eclipse
Pluto is a seat of power and sexuality, and when Pluto stirs up the past things can get explosive (not necessarily in a good way).
Take a detached view whenever you can.
Ask yourself:
"Is this situation familiar?"
"Where have I experienced this before?"
This is particularly important when the New Moon Eclipse in Taurus hits on April 30th.
 Eclipses are all about clearing the path of outworn patterns, dynamics, relationships and situations, to make way for what is divinely guided, so things can often get dramatic.
–
---
The Purpose Of Change
Eclipses push for change that sometimes happens without us feeling ready or quite willing – for our highest good, to align us with our soul purpose.
Sudden ruptures/changes are common, and headaches and tension in the body often happens during and leading up to eclipses.
These major events also tend to bring up collective negativity from the earth itself, from the old karmic fields (the impact of human thoughts, emotions, energies and trauma from thousands of years).
It means you might feel triggered around the Eclipse. If so, it's best to hold off on judgment on any Twin Flame situations and issues until the energies settle again.
–
---
False Twins?
The New Moon Eclipse in Taurus deals in particular with relationships, creation and manifestation.
If you have not yet experienced your goal coming to fruition, expect this Eclipse to shake you or the situation up to help you call it in – especially in regards to love.
Spirit tells us that karmic connections or "false twins"/lower cycles with the true connection will be shown as such to many in this period, so they can get out of the false path of 3D drama.
This means, if something dramatic shows up, take a higher perspective. Don't go all in with your emotions. 
–
---
Intensity On High
Be mindful of yourself and what you react to right now.
Shield yourself, connect to the light and do what you can to stay up and out of the way of any collective chaotic energies rising up to be released.
This is an intense period. If you're struggling right now, use the Free Energy Cleanse, which will clear out heaviness from your chakras and aura, and help you center into a space of calm and love.
–
---
Twin Flames Moving In Together?
Lastly this weekend, we have Vesta conjunct Saturn. It shows us many people are sealing the deal on home purchases or planning for the future regarding their home and house situation.
It also shows us that this is guided, especially as your home impacts your energy, your vibration and your whole life path strongly. 
As Pallas enters Taurus now, we see that your higher understanding and ideas will help you anchor in your desires into physical reality.
And, that your higher self is working to assist you in manifesting your ideal.
–
---
A Week For The History-books
In spiritual terms, this is a week which will carry far reaching results. What is going on right now is huge, in terms of collective and individual "destiny".
Your job, is to stay as pure in your heart as you can, and to listen to your soul. 
The "regular" world may try to pull you into drama and conflict, which will only perpetuate the limited past over and over. Use your power of choice.
Stay true to your heart, and you will literally *Eclipse* what you believed possible for your life and your Twin Flame connection.
I believe in you!
–
And if you want to journey with me into higher levels of the Ascended Twin Flame connection over the coming months, I would love to have you in the group.
As always, I'm sending you love and light for your continued journey <3
Cassady x
–
---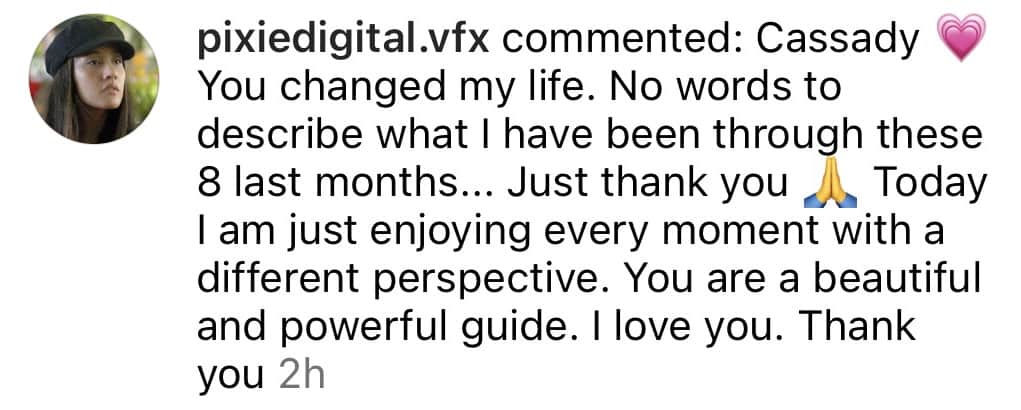 Click here for more testimonials 
Sign up for free to receive the latest Twin Flame forecasts and information each week:
[formlift id="16281″]
[WP-Coder id="1″]