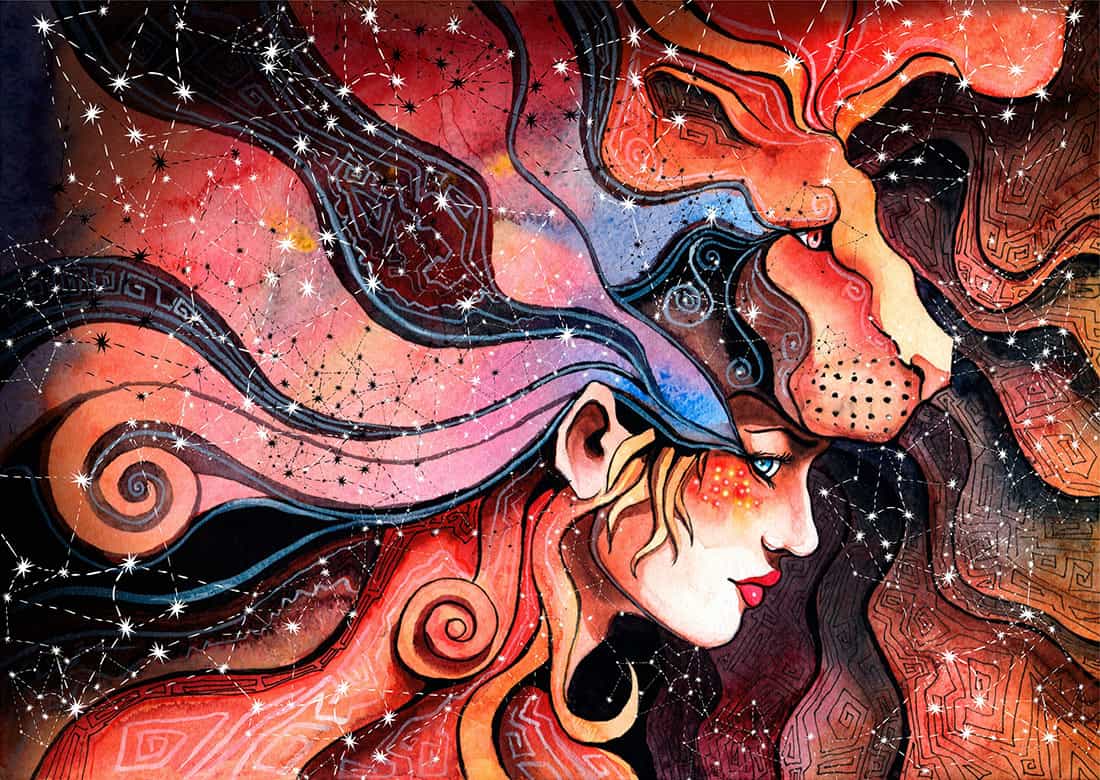 Love In Focus – 8/8 Gateway, Cosmic Current Of "Luck" And Expansion, Feminine Twin Reaping Rewards. But Did You Realize How Lonely Your Masculine Twin Has Been?
–
Welcome into a brand new week in the cosmic energies!
Highlights this week include: A key week for love, Masculine Twin longing for love, Feminine Twin enjoying the fruits of work and positive intentions, it's a sunshiney time with luck coming your way! Are you ready?
Discover more below!
–
---
Lion's Gate 8/8 – Love Is Key
This is a hotly anticipated time in the spiritual community, with the so-called Lion's Gate 8/8 setting a major theme in the cosmic energies.
We have a continuation of themes from last week in love and for the Twin Flame path so go ahead and refresh your memory here.
As the Lion's Gate happens with a conjunction between the Sun and Venus in Leo there's an extra heightened focus on love this year.
Mars is also conjunct Juno the asteroid of marriage and partnership at the tail end of Leo, so we see some clear themes for the Twin Flames.
In essence, the Masculine Twin is subtly being triggered into awakening behind the scenes – new light codes activated in "his" being… Another step in the process to Unity.
–
---
Masculine Twin Longing For True Love
The Masculine Twin seems to be longing for TRUE love and togetherness, and it's tied in with having had enough of "ego" and self driven pursuits and beginning to sense deep down that he longs a higher calling.
Many seem to be feeling disillusioned with the kinds of partners they've had in recent times or the kind of love experiences (or lack of) they've had.
If you're not together, they're REALLY missing you right now – no matter how it seems on the surface.
They are feeling a strong desire for more, for a true partner, for the kind of heart-based mutual higher love that the Twin Flames share. You.
For now, he seems to be longing deep down without sharing it with others…
But one thing we see is guidance deliberately setting the unawakened Twin up to observe others who are in love, such as friends getting married. Nudging him in the "right" direction.

You may want to reach out to just "say hi" or wish him the best as it will remind them of the kind of deep love and connectedness that exists between you. (And be sure to use the free guided meditation here)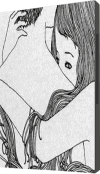 –
---
Feminine Twin Enjoying Rewards And Positivity
If you're already together, you may want to give your Masculine counterpart extra praise or attention this week. Because we see "him" feeling slightly ignored by the world in general and he could use a boost to remember he's loved.
This will bond you closer too.
We see the Feminine Twin enjoying positive attention of some sort this week, or she's making good progress in a positive direction.

With a trine to Jupiter R, it's likely that some past project or something she's been working on or a manifestation are bearing fruits and she's figuratively bathed in sunshine right now.
Compliments, positivity, rewards for past efforts are likely. And you're feeling pretty good about yourself! (As you should!)
In fact, a really positive start to the week puts you in exactly the frame of mind you need to begin making life changes that will bring more love into your life.
–
---
Positivity In The "Air"- Luck Is Looking For You
You can probably feel positivity and good feeling brewing in the background…
On the 7th the Sun perfects a trine with Jupiter and the world generally looks like a better place. It's likely that nothing actually changes that much – it's more a matter of perception.
If you feel good and let people see that and are warm and friendly, they're likely to respond to you in the same way, and you feel even better so you're nicer to the next person and they – you get the idea.
There's a mood of enthusiasm and confidence floating in the air. Whether that changes anything, is up to you. Maybe you feel inclined to simply sit back and enjoy the happy vibe.
Sure, that might be enjoyable but it could be a bit of a waste – you could miss a major opportunity. (Or even a minor opportunity). So make sure you keep your eyes open.
"Luck" is looking for you…! (To make sure you're actually aligned with being able to receive your desires – click here for a quiz that will reveal what energy vibration you're in)
–
---
Answers Incoming….
What's important now is keeping the bigger picture in mind and what will work for you in the long term.
Spirit shows us that in this period, the universe represented by Jupiter, is working to bring you the answers to prayers you've made.
If you pay attention this week you'll notice that things aren't random right now, you are being ***answered***.
Make the most of what's going on right now, but remember you're always allowed to refine your desires too. Say you've asked for a new job where you'll be happy…
And the universe shows one up for you that seems ideal, the people are clearly nice and you can see you'll enjoy it… Except the money isn't great.
You're allowed and meant to further refine your request and say:
"Thank you for showing up that I hadn't refined my desire completely. You're so right. Of course, my highest preference is that you please bring me a job that I'll be happy in AND earn a lot of money."
This is just one example of how this might work, but expect to receive tangible "answers" in this period. Guidance showing up action steps that will bit by bit lead to your dream fulfilled.
–
---
Love "Pays Off" This Week
Another indication this week is if you're prepared to be generous – emotionally, with your time and materially – generosity will flow back in your direction.
And, if you've been kind and sent out love and positivity to others and the world in the past, it's set to be "rewarded" this week.
You're being paid "with dividends", says spirit, for the positivity and kindness you've put into the world. And just as you thought it couldn't get any better, it does…!
Venus is hovering next to the Sun so she also perfects a trine with Jupiter, on the 8th.
So we see that those opportunities you were thinking about and that were showing up – they're probably directing you towards love, and especially Twin.
–
---
Unexpected Twin Encounters… Hearts Calling
"People like people" under these influences, so it's a great time for any sort of social activity. Even better if it's the sort of social activity relating to love.
Spirit shows us, going out to a club or restaurant and discovering that your Twin or someone they know "just happens to be there" – reconnecting you just like you've been longing for.
(Or for those who haven't yet met their Twin, it's likely to happen over the next few weeks to two months – use this session to draw it in closer and make sure you're in alignment).
Whether you've known each other before or not, Spirit shows us your Twin seeing you in person and being stunned at how attractive you are and how "floored" they feel when seeing you!
–
---
Instant Infatuation, Passion Re-Ignited
Spirit shows us, instant infatuation, instant recognition of how deep the connection is. If they didn't realize it before, they're set to realize it this time.
And spirit says, you'll notice how into you they seem, you won't find it hard to forgive that they missed it the first time.
In fact, forgiveness is easier under this influence than most others, and the lion's gate pushes for a higher state of being… So if you can let the past go once and for all, this will be the new and happier chapter you've been longing for.
Remember that forgiveness isn't weakness – it's about letting go of negativity so you allow something new and better to reach you… Because when we hold onto anger and resentment we just attract more of the same.
(Read more here in The Secret Power Of Forgiveness)
–
---
"Good Luck" And Positive Experiences…!
If you're on the lookout for love, keep your eyes wide open this week. People actively want to form bonds and show their feelings in this period.
It's also a good time to take a relationship with someone who is currently in the friend zone into the next space, or to make connections in your career or business.
We see that if you're the Feminine Twin your "good luck" this week is related to your appearance, creativity, love and how you come across in person.
So if you've got the spare cash it's a good time to spruce up your hair or get a new outfit – so you feel your best and present yourself at your peak.
This week is set to above all bring "happy/pleasurable/easy" opportunities and connections. You won't have to struggle so much (and if you do, it's because of old programming and density in your system – if so, click here to resolve it once and for all).
–
---
Travel Plans?
If you and your Twin have been struggling recently, or it's felt like things have grown stale, this is a good time to liven things up and mend any stresses.
With Jupiter being the planet of travel, you might even want to consider a few days away alone with your beloved, or to reconnect with your soul somewhere in nature.

If the outside world can be set aside for a short while, you can resolve any past issues.
Spirit's advice is, that if you can forget about the past and stay in the present moment you'll get the most of this period.
Likewise, if things are going well right now, try to avoid questioning things and racing into the future with mental worries.
Staying aligned and positive in the present moment will help you paradoxically to attract better things long term.
–
---
Opportunities Show Up! Clarity On Your Path
After all this build up, things go into overdrive on the 11th. Jupiter finally turns direct after being retrograde since April. Those 'maybe' or 'might work' opportunities suddenly become clear options, leading where you expect them to go.
For the last few months, things haven't always turned out to give the results you expected. You may have experienced delays, tests of patience…
It's now much easier to understand what's really going to be important in the long run… And you're likely to feel clear on those big goals, your major life's aims and to begin making progress on them.
–
---
Listening Reveals The Right Steps…
With Mercury also moving into Leo on the 11th, you're likely to be full of big ideas. The path seems lit up clear compared to in recent times. And you may realize that you can reach even higher!
You may discover that there is MORE for you in life than you'd previously imagined! And that's good. Growing is part of the journey!
However, there's a lot more talking than listening going on at the moment, so you'll stand out – as well as improve your chances of getting what you want – if you don't focus so much on expressing as listening.
Pay attention to what's being said and to others' perspectives – especially your Twin's. You'll realize what you can easily do to get closer, to bring them to you and to enjoy your journey.
The details don't matter too much just now. It's far more important to keep an eye on the big picture and long-term results.
–
---
Will You Let This Bounty Pass You By?
Once thing hasn't change since earlier in the week – whatever happens, you have a subtle inner feeling that things are going to work out. That's a wonderful feeling and the spiritual truth of things.
However, do make sure you don't let this time slip you by! Jupiter transits are famous for being pleasant but most people let the potential slip through their fingers…
Often, people enjoy the good feelings of this time so much it becomes a short-lived pleasure instead of what it's intended as from the universe – a powerful potential stepping stone into amazing long-term developments.
The universe wants things to go your way, but you need to cooperate and give it something to work with. Send out your intentions, and above all take some action on the opportunities that come your way.
If you need some help with this, I take you through a simple yet powerful technique for manifesting here. I also teach you the mistake so many people make that push their dreams away from them, and how you can avoid this!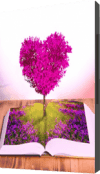 Have you been "sabotaging" your own desires without realizing it? Learn more here
–
---
Uranus Turns Retrograde Until April 2020
And on the 11th Uranus also turns retrograde until April 2020. This signals that "change moves inwards". People will be focusing on personal freedom and the inner development of new perspectives.
Uranus retrograde encourages us to face our fears and change what isn't working. If your relationship isn't everything you hoped it would be, you can do something about it (click here for my help)
If you're not in a close relationship but want to be, you can do something about that, too. Uranus is trying to tell you that if you're always postponing action, change won't come easy. Often, change must come from within.
–
---
Taking Matters Into Your Own Hands
Remember that WE are the most powerful agent of change in our lives. If we're always waiting for outside intervention we can end up very disappointed and disempowered.
In fact, as Pluto moves through Capricorn until 2023 we are all in a major soul lesson about embracing our power of manifestation. The universe is waiting for us to become a "team player" to make unity and love happen.
This is why I was recently guided to create a brand new energy session for the collective. Have a look here for more info.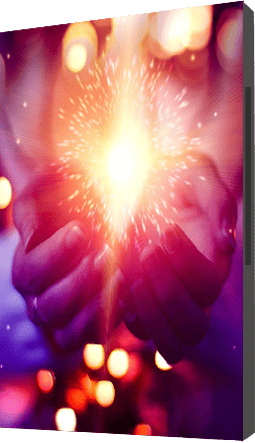 The thing is, a soon as you start taking action, you begin to move closer to your ideal life. If you're the sort of person who keeps holding back for fear it won't work, take a deep breath and go for it. It's set to be amplified now.
For every positive action step you take, the universe shows up more support.
Once you've taken the first step on the path towards change, everything will become much easier and the momentum will begin to build in your favor.
This week, Jupiter and the powerful energy influx of the Lion's Gate Leo energies are supporting you all the way!
Until next time, I'm sending you love and light for your continued journey! <3
Cassady x
–
---
Want more? For powerful methods to heal blocks and harmonize your journey with your Twin have a look at my Free Help Kit For Twin Flames