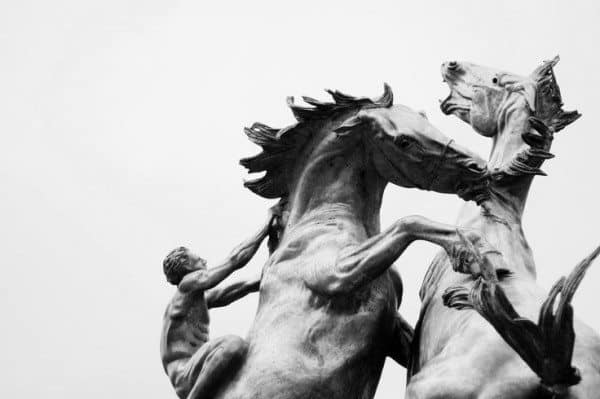 Power issues
Last week Pluto went into retrograde motion for the next few months, signaling a time of going back over the past in terms of power issues and ego conflicts so that what lingers can be cleared once and for all. Pluto is the smallest planet in our solar system (not actually classified as a planet anymore by astronomers!) but a real powerhouse when it comes to exerting influence both on an inner emotional level and in society.
Twin Flame relationships as a site of healing
As the planet of death, rebirth and power Pluto "moving backwards" is likely to bring up old conflicts around these subjects so that you can heal and move on once and for all. Keep an eye open in terms of family relationships, employer-employee relationships, situations with past lovers and friendships gone awry in terms of power conflicts – these are likely turn up in new guises so you get a chance to heal, often between you and your Twin Flame – the Twin Flame connection is above all one of healing and transformation, transmuting past pain and teaching us forgiveness, self acceptance and unconditional love.
Child dramas
Often we reexperience childhood dramas with our lovers – especially our Twin Flame. Someone who has felt unloved and ignored by their father or mother may subconsciously choose an adult relationship with someone who has tendencies to be cold and unloving – this is how we as souls give ourselves new chances to work through our issues to be free of them once and for all. When used wisely, the Pluto retrograde period will ultimately assist you in releasing these past conflicts for good – make sure you're not clinging to old stories of victimhood or betrayal. Remember that the past is gone, and the future will be a whole lot lighter and more enjoyable without all the unpleasant baggage.
Know that Pluto stirring up unpleasantness from the past is ultimately a beneficial process where you get to learn more about yourself and your capabilities. Pluto is a seat of power and sexuality, and when Pluto stirs up the past things can get explosive (not necessarily in a good way) – take a detached view and remain neutral whenever you can: ask yourself "Is this situation familiar?" "Where have I experienced this before?"
Relationships come back from the dead
Taken literally, Pluto retrograde can give you a second chance to revive a relationship (especially a sexual relationship) that didn't survive – if so, use this period to figure out what "went wrong" last time and move past this so the relationship can be reborn in a new, healthier guise this time around.
Follow the developments of the other planets' interactions with Pluto over the coming months to learn more about what particular areas of life will be stirred up for you. If you want to find out more about how it affects you in particular, look up which sign and house Pluto is in for your birth chart; this will give you a strong indication (most people born in the 1970s will have Pluto in Libra, those born from the mid-80s have Pluto in Scorpio, the planet's home sign).
Seeing both sides of the story
In more pleasant news, this week we still have a lot of earthy, grounding energies around – the Sun, Mars, Mercury are all still in Taurus, the home sign of Venus the planet of love. Venus herself is still in Gemini, the sign of the Twins – busy, intellectual, analytical and sociable. You may be able to see both sides of a love related issue more clearly these next few weeks – the energies support seeing things from different perspectives: playing devil's advocate comes more naturally to Gemini than any other sign.
Don't take criticism personally
Midweek we see the Moon in Virgo opposition Neptune, which has been in its home sign of Pisces for a few years now – watery, flowing, ethereal, spiritual to the extent that it's almost problematic where there is no clear "self" anymore and everything blurs. When this watery Pisces Neptune (the king of the water) is opposite the Moon placed in a perfectionist earth sign such as Virgo, we experience a push and pull between the "real" and the "otherworldly" – Neptune is the planet of spirituality but also of illusion – there may be some tension between how we wish things could be versus the cold hard reality of analytical Virgo, a sign famous for its critical eye.
Take things with a pinch of salt if someone criticizes your idealism and ethereal perspectives, especially a mother, a female friend or authority figure. Don't take this person's criticism to heart as it's more an expression of their fears and limitations than anything you're doing "wrong".
Communication speeds up
Over the weekend we'll see Mercury move into Gemini, its home sign, and you can expect communication to liven up again. If you haven't heard from someone important to you in the past few weeks, they may have been ruminating and pondering things over – they are now likely to feel spurred on to talk. Enjoy this time of excitement and openness before Mercury goes into retrograde motion in a few weeks' time.
Sending you love and light on your journey until next time! x