Powerful Week For Twin Flames – Heightened Telepathy, Twin Dreaming. Plus, Mars Returns to His Home, the Archetypal Sign of The Warrior: The "Awakened Masculine" Emerges.
(image: Queestrano/Flickr)
.
Another significant week in store, with a powerful Venus/Saturn square stirring up karmic energies, Mars moving into his home sign Aries and a New Moon in Aquarius!
We start the week off with Mercury – now moving direct – in a sextile to Neptune. This translates to ease of communication, bridging "heaven and earth" through the means of communication.
You're set to feel inspired, hopeful about the future, connected to the deeper love in all things. Telepathy and dream encounters between Twin Flames is highly likely.
To make the most of this time, start actively engaging with your Twin soul to soul as it strengthens the nonphysical connection. For a Free complete alpha level deep meditation that takes you through connecting with your Twin Flame safely – go here.
Heightened Inspiration, Twin Flame Connectivity
If you do automatic writing or communicate spiritually, you'll find your practice heightened right now. However, this isn't a great time for practical work.
Focus on your highest and most ideal scenarios now, don't try to do your taxes or work out a business plan.
Keep a dream journal and do stream of consciousness writing – spirit indicates you can communicate with your Twin Soul's higher self that way and this is an excellent opening, like a gateway of energy flowing to support it.
Receiving inspiration for creativity, understanding higher perspectives and intuitive gifts coming to the fore are all indicated in this short period.
If you want to learn more about developing your Twin Flame telepathy and remote touch (interacting with each other even when you're not physically together) – have a look at the Vibrational Alignment Program. We created a whole module on Twin telepathy and how you can unlock this spiritual gift even if you've never had "psychic abilities" before…
Karmic Challenge Between The Twins
Midweek we encounter a challenge in love between the Twin Flames – Venus heads into a square to Saturn in Sagittarius.
The big indication here is that karmic patterns are causing friction and blocks between you, and importantly to your own inner happiness. There's some baggage that Saturn is pushing us to let go of before we continue on our journey.
The Sagittarius energies indicate that this has to do with beliefs and in particular fears of being let down – the old traumas and bad experiences (perhaps even from past lives) that are blocking you from having faith and high intentions in a good outcome.
This particularly goes for the Feminine polarity Twins – How have you been let down by men?
Have you been given beliefs that men are unreliable, cheaters, that they always hurt you? What did you see around you regarding love when you were growing up?
Trying To Force Change To No Avail
Get to grips with this now – don't let past hurts dictate your future, others' beliefs put limitations on your experience of love. When we clear karma we can completely transform what we experience and attract into our lives.
(We go through clearing these types of belief based blocks and karma in the first full energy clearing session for Twin Flames here).
Karma is something which we must willingly and consciously resolve with our free will intent. It's not something that can or will resolve itself of its own accord or through wishful intentions because it is locked in the deeper layers of consciousness.
Unless resolved, karma will keep expressing itself over and over in your life's circumstances, for example in repeated cycles of feeling abandoned by lovers and friends.
Twin Flame Running and Separation are frequently based in past life karma between the pair, which is why it seems to not go away no matter how much the pair try to change things from the outside.
To read about how I experienced this on my path and how past life karma can affect the Twins' connection – go here.
Why Some Twins Stay Stuck In Cycles Of Separation
Because it's like trying to hold a beach ball under water, you have to use pressure to keep it there and as soon as you let go things go back to how they were.
Clearing karma is perhaps the most transformational method I've seen on the Ascension path. It has the ability to profoundly change your outer reality for the better from the inside out.
We go through step by step methods for clearing karma and old attachments in the Vibrational Alignment Program for Twin Flames, with the tools and guidance that got my Twin and I to Union within 18 months of our first encounter.
When you're free from your past burdens, your future can open up once more. Experiencing your happy relationship and the love you desire with your Twin Flame is all about creating the right vibrational atmosphere for your intention to manifest.
Get help with expanding your consciousness and getting to an open, high vibrational centered state to set your intentions here.
(To read about why outer cycles of Running and Separation are actually your own "shadows" calling for you to go within, have a look at this article on the inner key to your outer Twin Flame dynamic).
Return Of The Masculine
Come January 28th Mars moves into his home sign Aries, returning to "his" home sign for the first time since 2015. A new cycle begins now, a new lease of life. This is a huge cosmic event – Mars hasn't been "home" for over a year.
Huge shifts can happen with these new energies, and it's advised to set new intentions for the coming year period – Mars is all about action, progress, achievement, pushing for change.
With the New Moon in Aquarius falling on this same day I'm given the insight that this represents a resurgence of the Masculine – more specifically, that we are seeing a new "version" of masculinity emerge.
We've reached a new stage of development and it's almost as if the Masculine is spiritually coming to the forefront yet again – recent years' focus have been on purifying, cleansing and "reducing" the Masculine action-oriented polarity so that the feminine could emerge forth once more in balance.
Now, refined, cleansed, in "his true power" of love, the "new and higher" version of the Masculine is set to emerge. 
This is cause for celebration, we're shown. Sexuality reemerges as powerful now, we feel more fire behind our actions – passion returns.
Many have felt lacklustre, doubtful or hopeless in recent months – now that Mars returns to his home sign, there's set to be a "rebirth" of hope, faith and progress.
Baggage Changing Hands
Another indication for Twin Flames right now is that the masculine polarity Twins will begin to shoulder more of their part of the spiritual "burden" to help with the progress forward movement.
We're shown that the Feminine Twin Flame has felt alone on this journey for a long time in many cases, but this now is set to change gradually. We see the "baggage" changing hands, he will help "her" carry now.
Spirit suggests staying open to exactly how this might happen – the more open we can be about this, the more able we are to receive the help.
When we fixate on one eventuality, we shut the doors to other options. So set the intention you're open to receiving help from your Twin Soul and the Universe to deal with whatever burdens you've been carrying.
A wonderful intention to say or write out is:
"I am open to receiving help, gifts and love from the Universe and from my Twin Soul. I am receiving help, gifts and love – more and more every single day.
And so it is".
And to go deeper into clearing blocks around receiving – have a look here.
(My secret tip is to put a reminder on your phone with the above affirmations – say the statements every day for maximum effect. Your unconscious mind might object to start with, but you will begin to get more and more accustomed to the new intention)
 To read an article about why human perceptions of masculinity are so skewed, and what the Divine Masculine really is all about – go here.
Releasing The Past To Reunite In the Future
The New Moon on January 28th happens in Aquarius directly conjunct the Sun, reinforcing the above messages.
We're entering into a brand new phase for the collective of where the Masculine polarity and physically male Twin Flames and lightworkers are taking prominence.
The Feminine Twins have paved the way in recent years in many cases – expect positive shifts now. This is the beginning of a new chapter.

Setting new intentions is powerful right now. Mars' movement will especially help you put action behind your intentions and propel you forward.
Spirit's advice is – intend that any negativity from the past is gone for good now.
Make sure you forgive your Twin Flame and ask for forgiveness from them (we go through this in depth in the higher heart transformation journey) so that the two of you can release old baggage and heavy cycles, and step up into a new and brighter future together.
Spring is coming, spiritually speaking. Many changes are set to happen during this year, so make sure you get ready by putting the past away for good…
---
This spring is going to be full of transformations for Twin Flames – Venus goes Retrograde through the "home" of the Masculine, signalling a period of new developments for the Twin pair. Plus, be in the know about the most explosive Twin day of the season so you can play your cards right and avoid trouble.
Discover more in the 2017 Yearly Energy Forecast – yours for Free – sign up here and you'll get the 25 page eBook sent to directly to your inbox!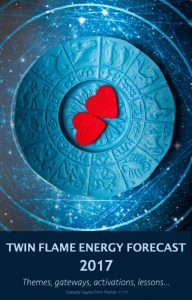 [grwebform url="http://app.getresponse.com/view_webform.js?wid=10909003&u=PogO" center="on" center_margin="200″/]
Until next time, I'm sending you love and light for your continued journey! <3 ?
.
Cassady x
.
---
Want more? For my step-by-step "roadmap" to Twin Flame Union, created after my Twin and I reached Union on my own journey – have a look at the Vibrational Alignment Program for Twin Flames. And you can read here about other Twins' experiences with the program!
"Your energy updates and integration techniques have helped tremendously and continue to do so on such an intimate level. Words cannot express my gratitude and appreciation for your time, care and continued effort. The love you share daily is such a beautiful divine gift to receive. Thank you for picking me up when I have fallen down. You are loved by all of creation dear sweet benevolent soul."

– Tosha. Minnesota, USA
---
Alternatively you can try our Free Help Kit for Twin Flames!