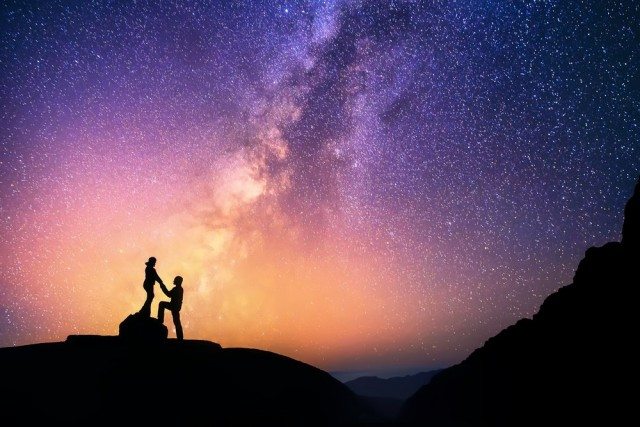 Powerful Grand Trine In Earth – The Planet Of Love Brings Blessings. But – Is Your Counterpart Stuck In A Primal Wound From Childhood?
–
Welcome into a brand new week in the cosmic energies!
Highlights this week include: Intense Full Moon in Scorpio pushes for a new path in love, Venus and Uranus team up to bring necessary shakeups for the highest good – surprise Twin connections and sudden bolts of inspiration… Are you ready for the next chapter of your journey?
Discover more below!
–
---
New Cycle In Love And Relationships
What happens when the planet of love returns home to its own domain? We have a new spring in love, a new start, a complete new cycle begins and things step up a gear in relationships and romance!
Monday starts off with a powerful grand trine in Earth – indicating positive developments in the physical.
This is set to be a heightened week for Twin Flames, and for all romantic relationships, because we have not only this but two significant transits happening back to back!
As Venus enters Taurus, home of beauty, romance, love and the finer things in life… Mars enters Cancer, the "home of the mother", the terrain of emotions, intuition and the feminine life principle…
–
---
The Warrior And The Mother?
In other words, we have a KEY focus on feminine energies this week. This is a heightened time for love.
A potential challenge regards the Masculine, as Mars is not very comfortable in Cancer.
This is where the archetypes of the "warrior" and the "mother" meet, so I'm sure you get the picture…
And we're shown this: On one hand, the masculine longs for and thrives in the acceptance and unconditional love of the feminine… The psychological principle of unconsciously longing for the safety of childhood, even the womb, is long-established…
But in this, there is a fear of ego-death which can be intensely triggering! (To help your Twin deal with this kind of ego block, click here)
–
---
Messenger Of The Shadows
Mother-son (or mother-child) relationships are key this next month. Your counterpart or you may have had a wonderful childhood and if so, they'll thrive on this dynamic and the energy current around…
Or, if there have been challenges either through feeling rejected or smothered, there can be hostility, drama and unexpected problems as this flares up.
Remember that what is going on right now is a "messenger" for the unhealed parts of them.
Ask yourself this, **who was the first woman that rejected them?**
(Even if it's just a feeling impression of being rejected, not intended that way)? This is a core wound that is responsible for any hostility and triggering around the feminine.
Childhood and infancy are in focus.
(Have a look at my Inner Child Healing For Twin Flames here)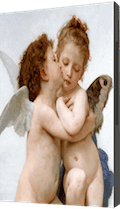 –
---
"Mirage Play" – Twin Flame Phantoms
If your Masculine Twin has accused you of trying to control, smother or otherwise challenging their masculinity in some way…
Know that it's really about these past wounds. Your mere presence has triggered them. Your connection has been drawn into a "phantom" version.
And it's your souls orchestrating this "mirage play" so that you can release the old blocks and heal those wounds – opening to unconditional love.
Sometimes your soul will push you to display behavior that triggers your counterpart deliberately – so they can realize their own issues.
Because spirit tells us this – any "issue" is rooted in a past trauma. No one gets triggered unless there is something there to trigger!
–
---
Restoring Harmony In The Twin Flame Connection…
If you've been experiencing struggle have a look at the Complete Harmony Healing for Twin Flames, created to bring all aspects of your journey into harmony. To my knowledge there is no equivalent healing or clearing available out there that deals with these particular issues.
We go through a deep cleanse of both Twins' chakra systems and all channels between the Twins – cleansing out all congestion, negativity, outdated ancestral programming and blocks to ensure the healthy functioning of your systems both individually and in interaction.
Plus, shielding for the Twin pair to protect you both from harsh outside energies, influence and congestion. We also update your information to clear out any patterns that may have been holding you back or blocking you.
Plus, we unify your paths and timelines to the highest dimension and vibration possible. We also download new light codes and programming to assist the smooth unfolding of your Union.
This clearing will clear out potential triggers of running/chasing/separation and ensure that only high vibrational energies are blending between you.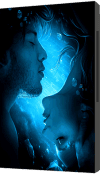 Click here to read more and download.
–
---
Land Of The Unconscious…
As Eckhart Tolle says: "Relationships don't cause unhappiness and conflict – they bring out the unhappiness and conflict that is already in us!"
As Mars travels through Cancer this coming month, do your very best to keep this in mind.
As Cancer is the land of the Moon and the unconscious, emotions are set to be unstable in this period and as always Twin Flames pick up on each other's "stuff".
Dreams are set to be extra deep and expressive also – watch for symbols and significant messages.
Especially this time can be challenging as we're dealing with the "shadows" – what lies beyond our conscious awareness.
Ego isn't the "problem" – it's what the ego is trying to protect!
–
---
Why Ego Can Be So Defensive
What do I mean by that? Ego is a defense mechanism that is created as a shell, a shield against the world – BECAUSE there are inner feelings of vulnerability.
The crab in Cancer symbology shows us that:
The more defenses and aggression someone puts up on the outside, the more vulnerable and afraid they're feeling deep down!
– So has your Twin been pushing you away?
– Have they been trying to "run"?
– Have they even blocked you or "ghosted" you?
Imagine the kind of fear and insecurity deep down that creates this desperation…
Read more about the real reasons behind Twin Flame running in this article and discover how to help your Twin shift out of the fear that creates this struggle.
–
---
Emotions + Sexuality = ?
If you are on good terms as a pair, this month can bring increased bonding and shared love that goes deep and feels nourishing to the soul – but it will most likely require honesty and patience with each other.
Sexuality can be strangely emotional at this time… Be careful not to make your "Masculine" Twin feel judged or humiliated in any way as this is a sensitive subject…
Even if you usually consider yourself as considerate, be EXTRA mindful of their emotions this month. There's more going on under the surface than they're likely showing you.

And spirit highlights, that any outer "issues" in our lives stem from inner imbalances. "As within, so without".
And ask yourself, what fear lives in *you*, deep down? (Your dreams usually show this up, whether or not you want it… That's where our unconscious expresses itself).
What inner darkness are you running from? Do you fear losing your Twin Flame?
(In spiritual truth you can never lose your Twin – read more about this in "A Message From Your Twin's Soul").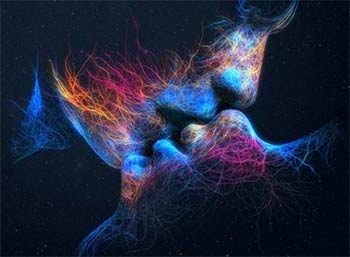 –
---
When Fear Of Losing Your Twin Creates… Losing Your Twin
Be careful you don't push on the outside for something that's a message from your own deeper fears, is spirit's message.
If you fear losing your Twin, don't try to rationalize it and tell yourself it's only logical. It's not.
You and your Twin are "one" spiritually – you couldn't lose them if you tried! The fear is a human 3D construct that will keep playing out in the form of separation bouts if you don't get to grips with it.
So make sure you clear the fear energetically. This will truly revolutionize your connection. Because when you clear the energy of fear from your own system, you change the dynamic between you.
Your Twin Flame will no longer be reacting to your "desperation" (i.e. fear of losing them), by being pushed the other way.
They will open up more because the whole energy alignment will have changed.
When there's a "running/chasing" situation between Twins it's ALWAYS a sign of negativity and imbalance in the energy field – this can be resolved.
(Do you want to learn how to master the secrets of energy and alignment, to uplift and harmonize your Twin Flame connection? I'll take you through it step by step. Click here to get started).
–
---
The Masculine's Inner Battle…
So deep down what do those who are so frightened, long for more than anything? To feel safe! To feel fully accepted and unconditionally loved, so they can open up without being hurt.
As Mars travels through Cancer we see that this excruciating pull:
Between wanting to merge with the counterpart (as was the case in the womb with the mother and before dividing as Twins) versus fear of letting go and opening up…
Is an unconscious weight on the Masculine in particular.
The feminine is raised to be social and "open" with others, to share and express love.
But most males are raised and shown by society that they have to be "strong" and "independent" – when really they have the same deeper underlying need for love and unity!
–
---
Forgiveness – The Fastest Way To Shift Out Of Conflict
This push and pull is "tearing him in two". Remember this, and do what you can to show you're there for your counterpart. Send them love.
Telepathically tell them you don't judge them and you want the best for them. Tell them you accept them no matter what.
This can change everything. It's one of the fastest ways to shift out of conflict.
(Discover more about the real underlying reasons for Masculine Twins' "acting out" in this "Message from the Divine Masculine" and "8 Keys To The Masculine Twin – How To Unlock His Heart To Love")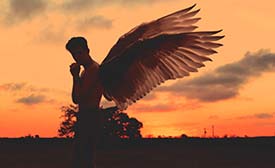 –
---
New Approaches In Love…
As Venus conjuncts Uranus two days after these key events, this is echoed.
We see that one of the major ways to resolve this and change things around for the long run, is to use a different approach.
Forget the past. Forget the hurt between you. Forgive so that you can release the hardships and move into something better.
I know it can be hard but realize that the faster you forgive, the faster the situation can change. Unfortunately when we hold onto conflict, we keep it stuck in our experience and dynamic. So above all, you're forgiving in order to move onto something better.
Work to love your counterpart despite any negativity expressed in their outer personality – which is what they've taken on in life from other people and society (watch a video here on how it works)
–
---
Practicing Unconditional Love In The Physical…
This week you can make so much progress on your path by practicing unconditional love in the PHYSICAL above all.
You're not expected to necessarily be able to open to this at once, and always, but making the effort is set to be highly rewarded.
Above all your counterpart will respond – spirit shows us, in a bigger and more noticeable way than you may ever have expected.
Because Venus is in her home sign, this conjunction with Uranus is extra, extra heightened. As well as this we have the Full Moon in Scorpio this same day. This is a key time both for Twin Flames and for society.
–
---
Venus/Uranus + Full Moon Themes
The human collective is being pushed to change how love is perceived and acted on. Boundaries are breaking open in this period.
To return to a state of love for love's sake.
This impacts on creativity also – the entertainment and culture industries. This is a turning point, a whole new beginning – in some way.
For Twin Flames, we are being called on to "tear up the rule-book" – to begin approaching the connection from the heart rather than trying to analyze and control from Ego.
We're shown, that leading with the heart is what will lift the connection into the realm of divinity. Bringing heaven to earth.
And that this has the power to shift and elevate the COLLECTIVE Twin Flame Timelines for physical reunion.
–
---
Challenging Shakeup For Long-Term Benefits
Be highly aware of your intentions and what you're feeding into in this period. Everything can change this week, but you must steer the course wisely.
To move into your heart and tap into the divine love that can truly exist between you, to reap support and guidance from your Twin Flame's higher self – have a look here.
As with any major period of change, we see a shakeup that can be tricky to deal with in the moment – although the long term repercussions will be positive.
Individually our expectations may be challenged, we may be pushed beyond our comfort zone, triggered to cut ties to what has outworn its purpose…
We see sudden events and communication. Epiphanies. Unexpected meetings. Contact from out of nowhere.
Spirit also shows us supernatural Starseed type happenings.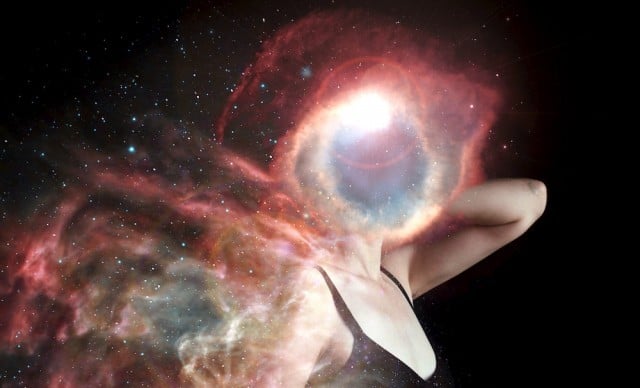 –
---
Heightened Day For Love – Discovering The Truth
With the Full Moon in Scorpio joining, we have a Super Heightened day for love.
Taurus and Scorpio are strongly attachment prone, deep, emotionally oriented signs – we are being pushed out of our old comfort zone to see that yes, there really is more.
Love isn't just a dream! Living your bliss really can happen.
However, with the opposition happening we see your emotional past is clouding your vision – you are likely to feel disheartened about love.
Like your desires and dreams will never come to fruition.
But that's the past talking!
And the cosmic energies are working to push you to release this kind of perception – because it's not true. You're in a different place now than before.
–
---
The Week That "Everything" Changes
Know that you're likely to come face to face with outworn beliefs and your "own constructed blocks" on your journey this week – so you can make a new and higher choice and align with a better path.
You truly can shift your timelines and invite in a divine connection in this period.
Your Twin Flame's higher self is standing by, willing for you to know how much they love and support you (click here to discover more).
We see that the "finish line" is not far. Are you ready to do your best to make this miracle happen?
Open your heart, release your mind's skepticism and know you are being guided to a higher state of being! Aim your highest and know nothing is impossible.
–
I believe in you! And as always I'm sending you love and light for your continued journey <3
Cassady x
–
---
"I started with your free toolkit and immediately felt results so much that I had to get the Vibrational Alignment Program and wow! I've been doing it consistently and I love the energy clearings and exercises. I feel lighter and my twin and I are so much closer. Every day gets better and better. And since my vibration has become higher and higher, I'm attracting in wonderful opportunities and amazing abundance as well. I'm so grateful for your work, Cassady. Thank you!" "
– Jessica N. California, USA
Want more? Download the Free Twin Flame Help Kit to get info on the awakening code 11:11 and the Ascension process going on across the planet right now, plus a deep Alpha Level meditation to connect with your Twin Flame on the soul planes!
Or if you want to go deeper, resolve karmic debt and get to the bottom of Running and Separation struggles for good – have a look at my complete Vibrational Alignment Program for Twin Flames!